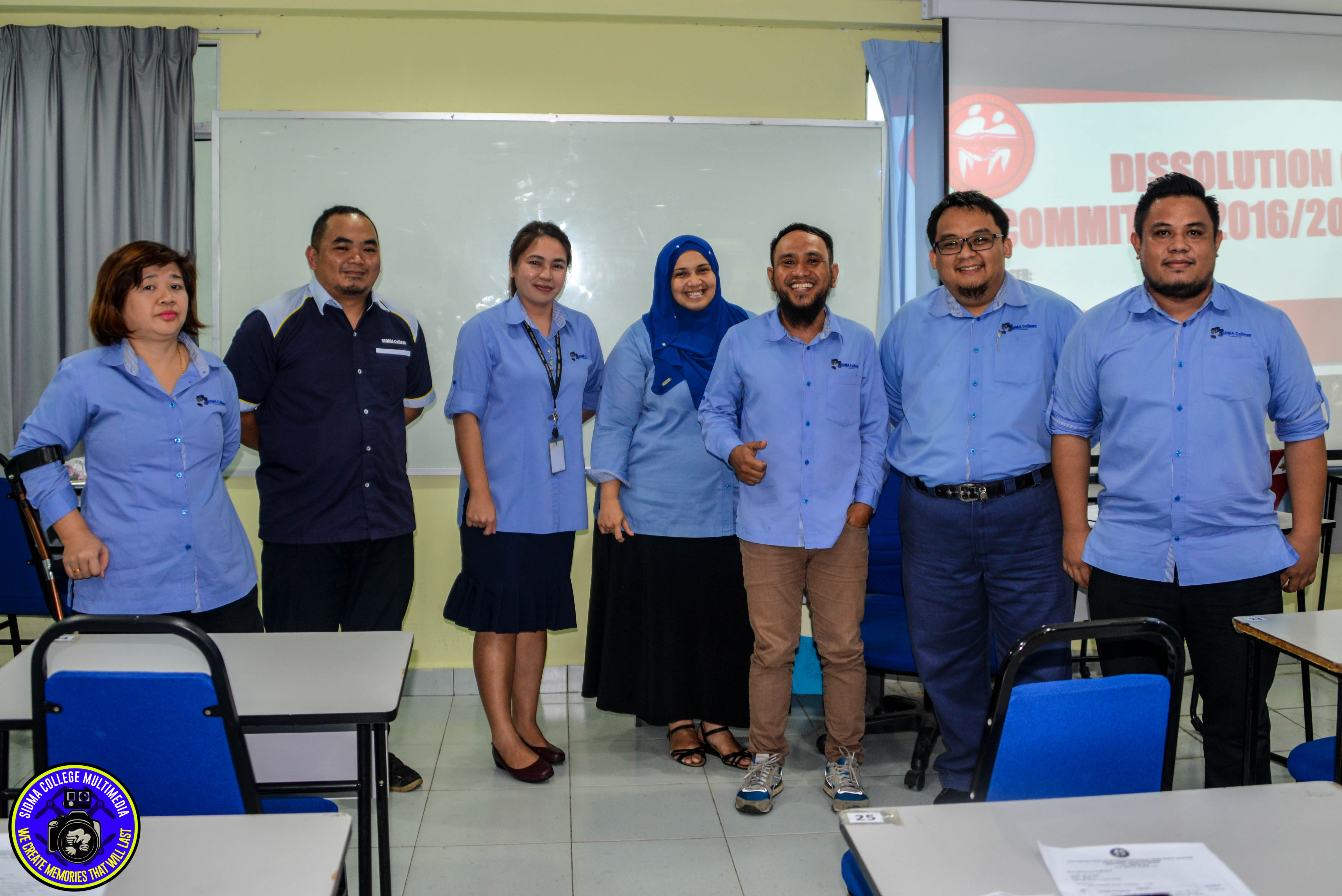 SIDMA Staff Welfare Association (PKKKSS) Fifth Annual General Meeting (AGM) was held at West 1, SIDMA College on 16 May 2018. The event was participated by 45 active members of SIDMA College staff (including staff from SIDMA subsidiaries companies) as well as the 2016-2017 Central Committee Members.
In line with the legal requirements to provide opportunities for all SIDMA staff to gather at least one a year to engage directly with the Central Committee by raising, exchanging views and solving issues regarding their personal welfare, the association and the college; PKKKSS practices having the Annual General Meeting yearly, but the election of new Central Committee Members will only be held once in two years.
Earlier, Mr Zain Azrai Bin Mohd Noor, Chairman of PKKKSS, announced that as the current Central Committee which was elected in March 2016, has expired, thus it was time for the dissolution of the 2016-2017 Central Committee to give way for the election of the 2018-2019 Central Committee.
Prior to the dissolution of the committee, Mr Zain Azrai thanked Dr Morni Hj Kambrie (Chairman and Founder of SIDMA College) and family for their generosity and caring attitudes towards the staffs welfare and happiness, particularly during both their happy and sad times. He added that as staff of the college, we are indeed very fortunate and blessed to have Dr Morni as our just and caring boss. He takes into account the staff's welfare as one of his many priorities, and as one of his family members.
Mr Zain also took the opportunity to thank his 2016-2017 Central Committee Members who have assisted him in running the association despite facing hectic situation such as during students registration, examination and more whereby everyone have their core business to attend to. He too thanked all SIDMA staff who are also active PKKKSS members for their continuous and undivided support and cooperation; and hope that they will continue to do so for the new 2018-2019 new central committee.
Madam Vanessanur Daliinte, the acting secretary general, was given the mandate to present all PKKKSS activities held throughout year 2017, whereas Ms Emelda Johnny Willy, Treasurer, presented the 2017 Financial Report to the members of the association. Among some of the major activities held were distribution of goodies during Malaysian Festive seasons, visiting and distributions of financial support packages to staff during their happy or sad occasions, as well as distribution of one-off financial assistance to students who were badly in need of financial assistance. The two reports were approved by the members without any debate.
The meeting also approved the minute of the 2017 AGM that was held on 20 December. It was also passed without any questions asked on the matter.
The following is the 2018-2019 Central Committee Members elected:
| | | |
| --- | --- | --- |
| Chairman | : | Mr Zain Azrai Bin Mohd Noor (Re-elected) |
| Deputy Chairman | : | Madam Izah Binti Muhilin |
| Secretary  | : | Madam Nor Ain Binti Awang Damit @ Hassan |
| Assistance Secretary | : | Mr. Al-Ezam Bin Mohd Talib. |
| Treasurer | : | Madam Dg. Noraidah @ Bobby binti Abd Latif |
| Committee Member (i) | : | Mr. Dellson J. Joingin |
| Committee Member (ii)  | : | Madam Anisah binti Saidi |
During the meeting, most members of the association requested for yearly SIDMA family vacation outside Sabah to re-energize themselves. There were also request to have family-day cum community services where we conduct "gotong royong" to assist some of deprived villagers around Kota Kinabalu.
Mr Zain in his closing remarks thanked all the PKKKSS members for the trust in him to again lead the association, and he hope that all Central Committee will work closely with him to ensure the smooth running of its activities. He added that the Central Committee will have their 2018 First Central Committee soon to plan its yearly activities.
By Teo Eng Seng and Zain Azrai Bin Mohd Noor,
SIDMA College Sabah,
KOTA KINABALU.

: