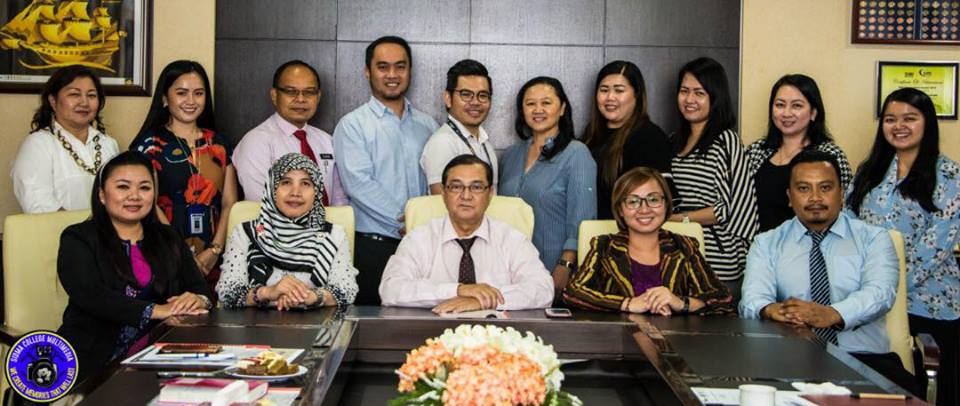 SIDMA College Sabah with full cooperation and collaboration from Education Department Sabah (JPN Sabah) and eleven District Education Officers (PPD) will co-organise a KadazanDusun Language Speech Contest "Pialaan Raisol Doid Boros KadazanDusun" for secondary school students of Sabah in October 2018. This is another of Dr Morni Hj Kambrie (Founder and Chairman of SIDMA College) initiative to intervene and put the KadazanDusun language to stronger footing. This is due to the fact that the KadazanDusun language, like any other native languages in Sabah, has been seemingly declining from its originality despite the fact that the language has been offered as an elective subject in public primary and secondary schools in Sabah beginning 2000. This is basically due to the dynamic development among the Malaysia culture whereby emphasis is placed on the usage of Bahasa Malaysia as national language and English as the second language.
Dr Morni, when met after chairing the Joint Organising Committee Meeting attended by SIDMA College, KadazanDusun Language Club, Education Department Sabah and District Education Officers held at SIDMA College Sabah on 10th of August 2018, announced that the contest which is open to all Form One to Five secondary school students from schools offering Bahasa KadazanDusun as elective language, and the contest will commence in October 2018 where it will be conducted in four (4) stages.
During the first stage, each secondary school will select and forward two names of their participants to their respective District Education Office. Each District Education Office will then form a selection committee to select the winner to represent the district. The winner from each district will then compete at the Semi Final stage to be held at SIDMA College Atrium on 25 October 2018.
The Grand Finale of the event "Sodop Pisompuruan 2018" will be held on 30 November 2018 from 6.00 pm to 11.00 pm. Venue of the event is yet to be determined.
Dr Morni added that each contestant will be allowed to speak for seven (7) minutes based on the theme of the contest which is "Language Catalyses the Future of a Nation" or "Boros Popoburu Koposion". Closing date for the secretariat (SIDMA College Sabah) to receive entrance form the respective District Education Office is on or before 15 October 2018.
Attractive prizes for the winners are as follows:
            Overall Champion   : RM 1,000; Trophy, and Certificates.
            First Runner-up       : RM 800; Trophy, and Certificates.
            Second Runner-up : RM 500; Trophy, and Certificates.
            Fourth Placing         : RM 100; Certificate of Participation.
            Fifth Placing             : RM100; Certificate of Participation.
Certificate of Participation will also be presented to all participants and to all participating schools.
For more information, please contact KadazanDusun Language Club, SIDMA College Sabah, Jalan Bundusan, 88300 KOTA KINABALU at Tel: 088-732 000 or 088-732 020 or Fax: 088-732 019; or you can also email to This email address is being protected from spambots. You need JavaScript enabled to view it..
Further information on the contest and participation can be obtained from Facebook Account "Kelab Bahasa KadazanDusun SIDMA College". Further details can also be channelled to the following officers:
Ms Brenda – 016-824 5117
Ms Olivia – 016-880 4089
Ms Era – 014-562 0314
Ms Erlvina – 013 – 835 0517
"Language Catalyses the Future of a Nation"
"Boros Popoburu Koposion"
By Teo Eng Seng and Zain Azrai,
SIDMA College Sabah,
KOTA KINABALU.