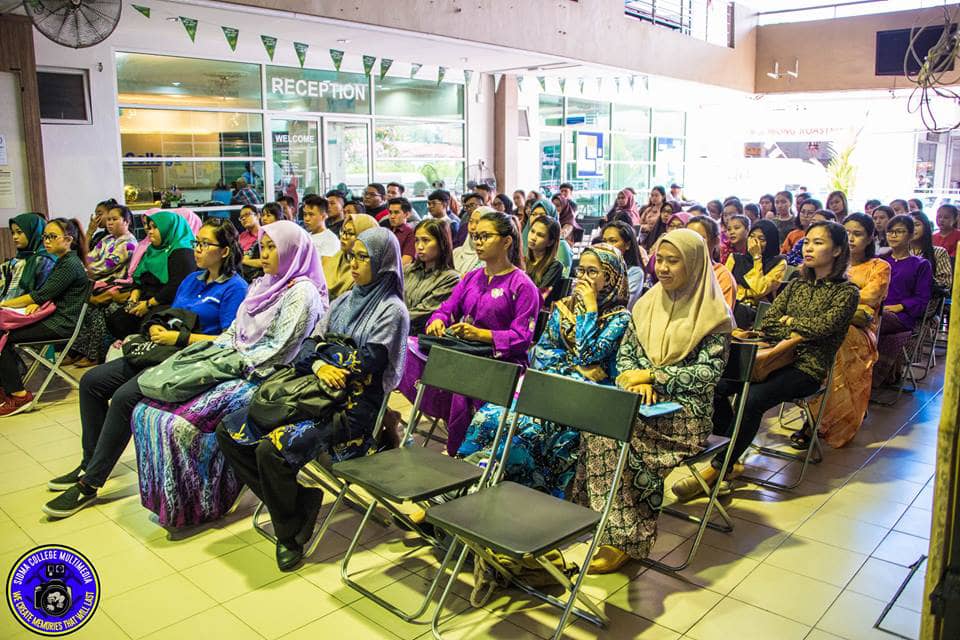 "It is a pleasure for us to extend a word of welcome to you on behalf of everyone at SIDMA College UNITAR Sabah. You have chosen to join a college that is dedicated to supporting you as you realize your true potential, pursue your dream and passion, as well as making memories".
Dr Morni Hj Kambrie (Founder and Chairman of SIDMA College UNITAR Sabah) extended these words of welcome to all September / October 2018 newly registered students at SIDMA College Sabah Atrium on 26-27 September 2018.
He also congratulated the student's success in their recent SPM / STPM examination, and added that their success was attributed to their self-determination, perseverance, as well as their hard and smart work put in while they were in secondary schools, and advised them to continue their journey in this college with added vigour in order to achieve their dreamt future. Dr Morni also shared his own personal experience from being a humble village boy, selling home-made cakes to villagers, but by holding on to his precious dream of earning his Doctor of Philosophy (PhD), plus his strong personality to aim high, his desire and commitment to studies, and that have brought him to where as he is today.
Dr Morni added that SIDMA College UNITAR Sabah strives every day to make it a great place to live and learn; and this meant doing all that we can, to "put the students first". What we hope to receive in return is YOUR commitment to learning, not only in the classroom; but also across a wide spectrum of the student experience provided by the college. 
He reminded the students to manage and put to good use on all the facilities provided to them during their studies; including their financial assistance such as PTPTN and various other one-off financial assistance received. Dr Morni also encouraged these students to contribute during their free time and enhance their talents by participating actively in the various community services, organisations and clubs, athletics, as well as other valuable activities. Such involvement will provide wonderful opportunity for you to make connections with your peers and currents students, and to learn more about academics, resources and college life.
During the two days orientation programme, the new students were also being welcomed by Madam Azizah Khalid Merican (CEO). Representatives from the Finance Department have shared on matters such as PTPTN loan as well as other financial assistance available. The Academic Department focuses on their course structure and other related matters. 
The Hostel Department emphasis on some important House Rule that the students got to remember and follow if they are staying in the hostels. The Students Affairs Departments (STAD) and Student Representatives Counsel (SRC) also made their introduction to the new students and gave a guided tour round the campus. While the System Unit explained in detail on how to utilise the various educational system that will assist the student especially considering that SIDMA College UNITAR Sabah learning will be based on blended learning.
According to the Admission and Students Record Department, the programme aimed at providing new students with the needed information and honed the necessary skills for fresh students to get a successful transition to college life. It is also to provide them with relevant and engaging activities for the students, thus making sure that they have fun, and can start building and networking with their colleagues or lecturers on their academic programme; get to know and build connection with the college staff and their new peers.
SIDMA College UNITAR Sabah offers the following study programme for the September / October 2018 Semester.
a. Foundation Courses:
Foundations in Management
b. Diploma Courses:
Diploma Early Childhood Education
Diploma in Occupational Safety and Health
Diploma in Management
c. Bachelor's Degree Courses:
Bachelor of Education (Hons)
Bachelor of Early Childhood Educations (Hons)
Bachelor of Business Administration (Hons)
Bachelor of Management (Hons)
d. Masters Courses:
Masters of Business Administration (MBA)
Masters of Education (Education Leadership & Management.
Masters of Education (Early Childhood Education).
For more information on any of the above courses offered, please browse SIDMA College Sabah Website, or at SIDMA College Facebook Account "SIDMA College". Potential students are also welcome to visit us at SIDMA College Sabah located at Jalan Bundusan, 88300 KOTA KINABALU; or call the college hotline number 088-732 000 or 088-732 020.
Online registration is also available at Here.
By Teo Eng Seng and Zain Azrai Bin Mohd Noor,
SIDMA College Sabah,
88300 KOTA KINABALU.