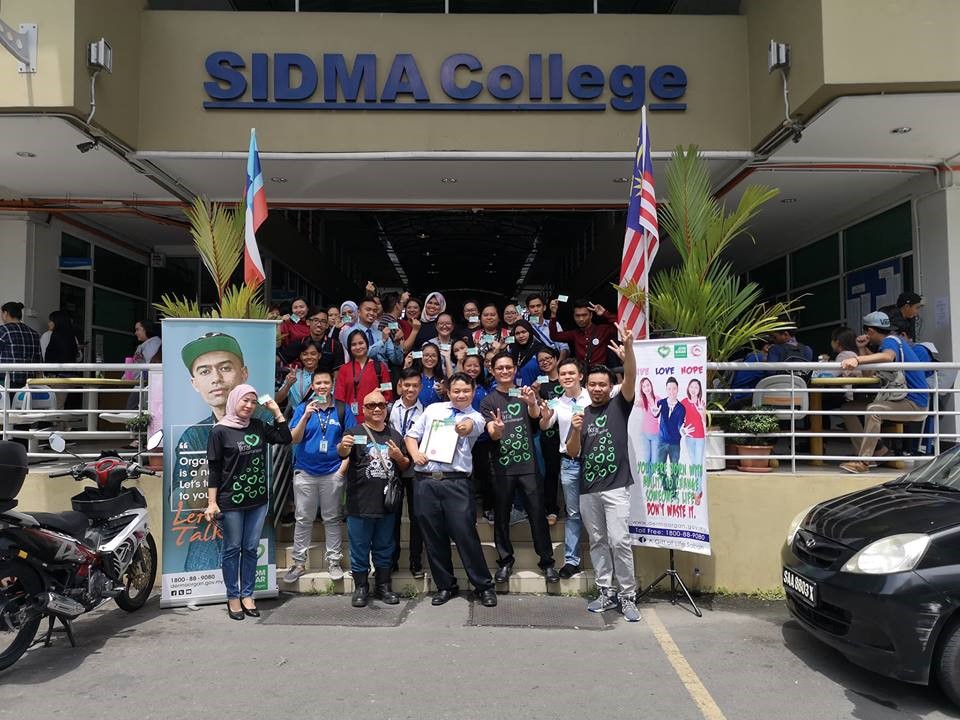 SIDMA College Sabah collaborated with Queen Elizabeth Hospital, Kota Kinabalu to organise an organs and tissues donation drive at SIDMA College Sabah on 8 October 2018. The event which was co-organised by SIDMA College Student Affairs Department (STAD) headed by Mr Terence B Stephens, and Organs and Tissues Procurement Team from Queen Elizabeth Hospital II, Kota Kinabalu headed by KJ Roslina Jenang aimed at creating awareness as well as getting more people, particularly SIDMA staff, students as well as the general public; to support the campaign message and slogan "Satu Ikrar Sejuta Harapan" and getting people to pledge as organs and tissues donors.
This is so because even though many Malaysians recognise the importance of saving lives, but when it comes to sharing part of their body by way of organs donation, they hesitate. It is a very touchy question and many non-donors feel that it is a very personal decision shrouded in myths and cultural belief.
It was reported in March 2017 that the then Deputy Health Minister, Datuk Seri Dr Helmi Yahya remarked in Parliament that only 1% of Malaysia's population have pledge their organs donation upon death. He added that the figure above is too low considering Malaysia's population of over 30 million (then), compared with developed countries where donors' numbers are as high as 30% to 40% of the population; and sadly in Malaysia, the numbers of patients who need organs transplants is increasing from year to year.
Present at SIDMA College Sabah to present instructional talks to the SIDMA staff and students was Mr Low Lieh Yun of the Organs and Tissues Procurement Team. He enlightened the SIDMA community and the general public that organ or tissue donation has been accepted as a treatment method. It is a process of donating organs or tissues of the body for the purpose of transplanting into others in need because of the failure or damage to an organ or tissues of the recipient. After transplantation, the recipient can go on and lead a better life quality. Thus it is considered as a very noble deed.
During the event Mr Low also took the time to elaborate on the organs and tissues which can be donated. In Malaysia, as pointed by the National Organ Donation Public Awareness Committee Chairman, Tan Sri Lee Lam Thye, organs that can be donated, and of high demand are: heart, lung, liver, and kidney. As for the tissues, they are heart valves, eyes (corneas), bones and skin.
He also invited Mr Demian George, a living Donor, to share his personal experience and success stories about his organ donation experience. Living donors are people who have donated one kidney or part of organ, or tissue to either their living recipient whether or not they have any blood ties. The speakers also shared stories of patients who died after waiting in vain for suitable organs.
The Star in September 27, 2012 reported that a pair of kidneys from Sabah was rushed to Kuala Lumpur making it the first organ donation in the state. Earlier, the parents of the boy, who was brain dead, had consented to donating their son's kidney. According to the then Health Department Deputy Director, Dr. Adlan Suhaimi Ahmad, "They gave their consent because they knew the big difference that two kidneys could make to someone who is in dire need of them in spirit of the "Satu Ikrar Sejuta Harapan" slogan.
To clear the other confusing issues about organs and tissues donation, both Mr Low and Mr Demian also took the opportunity to explain about Cadaveric donors, or donors who have died.  It Malaysia, Cadaveric donations are encouraged and given priority as it does not pose any risk to the donors. However he added that only Brain-dead donors, or donors who have died at the Hospital can donate their organs and tissues. Confirmation of death will be performed by two doctors who are qualified, in two separate trials.
On the survival rate of organ recipients; statistics indicated that Liver Transplantation – 1 year: 80-85%; 5 years: 70-75%. For Heart Transplantation: 1 year:  83%; 5 years: 63%; back to work:  83%. For Kidney Transplantation- 1 year: 85-90%; 5 years > 75%; 10 years: 60%.
According to Mr Terence B Stephen (STAD) the Organ and Tissues Procurement Team managed to send a loud and clear message of "Satu Ikrar Sejuta Harapan" to the SIDMA Community, as the event concluded with Mr Louis Jais (Academic Manager) led a team of 108 staff and students to sign up as well as to pledge as organ donors in Sabah to KJ Rolina Jenang and the Procurement Team.
Various other activities such as free medical check-up, quiz, exhibition booths, photo booths and "most liked picture" were held. The organiser also presented choir "Menanti Sinaran" to the audience.
By Teo Eng Seng and Zain Azrai,
SIDMA College Sabah,
88300 KOTA KINABALU.