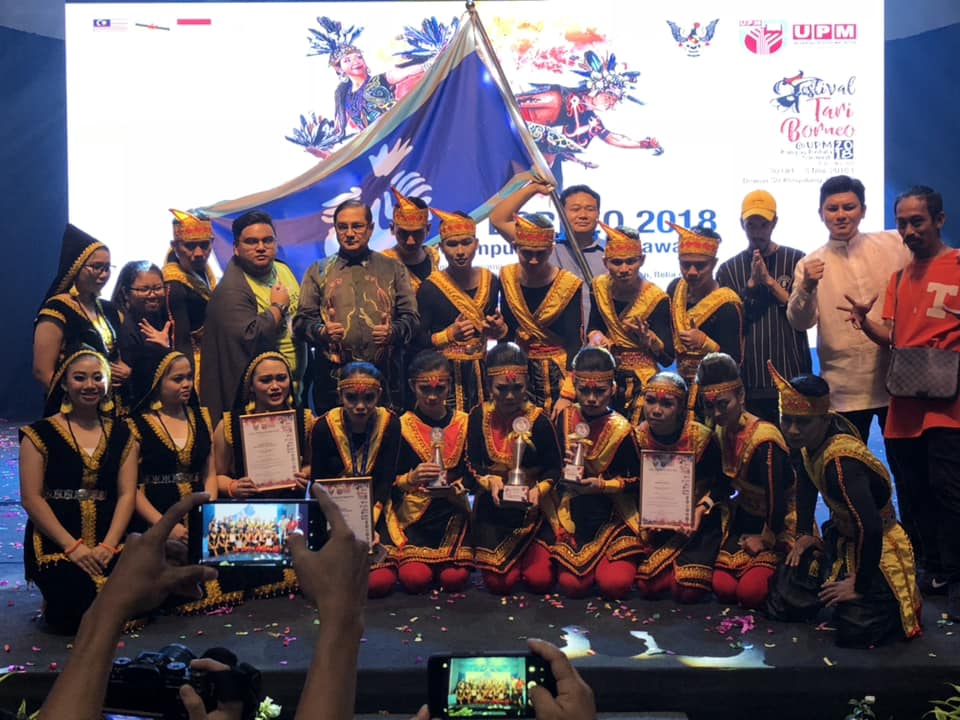 SIDMA College Sabah Prima Dansa dancers managed to outshine dancers from others institutions of higher learning in Borneo during the 7th Borneo Dance Festival 2018 at Dewan Sri Kenyalang, Universiti Putra Malaysia (UPM) Bintulu Campus on 3 November 2018. SIDMA team was awarded second runner-up for the Overall Best Performance, Best Music and best choreographer. The first and second placing went to universities from Indonesia.
Immediately after the award presentation, Dr Morni Hj Kambrie, Founder and Chairman of SIDMA College, congratulated all Prima Dansa dancers for their excellent performances. Dr Morni was also feeling delighted for being blessed with one the best choreographers. He too conveyed his thanks and appreciation to all who have contributed, supported and led the team to success.
Dr Morni also congratulated the Secretariat of Borneo Dance Festival 2018 for the excellent organization. He too indicated his appreciation to the host of the game, Universiti Putra Malaysia Campus Bintulu, Sarawak for their warm hospitality and kind assistance to all visiting teams and their supporters alike.
Earlier Dr Morni Hj Kambrie (Founder and Chairman of SIDMA College) led a team of thirty (30) members inclusive of SIDMA Officials, project directors, SIDMA Prima Dansa dancers, choreographers, make-up artists and crew members via road from Kota Kinabalu to participate on the Seventh Borneo Dance Festival 2018 "Festival Tari Borneo" that was held on 30 October until 3 November 2018 at Universiti Putra Malaysia (UPM) Bintulu Campus.
Also present throughout the event were Madam Azizah Khalid Merican (CEO), Puan Azlina Ngatimin (Director, Corporate Relations and Business Development), Mr Rody Rodiley Tunai (Manager, Student Residence Services Department), Mr Terence B. Stephen (Manager, Student Affairs Department) and related SIDMA supporting staff.
According to Mr Mohd Fikri Shah, President, SIDMA Prima Dansa cum President Student Representative Council (SRC), the team were given the opportunity to present two performances during the occasion. "Sumirid" a local tradition dance was presented during the officiating ceremony on 30 October 2018; and "Molukas" a creative traditional ethical dance was showcase during the competition on 01 November 2018.
SIDMA College Sabah was selected to represent Sabah Private Institutions of Higher Learning (IPTS Sabah). Two other participating teams from Sabah are Universiti Teknologi Mara (UiTM) Kota Kinabalu Campus and Universiti Malaysia Sabah (Labuan International Campus). Other participating groups are UPM Bintulu, Universiti Teknologi Mara (UiTM) Kota Samarahan Campus, Universiti Malaysia Sarawak (Unimas), and SIDMA College Sarawak.  University of Brunei Darussalam (UBD) represented its country Brunei Darussalam. From Kalimantan, Indonesia, the participating universities are Tanjungpura University (UNTAN), Lambung Mangkurat University, University of Palangkarya, Mulawarman University and Borneo Tarakan University (UBT).
Coordinator for Festival Tari Borneo 2018 secretariat announced that the purpose of this biennial Dance Festival is to provide a platform for the dance troupes from various institutions of higher learning across Borneo to exchange, share and create new ideas towards further developing and preserving the performing arts for generations to come.
Through such interaction between local and international institutions of higher learning in Borneo, it is hoped to encourage better collaboration between local and international institutions of higher learning across Borneo; which later would lead to strengthen the academic and research collaborations among the various higher education institutions of Borneo through exchanging expertise and services conducting prospective conferences, workshops and more. Such activities could bring together all the people closer to build social connections among dancers from various backgrounds; which could also promote Borneo cultural heritage on the international arena.
The Dance Festival, an initiative in to showcase the cultural diversity of Borneo through live traditional performances, was initiated in 2006, with UiTM Sarawak being given the honoured to host the first and second series of the Dance Festival. UiTM Kota Kinabalu Sabah was selected to host the third series; whereas Universitas Tanjung Pura, Kalimantan Barat then hosted the fourth competition; whereas the fifth biennial event was hosted by UiTM Sarawak. Universitas Mulawarman, Samarinda, Kalimantan Timur Indonesia was given the honoured to host the 6th Borneo Dance Festival
Meanwhile, Mr Terence invites more of SIDMA College UNITAR Sabah students to join PRIMA DANSA or other related clubs and societies of the college thus widening their opportunities to participate in cultural activities, resulting in enhancement of their personal skills and experiences: confidence, self-presentation, teamwork and collaboration, time management, organizational skills, self-awareness, self-discipline and more.
For more information regarding SIDMA College UNITAR Sabah Student Affairs Department as well as its clubs and societies available, please visit SIDMA College Jalan Bundusan, 88300 Kota Kinabalu; or call SIDMA Hotline @ 088-732 000 or 088-732 020.
By Teo Eng Seng and Zain Azrai
SIDMA College Sabah,
883000 KOTA KINABALU