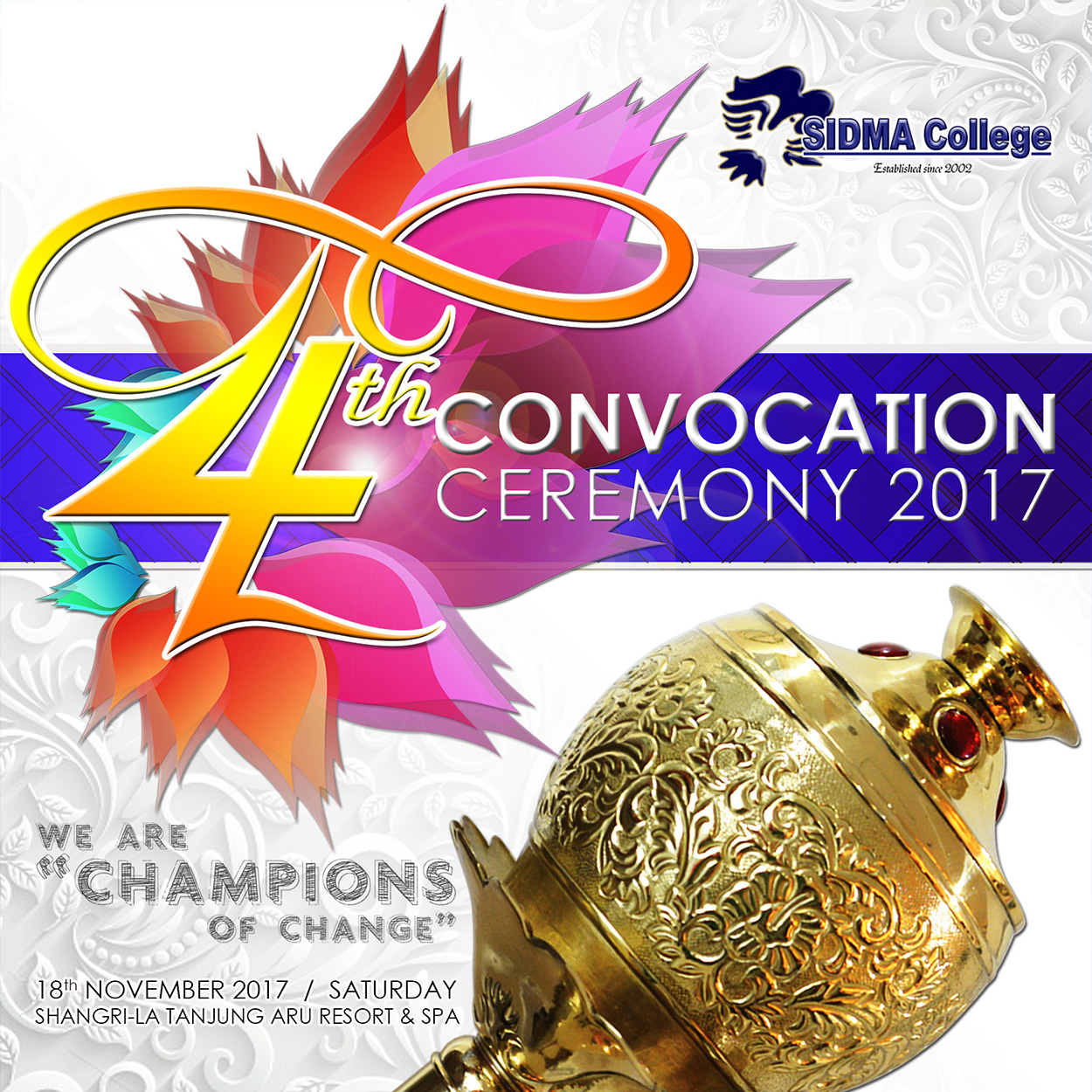 SIDMA College is very pleased to announce that the 4th Convocation for the Diploma Early Childhood Studies graduands will be held on Saturday, November 18, 2017 at Shangri-La's Tanjung Aru Resort and Spa.
The Convocation will witness 130 graduates from SIDMA College Sabah and Sarawak who took Early Childhood Studies since 2015, receiving their Diploma in Early Childhood scrolls.
Prof Dr Bustam Kamri, a renowned Early Childhood Education Specialist in Malaysia, will be given the honour to officiate this auspicious event, and subsequently present the academic scrolls to the graduating students.
The Admission and Student Records Department cordially invites all convocation members (graduands) to visit SIDMA College Convocation Ceremony 2017 page HERE for more information on the following:
Registration
Fees and Payment
Convocation Rules and Regulations
MOHE Tracer Study
List of graduating students, and more.
For more information on the 4th SIDMA Convocation Ceremony, please visit us at SIDMA College Kota Kinabalu or by visiting visit SIDMA College Convocation Ceremony 2017 page. Graduands are also encouraged to call us 088-732 000 or 088-732 020 for details and registration.
On the same note, Dr Morni Hj Kambrie (Founder and Chairman of SIDMA College), Madam Azlina Ngatimin (Director, Corporate Marketing and Business Development), Madam Azizah Khalid Merican (CEO), Managers and Heads of Departments would like to begin by saying congratulation to the 2017 graduands of SIDMA College. "It is your hard work and sacrifice that has brought you to the finish line of your studies here, and to the start line of your next journey; that is towards your professional careers, as well as the rest of your future lives. This will be a big day, and we know you will enjoy and remember it". They also take the opportunity to praise and congratulate the parents and families of the graduands as their sacrifices and support of these students is very essential to what they achieved. They want the graduands to relish it as it is their moment to enjoy and remember.
Dr Morni, on the behalf of the College, also convey sincere thanks and appreciation to Sabah Education Director and officers of Sabah Education Department, District Education Department Officers, School Headmasters and Management, as well as to all teachers (both the public and private institutions) who have contributed and assisted these students, particularly during their interns at their  respective school.
Heartiest Congratulations to all our graduands.
By Teo Eng Seng and Zain Azrai Bin Mohd Noor,
SIDMA College,
KOTA KINABALU.