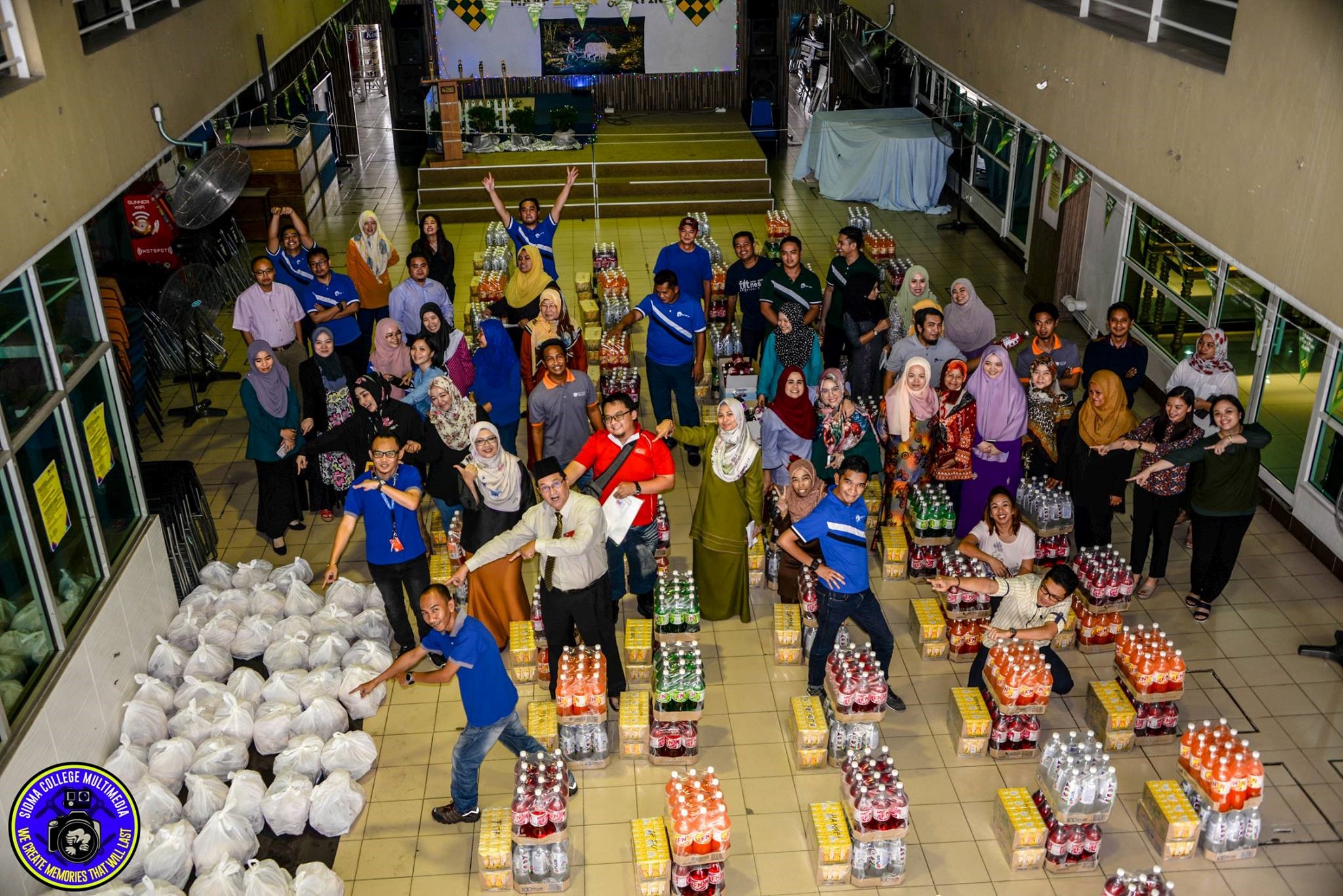 One of the many charitable acts by Dr Morni Hj Kambrie (Chairman and Founder of SIDMA College) during each Ramadan, is to honour the spirit of Ramadan and spreading the Hari Raya cheers, through the distribution of Hari Raya Goodies to SIDMA staff, including staff from its subsidiary companies such as Bentleytel Malaysia Sdn Bhd., Didi Childcare Centre and Fiona Travels and Tours Sdn Bhd, celebrating Hari Raya.
To share the warmth and joy of 1st Syawal 1439H, Dr Morni with the full cooperation and collaboration of SIDMA College Staff Welfare Association (Pertubuhan Kebajikan Kakitangan Kolej SIDMA Sabah - PKKKSS) 2018/2019 Committee headed by Mr Zain Azrai, presented Hari Raya Goodies to SIDMA staff celebrating the Hari Raya Aidilfitri on 15 June 2018 (upon the first sighting of the 1st Syawal moon)
More than 100 goodie bags containing basic Hari Raya celebration necessities such a variety of poultry, beef, assorted fruit and soda drinks, and more were distributed to the staff by Dr Morni at SIDMA Atrium on 8 June 2018. The event was held in the presence of Madam Azlina Ngatimin (Director, Corporate Marketing and Business Development), Madam Azizah Khalid Merican (CEO), Managers and Heads of various departments as well as staff of the college.
According to Dr Morni, the giving-out of goodies to SIDMA staff during national festivals such as Hari Raya Aidilfitri, Hari Raya Aidil Adha, Harvest Festival, Christmas and Chinese New Year provides him the opportunity to share and give back to his staff and the society as well as to celebrate together each of these festivals with joy, as one big family. Such initiatives also enable Dr Morni to express his sincere appreciation, recognition as well as to convey his thanks to all the staff for the great service and contributions that they had rendered to the college.
Mr Zain Azrai (PKKKSS Chairman) on behalf of the committee and SIDMA staff sincerely thanked Dr Morni and family for their generosity and their willingness to care and share for his staff well-being and happiness, particularly during very special occasion such as the Hari Raya Aidilfitri celebration.
Dr Morni, Madam Azlina, Madam Azizah, SIDMA Board of Management, Mr Zain Azrai and PKKKSS Committee Members conveyed in advance their warm Hari Raya Aidilfitri greetings and wishes to all lecturers, staff, students, relatives, parents and friends.

By Teo Eng Seng and Zain Azrai Bin Mohd Noor,
SIDMA College Sabah,
KOTA KINABALU.