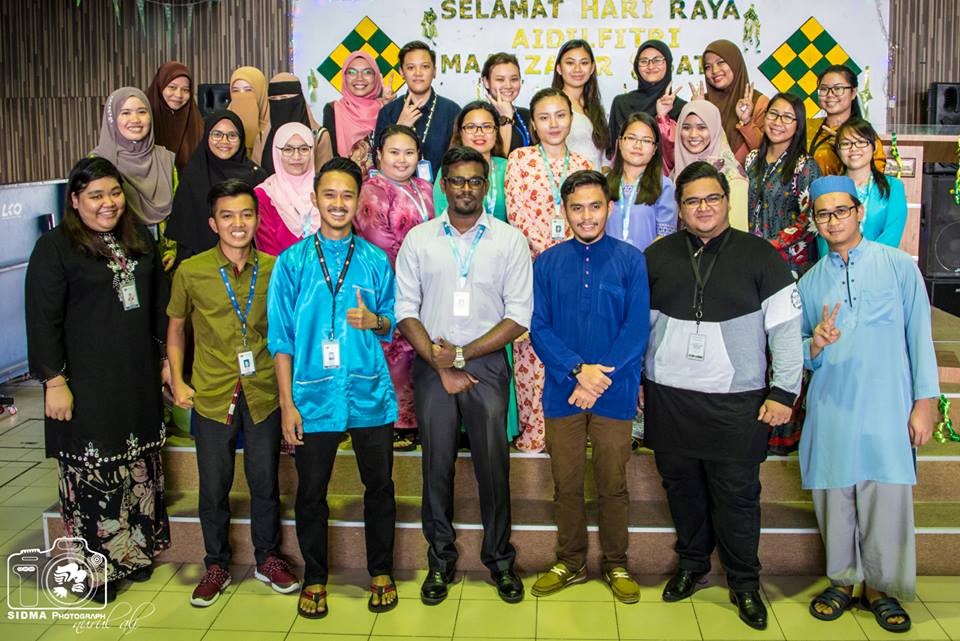 SIDMA College Islamic Student Club (GAMSIS) organised a "GAMSIS Hari Raya Aidilfitri Celebration" event on 5 July 2018 at SIDMA Atrium, SIDMA College City Campus for all students and staff of the college. The event was held with the main purpose of getting the students to convey their "Selamat Hari Raya Maaf Zahir dan Batin" message to all staff of the college, as well as to foster good relationships through the Hari Raya "Open House" concept; thus, building good relations among the existing students and the new ones, especially new students from the June 2018 new intake. It also provide an opportunity for staff and students of the college to mingle together in harmony without much protocol.
Dr Morni Hj Kambrie (SIDMA Chairman and Founder of the College) in his officiating address, congratulated Mr Mohd Faridzwan Bin Abdul Salleh as the GAMSIS Chairman and his committee members, for the initiative to organise the gathering despite having limited time, as they just came back from their semester holiday, and also being handicapped by having small committee as most of the committee members are currently undergoing their internship training.
He also thanked the management of Restoran Sari Bonda, a restaurant located at Bundusan Commercial Square Centre 2, Penampang, as well as staff and lecturers of the college who have contributed to ensure the successful implementation of the event. It's through the spirit of co-operation, collaboration and understanding from all the communities and partnership of the staff and communities that strengthened the SIDMA College miniature of a multicultural and multiracial democratic society whereby everyone can live, study, play, work and share the spirit of living together in harmony.
Dr Morni also took the opportunity to announce that SIDMA College Sabah has entered a Memorandum of Agreement (MoA) with Kolej Universiti Islam Antarabangsa Selangor (KUIS), a very dynamic private Islamic university in Malaysia  to offer Islamic diploma studies programmes, beginning this coming Semester October 2018 intake of new students.
According to Dr Morni, for a start the following diploma studies programmes have been shortlisted to be offered:
 Diploma in Education (Al-Quran Studies);
 Diploma in Islamic Studies (Al-Quran & Al-Sunnah);
 Diploma in Islamic Studies (Dakwah);
 Diploma in Mosque Management; and
 Diploma in Tahfiz Management.
For more information about the courses offered, potential students can browse SIDMA College Website or like SIDMA Facebook Account. They can also call SIDMA hotline number at 088-732 000 or 088-732 020.
Dr Morni also invited GAMSIS members to promote the programme as well to recruit potential students who are interested to join the above mentioned courses. He also advised GAMSIS to conduct more of the religious activities that will have added value and benefit the students of the college as a whole.
Earlier, GAMSIS Chairman, Mr Mohd Mohd Faridzwan Bin Abdul Salleh, thanked Dr Morni and the staff of the college for their full cooperation and collaboration to ensure the success of the gathering. He too thanked all his fellow colleagues for their co-operation and participation.
Like many other college gatherings, the highlight of the celebration was of course the scrumptious food, birthday celebration and lucky draws. A variety of traditional Hari Raya delicacies ranging from lemang (bamboo rice) and rendang (spicy meat dish), nasi himpit (rice), satay, and kuah kacang (peanut gravy) homemade Raya cookies were served.
By Teo Eng Seng and Zain Azrai Bin Mohd Noor,
SIDMA College Sabah,
KOTA KINABALU.