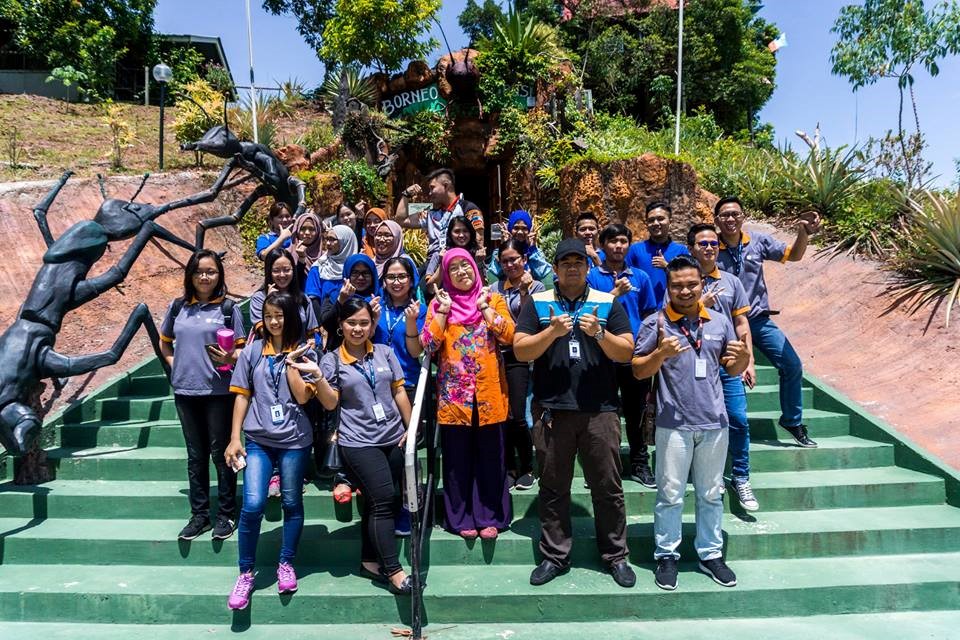 SIDMA College Sabah through the dynamic leadership of Dr Morni Hj Kambrie (Founder and Chairman, SIDMA College) and Madam Azizah Khalid Merican, in their continuous effort to produce local young graduates who are proficient in the use of Bahasa Malaysia (a common national language) and English as second language (the international language of communication); continues tirelessly to improve the proficiency of English among the students of the college through various teaching approaches, including taking learning outside the classroom to make learning English an engaging and enjoyable experience for all.
Puan Jenifah Abdullah, chief facilitator and module writer of the programme have motivated the current 30 students taking semester June 2018 English Proficiency Programme (EEP) and English Paper I and II by bringing them outside the classroom and letting them to explore, inquire and discuss about "what it would feel like to be living underground like ants" by organising an Educational Tour to Borneo Ant House – Your Mini Theme Park on 10 August 2018.
The 2018 EEP and English Students Education Tour to the recently open Borneo Ant House located in Tuaran; is also the Malaysia's first underground gallery. The gallery is divided into three (3) rooms and the walls are filled with crawling ants; with a total of over 463 ants' replicas inside the nest (gallery); provide a stimulating and provoking environment for the students to explore, inquire, think and discuss with their friends as well as with the Director of the Park, Madam Sufiah Abdul Rahim Lee (an ex Education Officer in Sabah Education Department)
Upon arrival, the students were welcomed by the Director of the Park who took her time off to get to know the students and their motive of the visit. She also took time to explain what the nest and the mini theme park can offer to them for their assignment. Madam Sufiah also explained that the nest has three Gallery, with the first one filled with "crawling" ant replicas. The second is Culture Gallery, is filled with cultures of majority from Tuaran population (Bajau, Dusun Lotud, Iban and Bidayuh). The third is the Sword Gallery, showing a collection of swords which are symbols of great power from various ethnic groups of Borneo.
Prior to let the students to explore and think and discuss in depth regarding their assignment question, Madam Sufiah explained further on what's inside and outside of the nest or the mini theme park. Madam Sufiah added that outside of the nest, students can experience and explore the canopy walk, a modern tree house prior to stopping at the cafeteria for their coffee break. Local handmade handicrafts is also available at the souvenir shop nearby.
Madam Jenifah, on behalf of the SIDMA Board of Management thanked Madam Sufiah for her time and efforts to entertain the students and assisted them on completing their project. She hoped that the students can benefit from such visit and able to present their findings from the study tour.
Madam Jenifah also took the opportunity to thank Dr Morni, Madam Azizah, Madam Nancy Pishori (Manager, Property Administration Department) and staff of SIDMA College Sabah who have assisted throughout the tour to ensure the success of the project. She added that the students benefitted from such visit as they were using simple English to communicate with the resort management as well as with their friends throughout the tour. She added that even inside the SIDMA bus, the students selected and sang English song for their Karaoke entertainment. She too hope that the management will continue to support the organising of similar teaching and learning activities for the other batches of students in the coming future.
SIDMA College UNITAR Sabah next intake period is in progress and we invite SPM, STPM or Diploma holders or those with other equivalent qualification to enrol their tertiary education with college for the September / October 2018 intake of new students.
SIDMA College UNITAR Sabah offers the following study programmes for the September / October 2018.
Foundation Courses:
          * Foundations in Management
Diploma Courses:
          * Diploma in Early Childhood Education Studies.
          * Diploma in Occupational Safety and Health
          * Diploma in Management
Bachelor's Degree Courses:
          * Bachelor of Education (Hons)
          * Bachelor of Early Childhood Education (Hons)
          * Bachelor of Business Administration (Hons)
          * Bachelor of Management (Hons)
          * Bachelor of Information Technology (Hons)
Masters Courses:
          * Masters of Business Administration (MBA)
          * Masters of Education (Education Leadership and Management – ELM)
          * Masters of Education (Early Childhood Education)
For more information on any of the above courses offered at SIDMA College UNITAR Sabah, please browse SIDMA College Sabah Website, or at SIDMA College Facebook Account "SIDMA College". Potential students are also welcome to visit SIDMA College UNITAR Sabah Campus located at Jalan Bundusan, 88300 Kota Kinabalu; or call the campus hotline number: 088-732 000 or 088-732 020. Online registration is also available. Please CLICK HERE.
By Teo Eng Seng and Zain Azrai Bin Mohd Noor,
SIDMA College Sabah,
KOTA KINABALU.