Eid Al-Adha, which is also known Aidiladha celebration or "Festival of Sacrifice" is an Islamic festival meant to commemorate the obedience of the Prophet Ibrahim (Abraham) to sacrifice his son, Ismail, as an act of his submission to God's command. Obeying the word of God, Abraham complied, but as he was to sacrifice his son, God replaced him with a goat, which was sacrifice in his stead. Thus, during the celebration of Eid al-Adha, Muslims commemorate and remember Abraham's trials, by themselves sacrificing an animal such as a sheep, camel, or a goat.
2018 Eid Al-Adha falls on 22 August 2018, the tenth day of Dhul al-Hijjah 1439H in the Islamic calendar. To celebrate and in honouring this Great Day of Sacrifice, as well as the spreading of the Hari Raya Aidiladha cheers to SIDMA College Sabah community, Dr Morni Hj Kambrie (Founder and Chairman, SIDMA College Sabah), with the collaboration of SIDMA Staff Welfare Association (PKKKSS) and SIDMA students Representative Council (MPM) distributed Hari Raya Aidiladha Goodies to SIDMA College staff, as well as staff from its subsidiary companies at SIDMA College Atrium on 20 August 2018.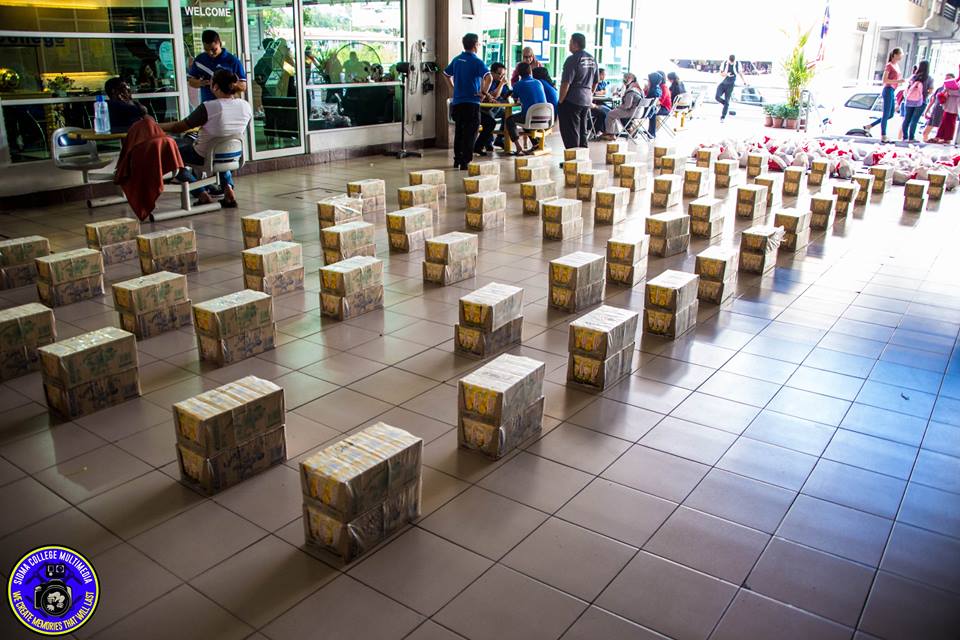 Goodies of basic festive necessities which comprises of a variety of whole chickens, sirloin beef, cartons of drinks and more were packed and handed out to the staff by Madam Azlina Ngatimin (Director, Corporate Relations and Business Development) on behalf of Dr Morni. She too shared her warmth Hari Raya Aidiladha wishes with all the staff, students and parents who will be celebrating the occasion. She advised them to take time off and enjoy the happiness of this day with all their loved ones, and make it an awesome occasion. Mr Zain Azrai Bin Mohd Noor (Chairman PKKKSS), Managers and Head of Departments were also present during the event.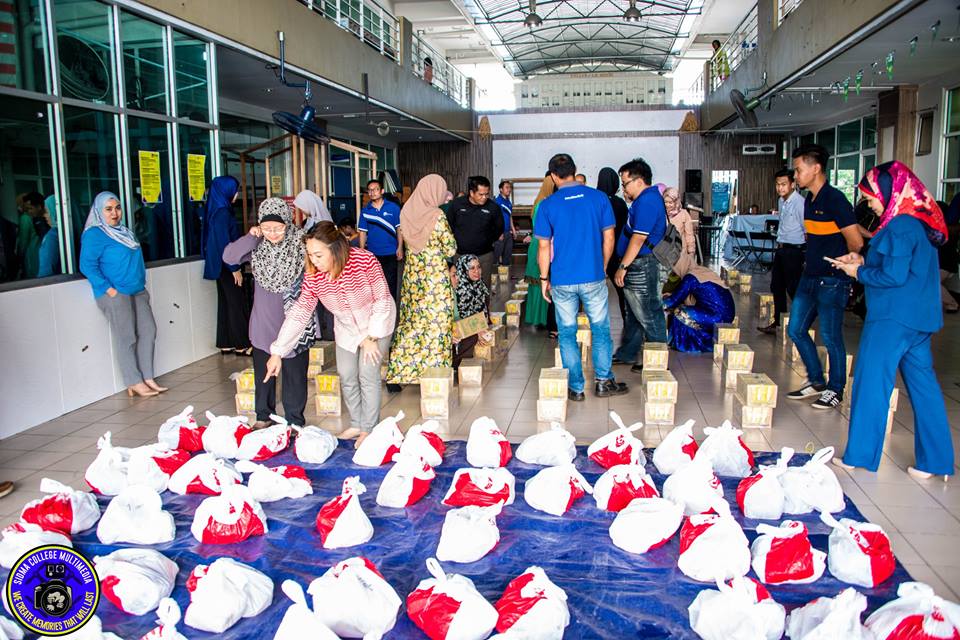 According to Dr Morni, the distribution of Eid Al-Adha goodies to SIDMA staff is one of his Corporate Social Responsibilities to share and celebrate the festival with all his staff as one big family. He also expressed his appreciation and recognition to all of his staff for their great services and contributions rendered throughout the year.
Mr Zain Azrai, on behalf of all SIDMA staff, humbly conveyed his appreciation and sincere thank you to Dr Morni and his family for their generosity, the sharing and caring attitudes for the staff well-being and happiness; particularly during the auspicious occasion such as Hari Raya Aidiladha.
Dr Morni, Madam Azlina Ngatimin, Madam Azizah Khalid Merican (CEO), Managers and Head of Departments, Mr Zain Azrai and the entire committee of PKKKSS also shared their warm Hari Raya Aidiladha greetings to all lecturers, staff, students, parents, relatives and friends.
Eid Al-Adha takes place on the 10th of Dhul-Hajj
Where many come together with love and without grudge,
Families sacrifice an animal and feed the poor,
And exchange greetings with neighbours next door,
We go to the mosque in our best clothes,
But first we must make sure we are clean from our head,
To our toes,
On this day I am so grateful,
To be alive and living in this world that is so beautiful,
Eid is always a blessed day,
Filled with joy and blessing I must say!
Eid Mubarak Everyone!
Sumaiira Zaheer & Family.
By Teo Eng Seng and Zain Azrai,
SIDMA College Sabah,
KOTA KINABALU.