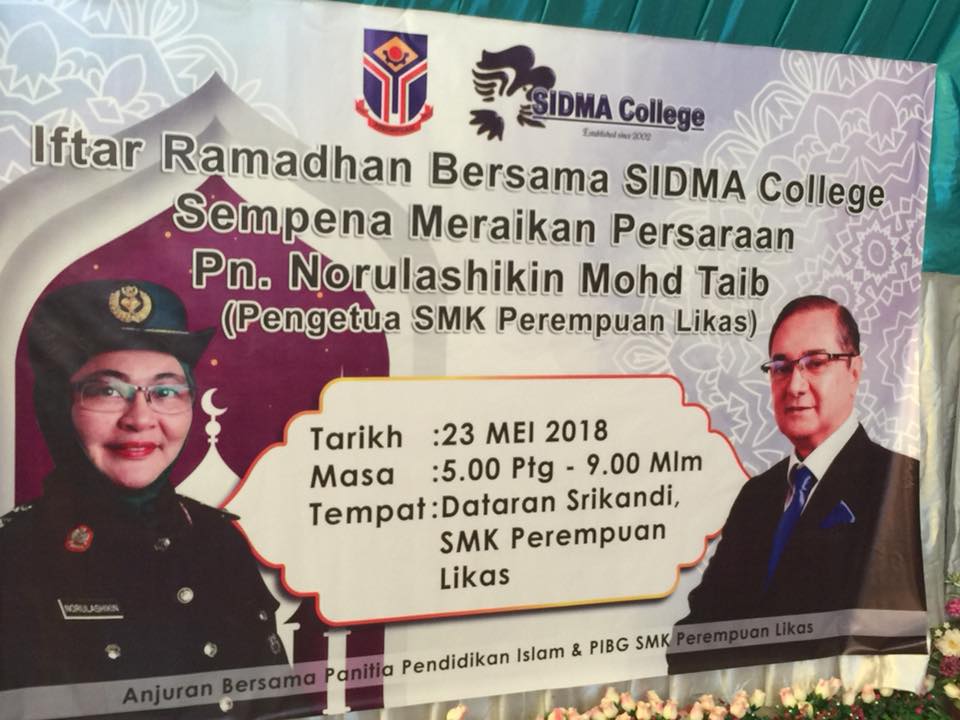 Parent Teacher Association (PTA) also known as PIBG and Islamic Education Committee of SMK Perempuan, Likas, in collaboration with SIDMA College Sabah collectively held an Iftar Dinner "Iftar Ramadan Bersama SIDMA College" in conjunction with the retirement of Madam Hajah Norulashikin Mohd Taib, Principal of SMK Perempuan Likas, Kota Kinabalu.
The event which was held at Dataran Srikandi, SMK Perempuan, Likas on 23 May 2018 was attended by more than 300 people consisted of SMK Perempuan Likas PIBG Central Committee, students' parents, School Principal and the management committee, SMK Perempuan Islamic Education Committee,  teachers and staff as well as Dr Morni Hj Kambrie (Chairman and Founder of SIDMA College), SIDMA Board of Management and staff and local Likas community.
Earlier in the evening, the Form III and Form V students that attended the dinner also performed a Solat Hajat, to seek God gracing and forgiveness for them to sit for the coming PT 3 and SPM examination with confidence and success.