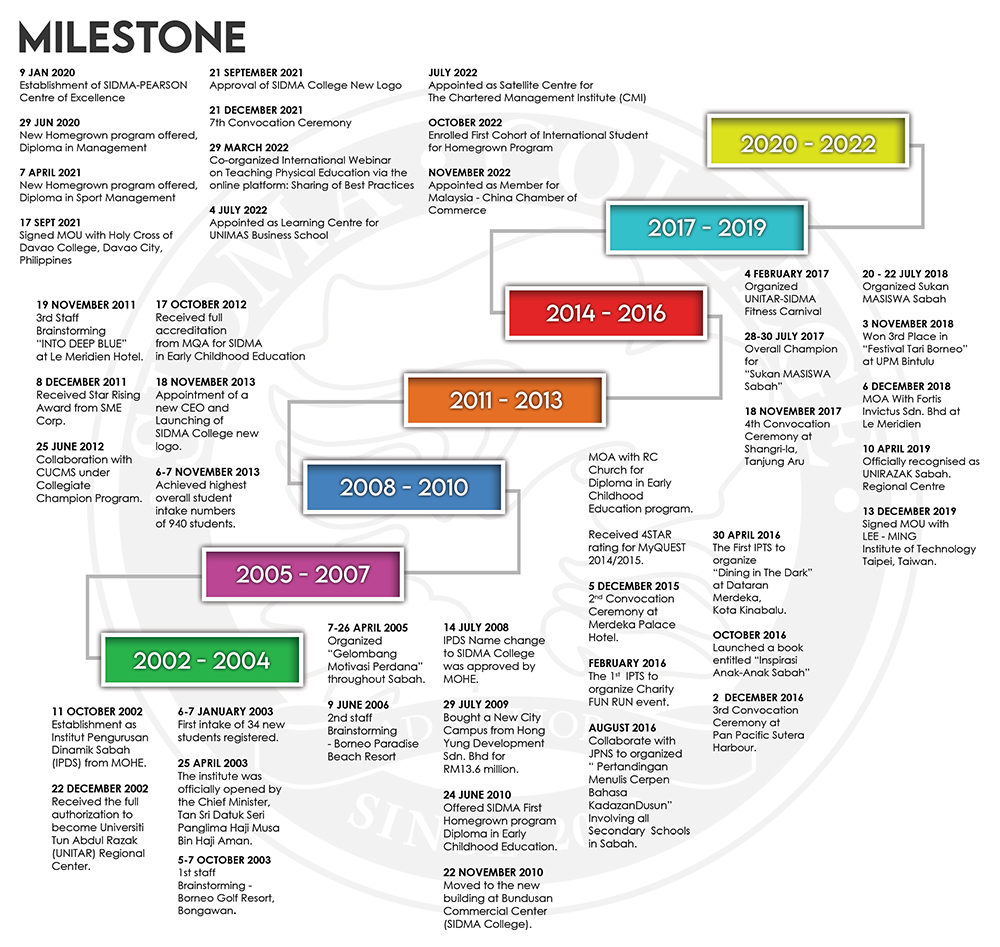 SIDMA College is a private higher learning institution offering academic programs from Foundation Studies, Diploma Programmes, bachelor's degree and master's degree in various field ranging from education to business: through its close network with UniversitiyTun Abdul Razak (UNIRAZAK) is wholly-owned by Yayasan Pelaburan Bumiputra, which also owns Permodalan Nasional Berhad (PNB). .
Under the leadership of Founder and Chairman Prof.Dr. Morni Hj. Kambrie, trusted Board of Directors and dynamic team of managers; the college prosper over the years. It has rapidly emerged as the largest regional centre of UNIRAZAK in Malaysia running UNIRAZAK courses and its own homegrown programs.
First established in Sarawak in 1998, the college which was formerly known as Institut Pengurusan Dinamik Seminar (IPDS) extended its operation to the Land Below The Wind, Sabah, in 2002. During its establishment in Kota Kinabalu, they leased a two storey Prudential Building of approximately 15,000 square feet and had its first batch of 34 students in 2003, Over the years, SIDMA continue to grow at its own 50,000 square feet campus at Jalan Bundusan and the students' population rose close to over 2,000 registered and active students, and are still increasing.
Located at Jalan Bundusan Penampang, Kota Kinabalu the College, in its vibrant and dynamic environment and being equipped with the latest technical infrastructure, strives by adopting and focusing on blended teaching and learning, a hybrid teaching and learning model that combines the conventional face-to-face meetings with tutors and lecturers in the classrooms; and the internet-based support system which provide continuous interactions among students, tutors and lecturers nationwide; as well as ensuring the students being immersed in conducive environments to understand and implement theories learned in the classrooms into the real world work experience thus producing relevant workforce for the 4th Industrial Revolution.
Aimed at achieving its mission of producing knowledgeable, skillful and competitive graduates, SIDMA college is committed to equip its students with quality knowledge and skills through the provision of excellent learning facilities and educational support services. Driven by its vision and mission, facilities and constantly upgraded to ensure that only the best are delivered its students and the public at large.