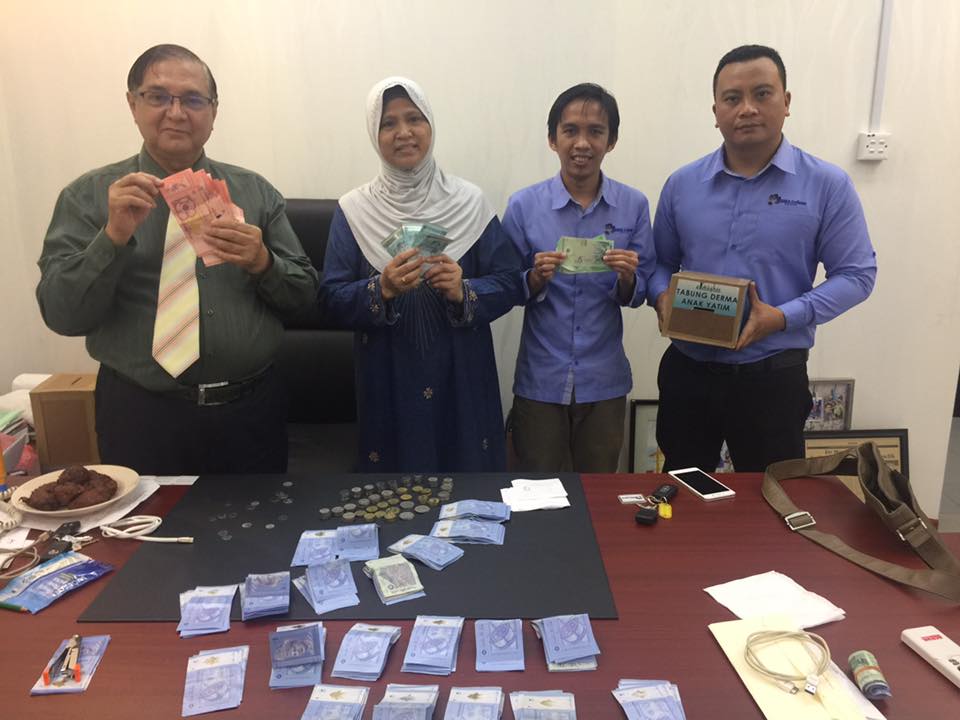 Al-Mughni Welfare and Orphanage Organization, the Orphanage Charitable organization operated by SIDMA College Sabah whose primary objective of its establishment is for the love of humanity: the caring, sharing, nourishing and nurturing of the young and deprived local children. It was initiated and launched by Dr Morni Hj Kambrie (Founder and Chairman of SIDMA College as well as Chairman of the Organization) and the late Tuan Haji Ali Ghafar at Kampung Lubok, Weston, on 27 May 2013. It was also part of Dr Morni's Corporate Social Responsibility (CSR); a way to give back to the society a portion of the college's earnings by sharing it with the deprived, neglected and needy children.
The humble launching ceremony was also attended by Azlina Binti Ngatimin (SIDMA Director, Corporate Relations and Business Development as well as Advisor to the organization), Azizah Khalid Merican (CEO and Deputy Chairman), Rukidah Binti Ruddin ((Finance Manager and Treasurer), Noradilah Binti Mohamaddia (Secretary), Abu Said Safwan Bin Ali (Assistant Secretary), as well as all the committee members; The orphanage's registration was approved by the Registrar of Societies Malaysia on 21st February 2013.
At present, Pertubuhan Anak Yatim AlMughni has adopted seven (7) children whose age ranged from 5 -12 years old from the districts of Weston, Sipitang, Penampang and Putatan. They are from families whose parents were financially deprived (monthly income below RM800.00). Although these children were still staying with their uncles or aunts or grandparents, Dr Morni announced that a monthly allowance of RM 100.00 as well other assistance such as school uniforms, stationeries and pocket Monies are allocated to each of the child since April 2013.
Dr Morni said the orphanage plans to take in more orphans in the near future. Recently the organization rented a building located at Taman Merpati, Lorong 1, Jalan Bundusan, Penampang for the orphans, but due to some technical difficulties with the relevant certification authorities, it is yet to be used as an orphanage. The association has also engaged a caretaker who now looks after the building, to ensure that it is constantly being taken care of, and that it is ready to be used as an orphanage upon getting the necessary approval from the relevant authorities. More staff will be engaged once the orphans moved into the building.
Other than running the orphanage, the organization also provides financial assistance to victims facing acute natural disaster such as flood or fire, as well other emergency cases. Being a self-funded non-government welfare organization, the initial funding of the organization has been from Dr Morni's personal earnings as well as from SIDMA College. SIDMA College and UNITAR Sabah successfully conducted two unity runs to raise fund is from the general public for the organization. On 30th April 2016, a Charity Dinner "Dining in the Dark, Sabah" was held at Padang Merdeka, Kota Kinabalu also for similar purpose. Dr Morni and the Management of Al-Mughni Welfare and Orphanage Organization, SIDMA College would like to thank the general public for their generosity by donating generously to the orphanage fund now.
Meanwhile, the Management of the organization sincerely invites generous donation from the general public to assist the running of the organization. Donations can be made in cheque addressed to  Pertubuhan Kebajikan dan Pengurusan Anak Yatim Al-Mughni or through online payment at Bank Islam, account number 1005 2010 0043 03. For more information about Al-Mughni Welfare and Orphanage Organisation, or donation to the organization, please call Dr Morni Hj Kambrie (013-810 620), Ms Noradilah Mohamaddia (088-732 000 / 732 020),  or Mr Abu Saied Safwan Ali  (088-731 291).
By Teo Eng Seng and Zain Azrai Bin Mohd Noor,
SIDMA College UNITAR Sabah,
88300 KOTA KINABALU.