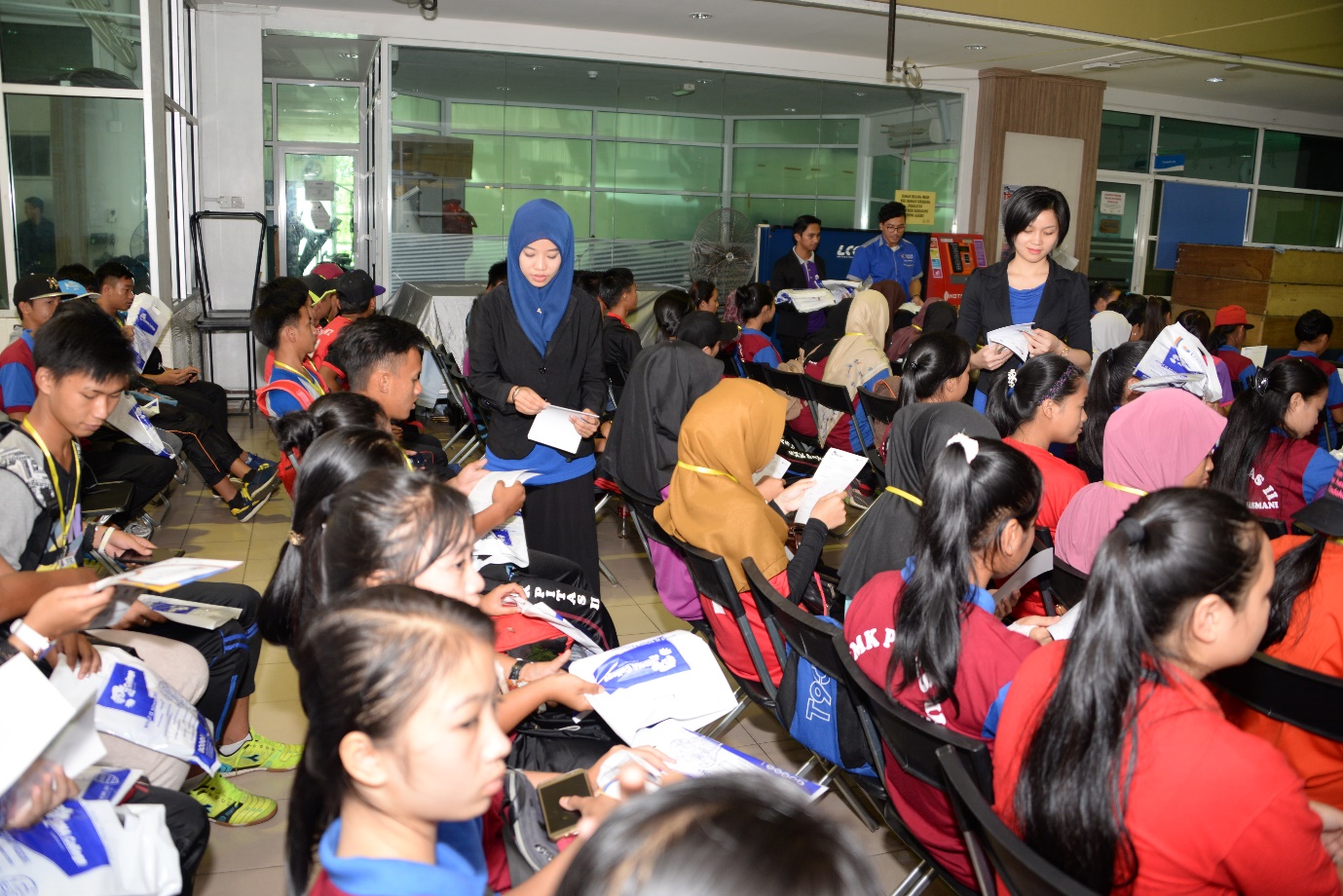 14th November 2017 was a memorable day for Form Four students of SMK Pitas II as they were given the opportunity to explore SIDMA COLLEGE, one of the leading private Institutions of Higher Learning in Sabah.
The trip which was headed by Mr Amran and assisted by 14 others teachers was planned to nurture, motivate and encourage the 112 participating Form Four students to strive harder for their 2018 SPM Examination, as well as to assist them to plan their future wisely, regarding the availability of tertiary education facilities available in Sabah.
Upon their arrival, the SMK Pitas II guests were welcomed by Dr Morni Hj Kambrie (Founder and Chairman of SIDMA College), Mr Terence Boyd Stephens (Acting Head, Student Affairs Department), representative from the Corporate Relations and Business Development, as well as members of the Student Representatives Council (SRC).
Prior to their campus tour, Dr Morni, a motivational speaker, in his welcoming speech highlighted to the students on the importance of achieving good grade during their upcoming SPM Examination. He reminded the students to put in extra effort during their Form Five session in order to score good grade in their SPM next year.
On what's next after their SPM, Dr Morni advised them to pursue their aspiration and maximise their potentials to enable them to further their tertiary education in their field of interest that will lead them to the top of their dreamt career. He also shared the various opportunities and options available for them to choose from, and advised them to seek further explanation and consent from their parents and school counsellors. They can also consult SIDMA's very own Counsellor, Ms Melissa Marcus Molijol (088-732 000) for more information.
Mr Rudy Barnabas and staff from the Corporate Relations and Business Development department as well as from the Student Affairs department later introduced to the guests on SIDMA's background, conducive facilities available as well courses offered. Various motivational activities were also conducted during the session.
During the session, the guests were given the opportunity to enter the gymnasium, Resource Centre, IT Laboratory, lectures and tutorial rooms and all other facilities available at SIDMA College.
SIDMA College UNITAR Sabah invites school leavers with SPM and STPM qualification or its equivalent to pursue their tertiary studies in any of the following programme below:
List of Programmes that SIDMA College offers:
Foundation in Management
Diploma in Early Childhood Education
Diploma in Occupational Safety and Health
Diploma in Management
Bachelor's Degree Courses
Bachelor of Education (Hons)
Bachelor of Education (Early Childhood Education (Hons)
Bachelor of Business Administration (Hons)
Bachelor of Management (Hons)
Masters of Business Administration (MBA)
Masters of Education (Educational Leadership and Management (ELM)
Masters of Education (Early Childhood Education)
Masters of Education (TESL)
For more information about courses offered at SIDMA College UNITAR Sabah, you may browse SIDMA College Website, or like our Facebook Account. Potential students can also visit us at SIDMA College Jalan Bundusan, 88300 Kota Kinabalu, or call our hotline number: 088-732 000 or 088-732 020.
Online registration is available. Please CLICK HERE
By Teo Eng Seng and Mr Zain Azrai Bin Mohd Noor.
SIDMA College UNITAR Sabah,
KOTA KINABALU.