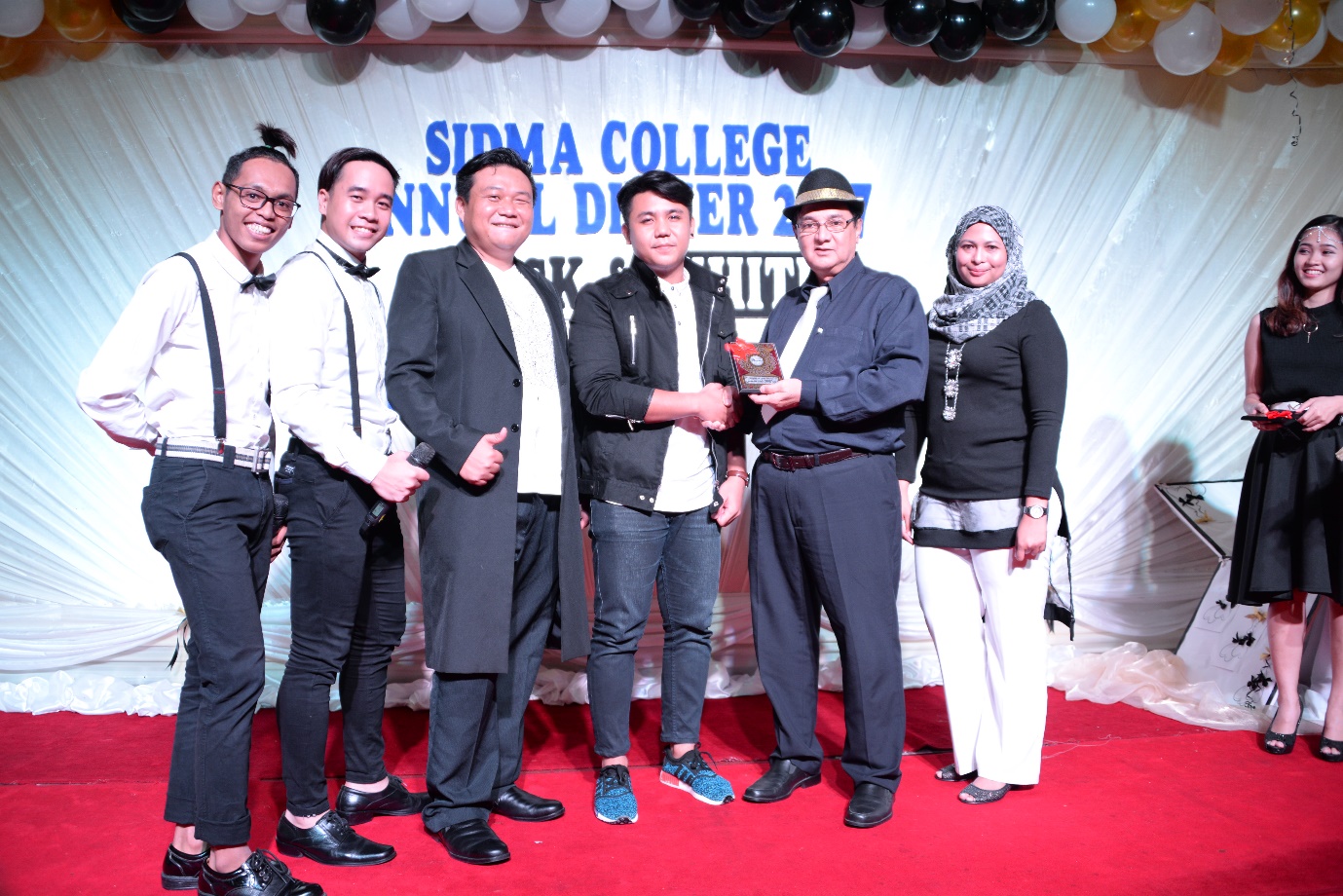 SIDMA College UNITAR Sabah 2017 Annual Dinner was joyously held on 29 November 2017, at Rafflesia Grand Ballroom, Promenade Hotel, Kota Kinabalu with the purpose of showing appreciation and gratitude to the students from various faculties, clubs and societies as well as individuals for their various performances, achievements, success as well as contributions to the College, local community and the nation and most importantly gathering the staff and student to socialise with each other in a more informal setting.
This event was wholly organised by the Student Affairs Department (STAD) headed by Mr Terence B. Stephen (Acting Head), the Students Representative Council (SRC), with full collaboration and cooperation from the various departments of the College. Together they managed to immerse the guest with exhilarating lucky draws (with a grand prize worth RM1,100), astounding performances from both the staff and students as well as special dance performances by SIDMA Dance Club – Prima Dansa.
Everyone paved their way to the event, dressed in their preferred "Black and White"; the theme of the night. The event opened with welcoming remarks from the Project Director, Mr Willson Mailam (Bachelor of Education (Hons) student). He took the opportunity to convey his sincere thank you and gratitude to Dr Morni Hj Kambrie (Founder and Chairman of Board of Directors, SIDMA College), managers, staff, members of SRC and colleagues for their collaboration and cooperation to ensure the successful implementation of the event.
Dr Morni Hj Kambrie in his officiating address congratulated and thanked the STAD and SRC for ensuring that the event is a very much to-look-forward-to by all students every year. Due to the great effort in the promotion of the event, tickets for the evening were sold out days before the event.
He stressed out that students should show their full commitment and contribute whole-heartedly in their co-curricular activities in addition to their academic, such as in sports and games that they had chosen, for their good name and achievement, as well as of their college, university and family. He particularly praised Prima Dansa for their special dance performances during the evening, and added that the College will sponsor them to the upcoming Borneo Dance Festival 2018 expected to be held at Universiti Putra Malaysia, Bintulu, Sarawak if they fulfilled the priorities determined by the College. He reminded them that SIDMA College will also play as the host to the 2018 MASISWA games tournament, and he advised all parties to make the necessary preparation early and to make the College proud.
The glamorous event kicked off with a SIDMA Got Talent Competition whereby six finalists were shortlisted to showcase their aptitudes of singing and other talents during the evening. The participants were also awarded with sensational prizes and trophies. The contest ended with the following being awarded the winner of the show:
Overall Winner        : Gretchene Quirina Salipa - "I Will Always Love You"- Whitney Houston
Runner-up              : Michelle Kasianus - "Jagalah Diri"- Jaclyn Victor
Second Runner-up   : Lesson Lawres  Jimun and Mikhael Bin Budi playing Doraemon & Gangnam Style Medley Acoustic on guitars
During the event, the following clubs and societies were awarded with "Outstanding Club and Society Award 2017"
No.

Category

Awards

Name of Winning Team

1

Sports and Recreational

Outstanding Club

Unified Football & Futsal Club

2

Music, Art & Cultural

Outstanding Club

Unified Dance Club

3

Academic & Religious

Outstanding Club

Gabungan Mahasiswa
 Mahasiswi Islam SIDMA

4

Best Club Organization

Outstanding Club

Unified Dance Club

5

Best Society
 Organisation

Outstanding Society

Unified Christian Fellowship Club
To top it off, there were distinct performances from Dr Morni Hj Kambrie himself, Mr Arie Famree Sius (Chief Jury of SIDMA Got Talent Competition, Winner Sugandoi State Level 2010, Finalist of Bintang RTM 2012, KDM Idol 2013), as well as from SIDMA staff and students. SIDMA live band contributed to the relaxed and informal atmosphere where all the attendees were able to socialise and develop closer relationships among members of the different faculties.
Other captivating event of the night was the selection of prom king and queen for two categories i.e. staff and student; based on their attire and adherence to the theme of the night; Black and White. The panel of secret judges unanimously agreed the following to be crowned the prom king and queen of the 2017 SIDMA Annual Dinner.
Staff Category 
Mr Khairul bin Anuar - Male   
Mdm Nor Ain binti Awang Damit@ Hassan - Female
Student Category
Mohd Ishmar Bin Mahmud - Male
Nora Natasha Binti Bakari - Female
Overall, the crowd was very amused with the organisation of the dinner that have fulfilled both their appetites for food and entertainment. This celebration is intended as a way for the SIDMA to express their gratitude to both the staff and the students. It also meant to give time-out for the staff and students to set aside their task as well as assignment and enjoy together as a team with a "party". It was really another perfect night to remember! Congratulations, to 2017-2018 SRC, STAD and overall organising committee.
By Teo Eng Seng and Zain Azrai Bin Mohd Noor,
SIDMA College,
KOTA KINABALU.