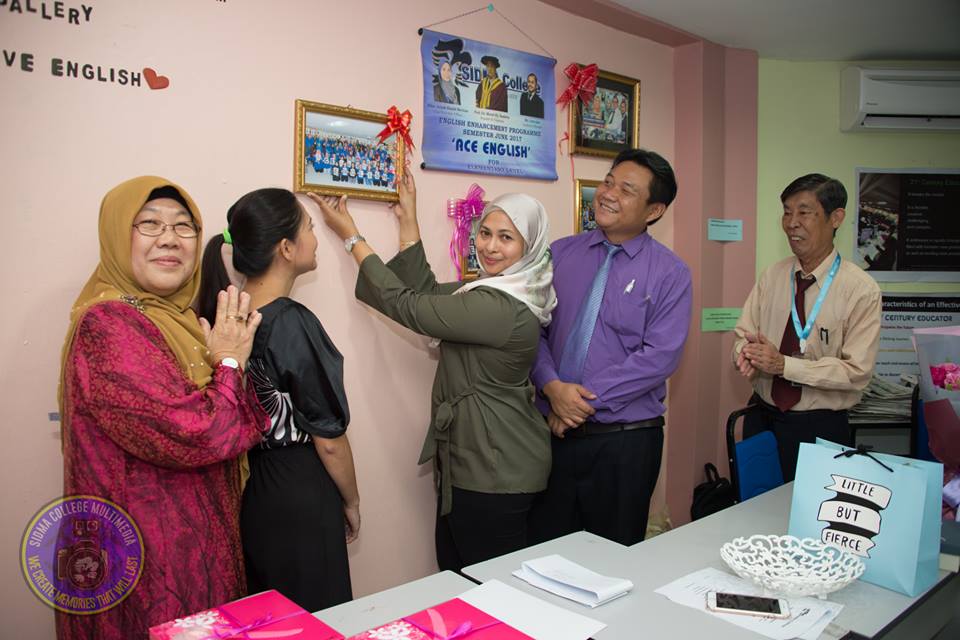 Madam Azizah Khalid Merican (CEO SIDMA College) took time off to attend the September 2017 English Enhancement Programme (EEP) Certificate Presentation Ceremony held at East 8 Lecture Room, SIDMA College on 4 December 2017.
During the unique ceremony, a total of 63 SIDMA September 2017 participants received their Certificate of Graduation. From all these participants, 12 students were selected to receive their Certificate of Excellence, and another student was awarded certificate of Academic Excellence; for their marvellous performances, attendance and achievement during the various activities held in the class as well as during outdoor activities.
The seemingly poor in their command of English Language among colleges and universities students had triggered Dr Morni Hj Kambrie (Founder and Chairman of SIDMA College) to identify the needy students, and implement the special English Enhancement Programme (EEP) as an additional subject for these new students to enhance their English Language Proficiency.
The special programme which was launched on 14 February 2017 by Madam Azizah Khalid Merican is one of SIDMA Corporate Social Responsibilities (CSR) to provide intensive training in Reading, Writing, Listening, Speaking and presentation skills to its students. Through such initiatives SIDMA College hopes to enhance their students' English Language Proficiency in order for them to achieve their personal and professional goals.
EEP, a 28 contact hour's course, is a unique "express" English Programme of SIDMA College to provide scaffolding to students who lack confidence in using English as a language of communication. Madam Jenifah Adullah, the key module writer and facilitator of the programme aimed at providing equity to these students by using different teaching and learning models, methods and techniques including the use of newspaper in English; in order to guide and scaffold these students in their pursuit of being excellent in their English Language usage.
Cik Norjanah Binti Maganggong, Student Representative, in her welcoming address, thanked Madam Jenifah, a former Senior Officer specialising in English Language, with the Sabah Education Department; for her tireless effort and full commitment to assist herself and fellow course-mate to improve their English proficiency. She too congratulated the students for corporation and collaboration as well as their commitment to improve their English Language proficiency together as team members. She added that throughout the programme, they, the students demonstrated teamwork and adaptability while facing challenges in competing a given task within a stipulated time frame. According to her, the students adapted English Language during their interpersonal communication; there were improvement in their oral presentation and communication skills, as well in their creativity and writing skills.  
Madam Azizah Khalid Merican (CEO), who was given the honour to present the Certificate to the selected students, during her official mandate, advised the students not to feel inferior about their English proficiency, but advised them to continue using the language in any situation possible. She congratulated them for their tremendous improvement in their speaking skill for the language. However she reminded them to make sense out of what they say. As George Orwell put it, "A scrupulous writer, in every sentence that he writes, will ask himself at least four questions, thus: 1. What am I trying to say? 2. What words will express it? 3. What image or idiom will make it clearer? 4. Is this image fresh enough to have an effect?"
During the event, the students also put up performances to showcase the competency in their usage of English in various activities such singing, creative movements, as well as during multiple presentation.
To show their appreciation to Dr Morni, Madam Azizah, and Managers from various departments for the unique support and collaboration, Madam Jenifah and the students collectively sponsored various door gifts, such as bouquet of flowers and freshly baked cakes to all the special visitors.  High-Tea refreshment was also provided for the special guests and students.
By Jenifah Abdullah and Teo Eng Seng,
SIDMA College,
KOTA KINABALU