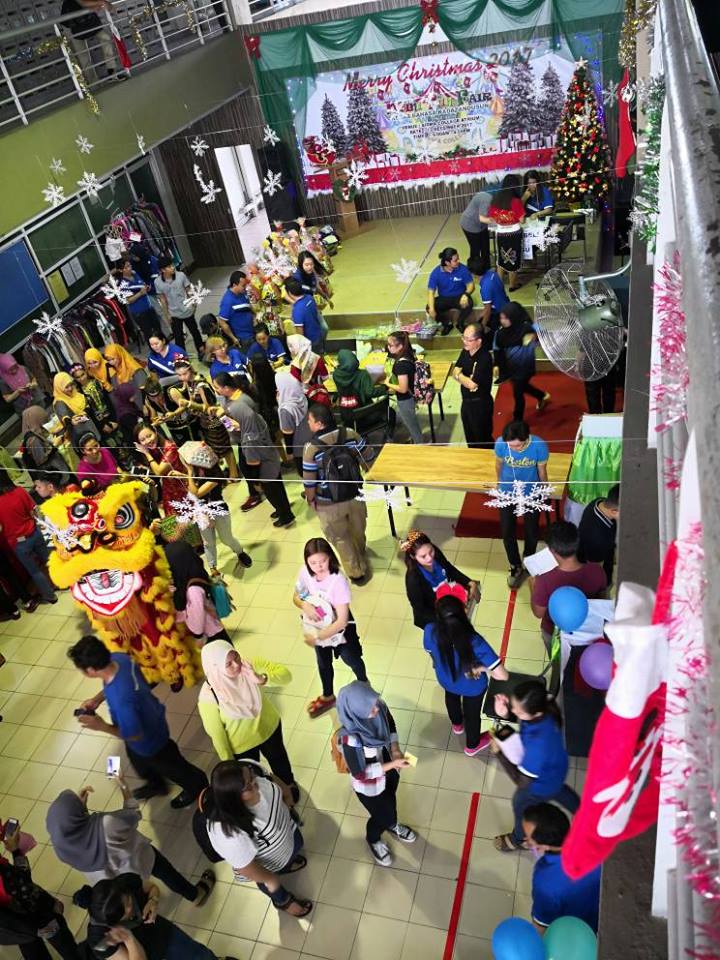 It's mid-December 2017 and the SIDMA September 2017 Semester Final Examination will start on 28 December 2017, while UNITAR Sabah Semester October 2017 Final Examination will begin on 2nd January 2018; nevertheless the way to keep the student and staff happy and not too stressful is by being entertained and happy through this busy month by incorporating Christmas celebration into this magical December.
Mr Bonaventure Wences from SIDMA College Kadazandusun Language Club, who was appointed as Project Director, and with the full collaboration and support from all SIDMA staff have initiated a Mini Christmas Fun Fair at SIDMA Atrium on 12 December 2017 to immerse all SIDMA staff and students in an array of fun based activities as a platform for SIDMA staff and students to have fun in a whole fun and entertaining atmosphere.
Preparation of various booths were set up a day earlier at SIDMA Atrium where it was packed with various fun and skills based activities such as Knock Down, Ping Pong Balls, Dart Throwing, Ring and Bottle, Zombie Games and more; and as early as 9.00 am the atrium was packed with visitors and fun-seekers.
For the entertainment corner, there was the Song Request and Dedication. The songs were sung by SIDMA local talent. There was also the food and beverage corner featuring yummy and mouth-watering food and drinks for the participants and visitors.
Students taking "Hubungan Etnik", a compulsory paper of their Bachelor studies, set up their corner and display various cultural activities, food and attire from the various ethnic culture of Sabah. The Chinese Language Club also set up a corner during the event, and showcased some of the local Chinese culture such as the lion dance, Chinese food and more.
SIDMA Kadazandusun Language Club set their own corner displaying various books about Kadazandusun culture. "Inspirasi Anak-Anak Sabah", a collection of short stories written by school children, compiled and published by SIDMA Kadazandusun Club was also on displayed and put on sale for interested parties.
Mr Bonawventure, the Project Director, who was very excited with the tremendous support from staff and students; thanked them sincerely for their huge turned-up during the event. More than 10,000 tickets of RM1.00 each were sold during the event. According to him a portion of the profits will be donated to Pertubuhan Kebajikan dan Pengurusan Anak Yatim Al-Mughni, while the rmaining portion of the earnings will be used for the development of KDM Language via the SIDMA Kadazandusun Language Club that will be channel through various programs/ initiatives planned for next year.
Meanwhile, the Management of the Pertubuhan Kebajikan dan Pengurusan Anak Yatim Al-Mughni sincerely invites generous donation from the general public to assist the general operation of the orphanage. Donations can be made in cheque addressed to Pertubuhan Kebajikan dan Pengurusan Anak Yatim Al-Mughni through online payment at Bank Islam, account number 1005 2010 0043 03 or via the donation box located all over Sabah at selected restaurant. For more information about Al-Mughni Welfare and Orphanage Organisation, or donation to the organisation, please call Dr. Morni Hj Kambrie (013-810 620) or Ustazah Noradilah Mohamaddia (088-732 000 / 088 732 020)
By Teo Eng Seng and Zain Azrai Bin Mohd Noor,
SIDMA College,
KOTA KINABALU.