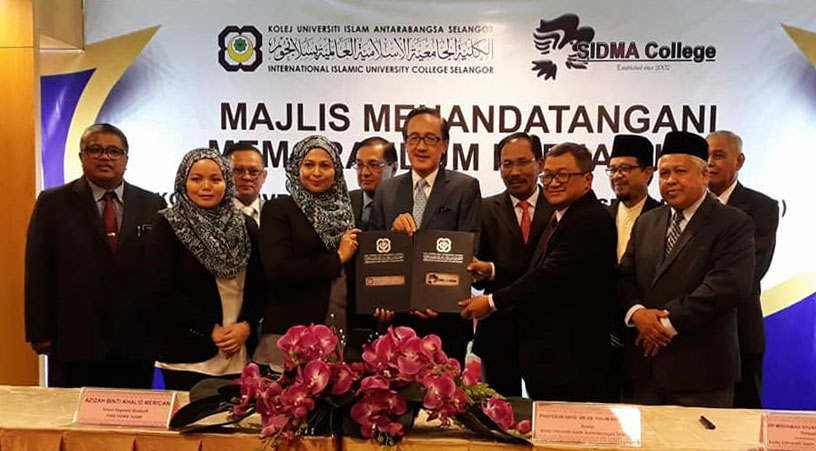 Photo shows Datuk Seri Panglima Masidi Manjun witnessing the signing together with Dr Morni Kambrie, KUIS Board Member Dato' Dr Mujaini Tarimin and Dato' Bakhtiar bin Hussin, Secretary of Selangor Islamic Religious Council as well as Sabah State Mufti Datuk Bungsu Aziz Jaafar
SIDMA College Sabah entered a Memorandum of Agreement (MoA) with Kolej Universiti Islam Antarabangsa Selangor (KUIS) to establish a strong academic partnership between both the institutions; thus paving the way for SIDMA College Sabah to offer Islamic diploma programs in Sabah by the end of 2018.
According to Dr Morni Kambrie, Chairman of SIDMA College, five diploma programs have been shortlisted to be offered are namely:
Diploma in Education (Al-Quran Studies)
Diploma in Islamic Studies (Al-Quran & Al-Sunnah)
Diploma in Islamic Studies (Dakwah)
Diploma in Mosque Management and
Diploma in Tahfiz Management
Speaking at the MoA signing ceremony, Datuk Seri Panglima Masidi Manjun, Minister of Tourism, Culture and Environment who is also Minister in charge of Education in Sabah welcomed the efforts by SIDMA College which he hopes will supplement the State government's efforts in providing higher education opportunities to local students who have decided to choose Islamic Studies. Datuk Seri Panglima Masidi also said he seems to notice that the number of Tahfiz, Madrasah and religious schools in Sabah has increased tremendously, especially the privately operated, as well as the number of students who choose Islamic studies are also increasing. On the same note, he is happy that SIDMA College will be producing local graduates in the religious studies and since the study will be done in Sabah's local setting that knows better on the customs and culture practices by Sabahan, they will be able to identify, handle and are better updated on various local religious matters that need their intervention or feedback. This is in line with Sabah background as a multi-racial example with harmonious lifestyle regardless of the faith or belief of its citizen. Apart from that this will give a better options for parents and future students as well to assist those who cannot afford to study religious studies overseas.
In his speech, Chairman of SIDMA College, Dr Morni, said that the application for Malaysian Qualifications Agency (MQA) and Ministry of Higher Education (MoHE) approvals will be made immediately after the MoA signing and he hopes that the courses can start taking in students for the November 2018 intake. He also added that it has been his dream to run religious courses in SIDMA College Sabah for quite some time. That is why SIDMA College has its own Madrasah he said, but currently it is only limited to teaching Muslims students to read the Quran.
Representing KUIS to sign the MoA was the Rector of KUIS, Prof Dato Dr Ab. Halim Tamuri, who was accompanied by KUIS Deputy Rector Dr. Mohamad Syukri Abdul Rahman; whereas SIDMA College was represented by the Chief Executive Officer (CEO) Madam Azizah Khalid Merican and  its Director of Corporate Marketing & Business Development, Madam Azlina Ngatimin.
Also in attendance during the MoA signing event held at TH Hotel Kota Kinabalu on 23 March 2018 event were Board of Directors (KUIS) Dato' Dr Ustaz Mujaini Tarimin and Dato Bakhtiar Hussin; Sabah State Mufti Datuk Bungsu Aziz Jaafar, Tuan Haji Marzuki Umi, Chairman of SIDMA College Sarawak, Hajah Ratnawati binti Datuk Haji Osman (General Manager of Perbadanan Baitumal Negeri Sabah); Principal of Secondary Schools, Madrasah and Tahfiz, as well as Managers and Heads of Departments from SIDMA College.
KUIS is one of the most dynamic Islamic private universities in Malaysia, fully owned by Selangor Islamic Religious Council (MAIS) and is striving towards its mission to become one of the most renowned centres of academic excellence locally and internationally. KUIS students come from all states of Malaysia as well as overseas such as China and Middle East countries. KUIS is committed towards providing the best and affordable education in line with the government's aspiration of human capital development.
For more information about courses offered at SIDMA College, you may browse SIDMA College Website, or like our Facebook Account. Potential students can also visit us at SIDMA College Jalan Bundusan, 88300 Kota Kinabalu, or call our hotline number: 088-732 000 or 088-732 020.
Online registration is available. Please CLICK HERE
By Zain Azrai Bin Mohd Noor and Teo Eng Seng,
SIDMA College Sabah,
KOTA KINABALU.