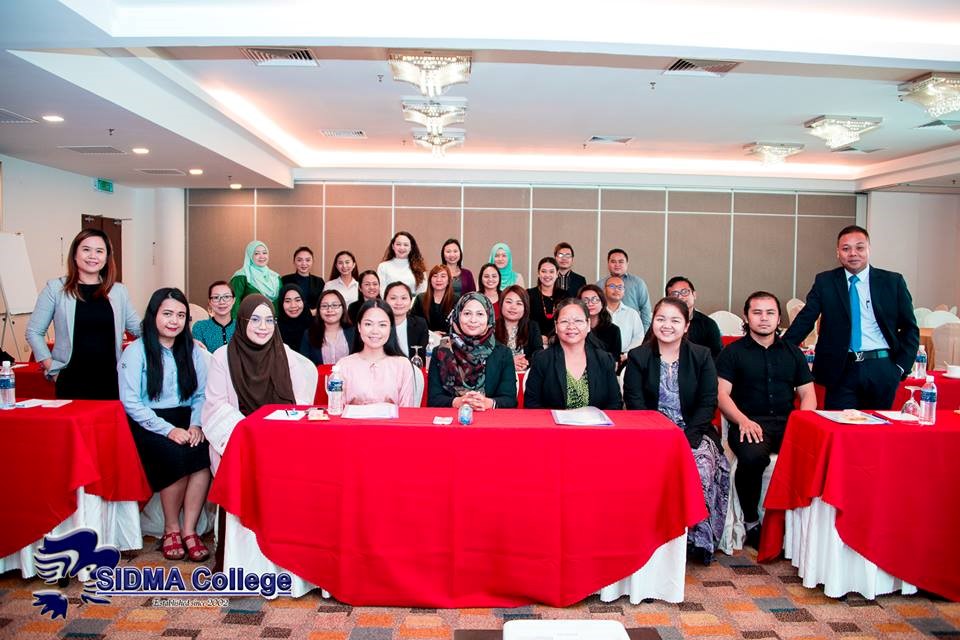 About 30 of academic staff trooped to Pan Borneo Hotel, Putatan on the 22 to 23 March 2018, for a scheduled staff professional development seminar, with the theme "Power-Up a Good Lecture."
Designed specifically to boost lecturers' presentation skills and paving the way for interactive learning, the seminar focused on incorporating different teaching methods in classroom for effective sessions, and understanding the need of students (personality)  through fun and interactive inquiries testing methods; as well as collaborating with relevance.
Acknowledging that the participants are SIDMA lecturers who are also teaching future educators, Datu Razali encouraged them to expand their network through building collaboration not only with the local communities around them, but also building connections with other institutions of higher learning.
The lecturers were also exposed to an engaging session with Datu Razali Datuk (Datu) Hj. Eranza, who is one of the trainer for the seminar and has acted as one of the panel for the Malaysia Education Blueprint. The engagement provided a platform for the lecturers collaboratively discussed and tackled different issues with relations to the 11 transformation in the Malaysia Education Blueprint.
Madam Jennifer Balanting, a local certified Human Resource Department Fund (HRDF) Trainer, whose training areas ranged from communication, management, sales and marketing, human resource and motivation also engaged the participants with various interactive and motivational activities.
 One of the highlighted issue was the need to implement an outcome based education (OBE) in classrooms – where the sole educational process is focused on the learner's personal learning. They (learners) and educators should have a mutual understanding on the qualities they should be developing for better effective learning environment and improve teaching-learning situations.
Madam Azizah Khalid Merican, CEO SIDMA College Sabah, during her official meeting with all the participants, hoped that through such program, SIDMA lecturers will be able to refresh their existing teaching knowledge and skills, develop new ideas and inputs, and thus be more confident and capable in presenting their lectures dynamically, yet effectively communicating their materials to students.
She too, hoped that these participants will cascade their newly acquired knowledge and skills to others lecturers who were not given the opportunities to attend such session, during SIDMA College Staff Professional Development activities.
By Yvonne Barnabas and Teo Eng Seng,
SIDMA College Sabah,
KOTA KINABALU.