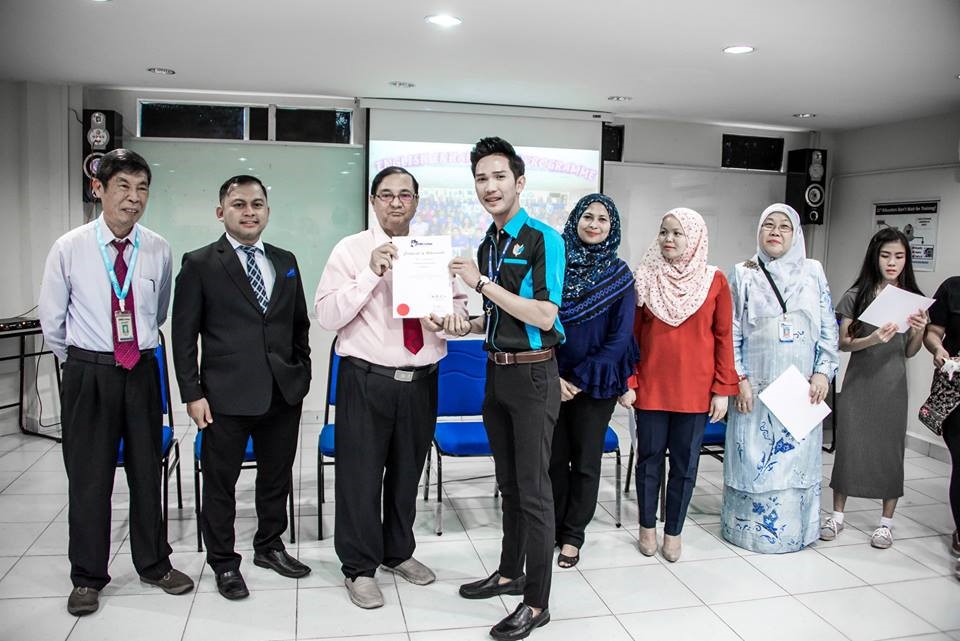 In line with the Malaysia Education Blueprint (MEB) 2013-2025 to produce young Malaysian graduates who are equipped to work in a globalised economy where English language is the international language of communication, but still preserve the proficiency in the use of a common national language (Bahasa Malaysia) in addition to the international language of communication, SIDMA College continues its effort to improve the English proficiency among its students.
In trying to formulate a successful programme, and one that is as efficient as possible; SIDMA College Sabah, through the dynamic leadership of Dr Morni Hj Kambrie (Founder and Chairman, SIDMA College Sabah and Sarawak) and Madam Azizah Khalid Merican (CEO SIDMA Sabah) responded to MEB to produce bilingual efficiency among its graduates by expanding more opportunities for greater exposure to English among its needy students through a special English Enhancement Programme (EEP).
The special EEP programme which was launched by Madam Azizah Khalid Merican on 14 February 2017 is another of SIDMA's Corporate Social Responsibility (CSR) to provide a fully funded intensive English intervention course to students who are not fluent in their command of the language, in order to transform their Reading, Writing Listening, Speaking as well as their interpersonal communication skills to a greater level so that they can excel in their studies and for their future need.
According to Madam Jenifah Abdullah, the key module writer and facilitator of the special 20 contact hours course; EEP is indeed a very pragmatic programme, aimed at providing equity to students who are less proficient in their English language through a blended and immersive learning model, including the use of traditional face-to-face teaching, information technology, newspapers, inquiry technique, group discussion, presentation and more, through both formal and informal setting, in their pursuit of being excellent in their English Language mastery.
During a special certificate presentation ceremony for the 83 students from among the February 2018 intake of new students, Dr Morni congratulated the students for their excellent usage of the language and their excellent performances during the function. He also reminded the students that learning to speak a new language is an art skills, and students got to continue using it in order to master it. Dr Morni also shared his successful stories of how he learned to speak English when he was studying in England, and advised the students not to be afraid of making mistakes and being laughed at by their friends when wrongly used.
Of the total 83 SIDMA College and UNITAR Sabah Semester February 2018 new students who received their certificate of completion of the English Enhancement Programme, 13 of them also received their Certificate of Excellence for exhibiting outstanding performance throughout the programme. Among some of the SIDMA Board of Management who witnessed the event were Madam Azlina Ngatimin Director of Corporate Relations and Business Development, Madam Azizah, Mr Louis Jais (Academic Manager) and Student Representative, Sofiansyah Bin Maaruf.
Sofiansyah in representing his batch of colleague as the participant of the programme in his thank you address, congratulated Dr Morni, Madam Azizah and SIDMA College for providing them with the opportunities to attend this complimentary and unique programme to improve their mastery of English language. To extend their appreciation to the Management of the college, the students collectively sponsored door gifts for Dr Morni and to all the specially invited guests of the event.
SIDMA College Sabah, since its establishment back in 2002 in Kota Kinabalu has prosper jubilantly over the year, and rapidly emerged as the first and largest regional centre in Malaysia running UNITAR programmes, in addition to its home grown academic programmes. Its infrastructure and technology can support the ambitions and goals of students who want to create a brighter tomorrow. Teaching methodology used are very students-focused and engaging and will bring out the best from each student. Because of that, SIDMA College aim to invite all students to strive to be the Champions of Change" and change is what drives us ALL to success.
The following are the list of Academic Programmes offered at SIDMA College for its 2018/2019 Academic year.
            Foundation Courses:
Diploma Courses:
Diploma in Early Childhood Education Studies.
Diploma in Occupational Safety and Health
Diploma in Management.
Bachelor's Degree Curses:
Bachelor of Education (Hons)
Bachelor of Early Childhood Education (Hons)
Bachelor of Management (Hons)
Bachelor of Information Technology (Hons)
Masters Courses:
Masters of Business Administration (MBA)
Masters of Education (Education Leadership and Management – ELM)
Masters of Education (Early Childhood Education)
For more information about courses offered at SIDMA College, please browse SIDMA Website. Or like our Facebook Account – SIDMA College.
Our June 2018 intake of new students is now in progress. Various financial assistance are available. Students interested in pursuing their tertiary studies with the college are encouraged to apply online by visiting SIDMA College Website or call our hotline number 088-732 000 or 088-732 020 or through fax 088-732 015 or 088-732 019. Potential students are also welcomed to visit us at SIDMA College UNITAR Sabah, Jalan Bundusan, 88300 KOTA KINABALU.
By Teo Eng Seng and Zain Azrai Bin Mohd Noor,
SIDMA College UNITAR Sabah,
KOTA KINABALU.