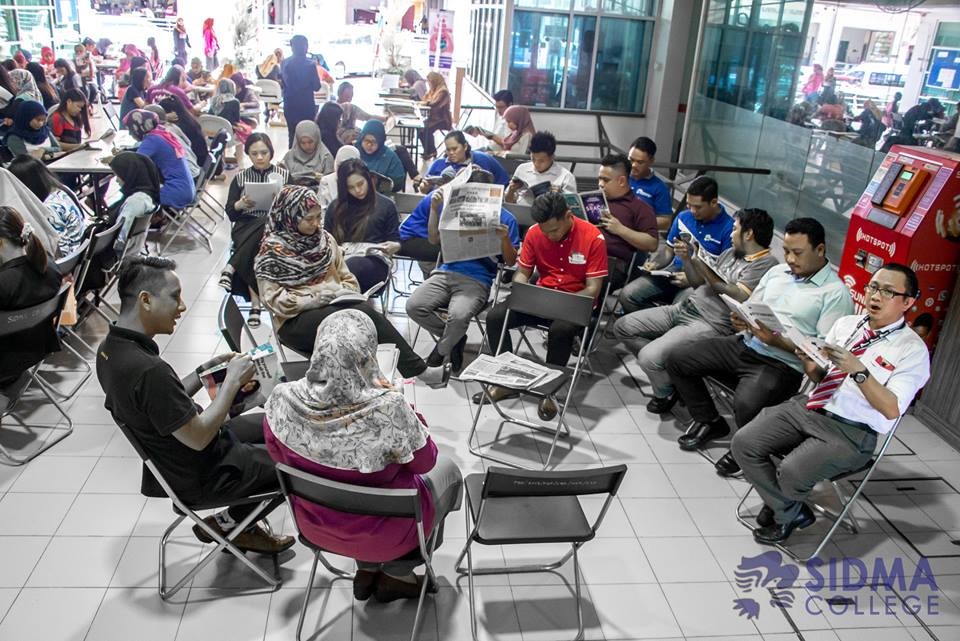 More than 300 staff and students of SIDMA College UNITAR Sabah participated in the Let's Read Together for 10 Minutes programme namely "Jom Baca Bersama Untuk 10 Minit". The SIDMA College event which was organised by Madam Badrinah Suhaimin, (Head, SIDMA College Resource Centre) at SIDMA Atrium on 24 April 2018, beginning at 11.00 – 11.10 am. Other than at SIDMA Atrium, students were also seen reading at the library, tutorial or lecture rooms, and some were seen reading at cafes; quite a common sight among institutions of higher learning students. The highlight of the event was when everybody at the atrium read something "solid" from books for the said 10 minutes.
The event which was a special joint initiative organised by the Sabah State Library, Sabah Education Department, SIDMA College Sabah, Badan Bahasa dan Sastera Sabah, Universiti Malaysia Sabah, University Technology MARA, Institute Pendidikan Guru, Kinabalu Polytechnic, Amminudin Baki Institute, Tun Haji Mohd Fuad Stephens Borneo Research Library and INTI College.
The state-level programme was launched at the Sabah State Library on 24 April 2018 where participants read silently for 10 minutes from 11.00 am to 11.10 am; and was conducted simultaneously throughout the country; with a primarily aim of promoting reading among Malaysian citizens. It was also an annual event held in conjunction of this year's World Book Day and World Copyright Programme, an event to further instil an interest in reading among the general public, thus enabling them to open up new horizon for advancement in life.
According to Madam Badrinah, statistics based on the books borrowed from SIDMA Library has been quite small, which might indicate that reading physical book habit among the students is still low. However, this does not into account on the great number of students reading electronic platform as SIDMA College implemented blended learning. Other than that SIDMA College UNITAR Sabah students were also encouraged to read related academic journals.
Reading programme is also part of the library programme to encourage the reading culture and the sharing of new knowledge gained among the students. Those taking education courses (Bachelor Education, Bachelor and Diploma Early Childhood Education students) were reminded of a general lack of awareness on the importance for reading together with their students. Reading together with students is an important opportunity to improve their reading proficiency level. Teachers should also be a role model for reading to connect children with books.
Dr Morni Hj Kambrie (Founder and Chairman SIDMA College), Madam Azlina Ngatimin (Director, Corporate Relations and Business Development), Madam Azizah Khalid Merican (CEO), Managers, Heads of Departments, lecturers and staff were seen continuing reading their favourite book. Some were even continuing their reading after the scheduled 10 minutes.
According to Dr Morni, this is indeed a unique way of bringing people together. It is also a wonderful way to transport one's mind into the imaginative and creative world. Life become much more interesting when there are new avenues to be explore.
By Teo Eng Seng and Zain Azrai Mohd Noor,
SIDMA College UNITAR Sabah,
KOTA KINABALU