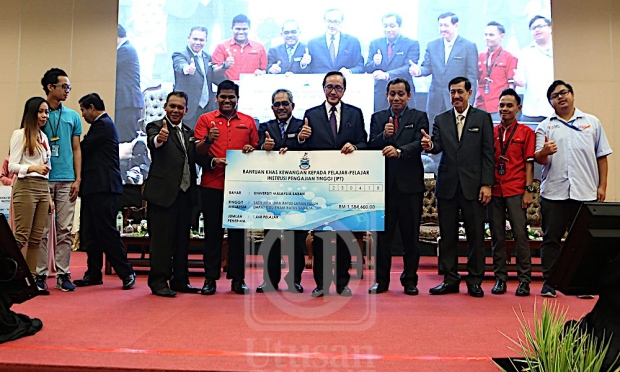 A total of 208 SIDMA College Sabah students and another 133 students from UNITAR Sabah received their one-off special financial assistance of RM950.00 per student from the Sabah State Government. The special grant has been banked into the recipient's personal bank account, and students will be able to withdraw the money from their bank account beginning this Thursday, 26 April 2018.
During the "Majlis Penyerahan Bantuan Khas Kewangan Pelajar IPT Anak-anak Sabah" held at Universiti Malaysia Sabah on 25 April 2018, the Hon. Datuk Seri Masidi Manjun (Sabah Tourism, Cultural, and Environment Minister) who is also the minister in charge of Education in Sabah; on behalf of Chief Minister, Tan Sri Musa bin Hj Aman; said the Sabah Government allocated RM 5 million for this purpose, with the main focus to reduce the burden of lower income families in Sabah, particularly those who have children studying in institutions of higher learning. A total of 4,184 students from 18 Institutions of higher learning in Sabah were allocated RM3, 974,800; whereas another RM 1,025,200 was distributed to another 1,079 Sabah students pursuing their tertiary education in 90 other institutions of higher learning in Sarawak and peninsular Malaysia.
Dr Morni Hj Kambrie (Chairman and Founder of SIDMA College) and Madam Azizah Khalid Merican (CEO, SIDMA College) were among the hundreds of local universities and colleges' management representatives as well as the recipients; the students that attended the function. They thanked the government for the initiative, and believe that students of institutions of higher learning in Sabah are very fortunate to have Tan Sri Musa Aman as Sabah's Chief Minister as he and his team of leaders have been very caring and highly emphatic towards the needs of students of institutions of higher learnings and their families, irrespective of their races and their cultural background.
Apart from the above initiative, the Sabah State Government has also allocated a huge budget for the Sabah Government Scholarship also known as BKNS benefitting thousands of students every year.
Dr Morni and Madam Azizah recommended to the recipients that they should be wise in using the money. They should keep a portion of the fund for emergency usage and not to use it for any unnecessary spending. They added that various other financial assistance are also available in SIDMA College UNITAR Sabah.
For more information about financial assistance and courses offered at SIDMA College UNITAR Sabah, please browse SIDMA College Website or like our  Facebook Account – SIDMA College.
SIDMA College UNITAR Sabah June 2018 Intake for new students is now in progress. The following are the list of Academic Programme offered at the college for its 2018/2019 Academic Year.
Foundation Courses:
Foundation in Management
Diploma Courses:
Diploma in Early Childhood Education Studies
Diploma in Occupational Safety and Health
Diploma in Management
Bachelor's Degree Courses:
Bachelor of Education (Hons)
Bachelor of Early Childhood Education (Hons)
Bachelor of Business Administration (Hons)
Bachelor of Management (Hons)
Masters Courses:
Masters of Business Administration (MBA)
Masters of Education (Educational Leadership and Management (ELM))
Masters of Education (Early Childhood Education)
Students interested in pursuing their tertiary study with the college in Foundation Programme, Diploma, Degree or Master Level are encouraged to apply online by visiting SIDMA College Website or to call our hotline number 088-732 000 or 088-732 020, or through fax @ 088-732 015 or 088-732 019. Potential students are welcomed to visit us at SIDMA College UNITAR Sabah, Jalan Bundusan, 88300 KOTA KINABALU.
By Teo Eng Seng and Zain Azrai Bin Mohd Noor,
SIDMA College UNITAR Sabah,
KOTA KINABALU.