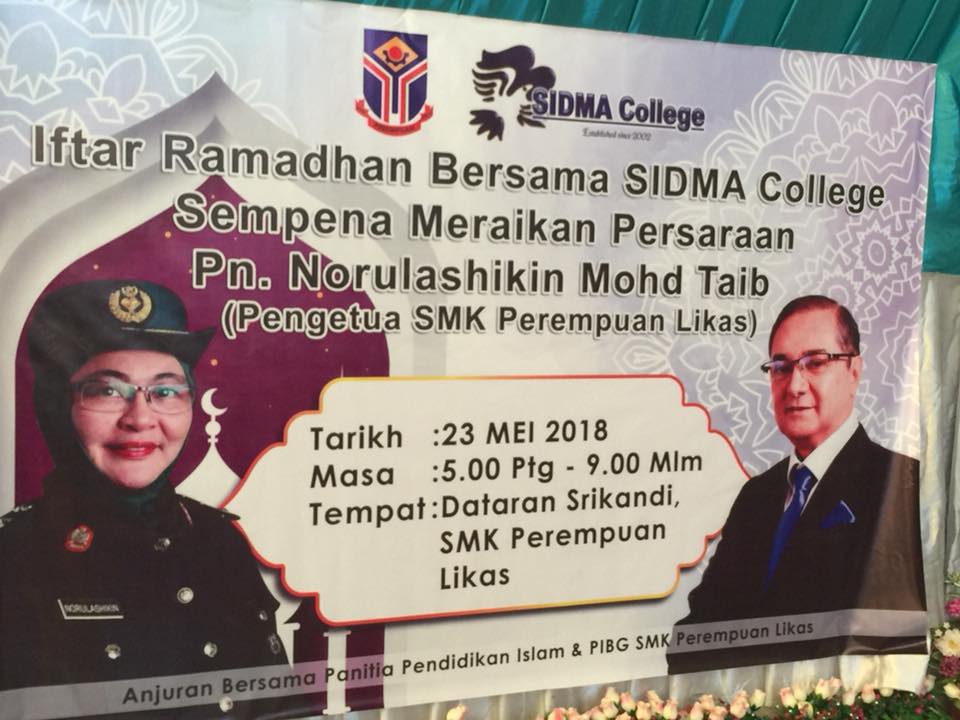 Parent Teacher Association (PTA) also known as PIBG and Islamic Education Committee of SMK Perempuan, Likas, in collaboration with SIDMA College Sabah collectively held an Iftar Dinner "Iftar Ramadan Bersama SIDMA College" in conjunction with the retirement of Madam Hajah Norulashikin Mohd Taib, Principal of SMK Perempuan Likas, Kota Kinabalu.
The event which was held at Dataran Srikandi, SMK Perempuan, Likas on 23 May 2018 was attended by more than 300 people consisted of SMK Perempuan Likas PIBG Central Committee, students' parents, School Principal and the management committee, SMK Perempuan Islamic Education Committee,  teachers and staff as well as Dr Morni Hj Kambrie (Chairman and Founder of SIDMA College), SIDMA Board of Management and staff and local Likas community.
Earlier in the evening, the Form III and Form V students that attended the dinner also performed a Solat Hajat, to seek God gracing and forgiveness for them to sit for the coming PT 3 and SPM examination with confidence and success.
In her welcoming speech, Madam Hajah Norulashikin thanked the School Parent Teacher Association, teachers, staff, parents students of SMK Perempuan Likas for their undivided cooperation and loyalty shown to her throughout her term of service as the Principal of the school, and hope that they will continue to so with the new administration.
Hajah Norulashikin also thanked SIDMA College for their collaboration in organising the Iftar Dinner which has given her the opportunity to enjoy Iftar dinner with the school's staff and SIDMA College as well as all the parents; which was held in conjunction with her retirement. She appreciated their genuine efforts in organisation of the event, as well as their moral support during her service with the Education Department; and she prayed that God will reward them accordingly.
Dr Morni in return thanked Madam Hajah Norulashikin, the school management, teachers, staff & the school PIBG, SMK Perempuan Islamic Education Committee; and conveyed his pleasure to be given the opportunity to co-host the Iftar dinner at the school. He said through such opportunity, he was able to meet and get to know more friends as well as the local Likas community.
He also thanked the Likas community and the school for being active stakeholders of SIDMA College UNITAR Sabah, and added that that the college will ensure that it will continue to produce relevant and quality graduates to meet current and future job market of the country.
To ensure the success of the event, Dr Morni among other things, contributed bubur lambuk and smashed chicken rice (nasi ayam penyet). During his speech, he also announced that he will contribute a set of PA system for Dataran Srikandi compound as a gesture of his appreciation to the school.
By Teo Eng Seng and Zain Azrai Bin Mohd Noor,
SIDMA College Sabah,
KOTA KINABALU.