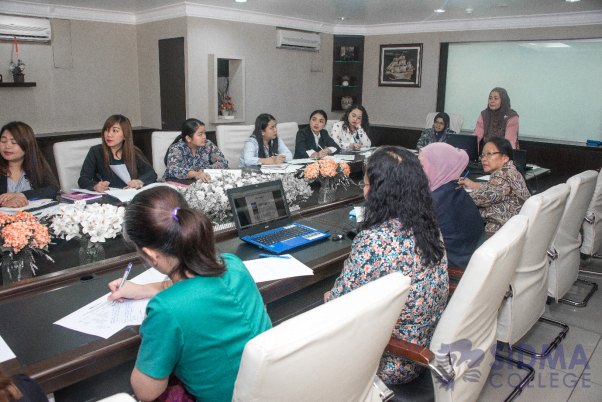 SIDMA College UNITAR Sabah, through the collaboration of its Academic and Human Resource Department recently organised a colloquium as a platform for SIDMA's Early Childhood Education (ECE) lecturers to discuss issues and developments related to ECE at SIDMA College Conference Room on 4 and 5 June 2018.
Dr Morni Hj Kambrie (SIDMA Chairman and Founder) and Madam Azizah Khalid Merican (CEO) offered this special programme to all the ECE lecturers as part of the college effort in uplifting the college's and the country's education standard in line the Malaysia Education Blueprint 2013-2025. A total of 21 SIDMA College UNITAR Sabah ECE lecturers participated in the programme.
The two days seminar aims to strengthen the participants (lecturers) on educational, pedagogical skills as well as developing individual competence in the teaching of the subject, based on the following elements:
Upgrading the lecturer's mastery of the ECE Programme Syllabus in line with all the basic domains (Communication, Science and Technology, Humanistic, Physical, and more).
Upgrading the lecturer's competence in adapting his/her teaching in order to take the students' challenges into consideration in their planning and teaching.
The incorporation of elements of Assessment and Evaluation, 21stCentury Skills teaching, Programme for the Education and Enrichment of Relational skills (PEERS) and more; during their teaching.
The alignment of the elements of Common European Framework of Reference (CEFR) to frame English teaching in ECE.
To ensure the relevancy of the programme, the following Guest Speakers, who have been in the profession and are specifically practising their expertise in ECE, as well as having frequently conduct training and sharing their experiences with ECE teachers all over the state and country, were specially invited to communicate with the lecturers during the forum. They were:
Madam Sharon Bacho
Madam Sylvia Augustine
Madam Amey Binti Asuk
Madam Azizah during her welcoming address conveyed her appreciation to all the invited guest speakers for their effort and time to be with the college lecturers during the programme. She also hoped that the lecturers will seize the opportunity to immerse themselves with ECE teaching and reflect on matters and issues raised during the dialogue throughout the session.
The lecturers when met after the programme, believed that the session had made a significant impact on their aspiration as lecturers of ECE in the college. After engaging themselves enthusiastically during the two days event, they felt that they have more new things to learn, do, share, reflect and train in order to meet the needs of our evolving ECE students of the college, They too felt that more of such professional forum be given to them regularly in a robust, supportive and challenging manner that will lead them somewhere useful as ECE lecturers of the college.
By
Teo Eng Seng and Zain Azrai Bin Mohd Noor,
SIDMA College UNITAR Sabah,
KOTA KINABALU.