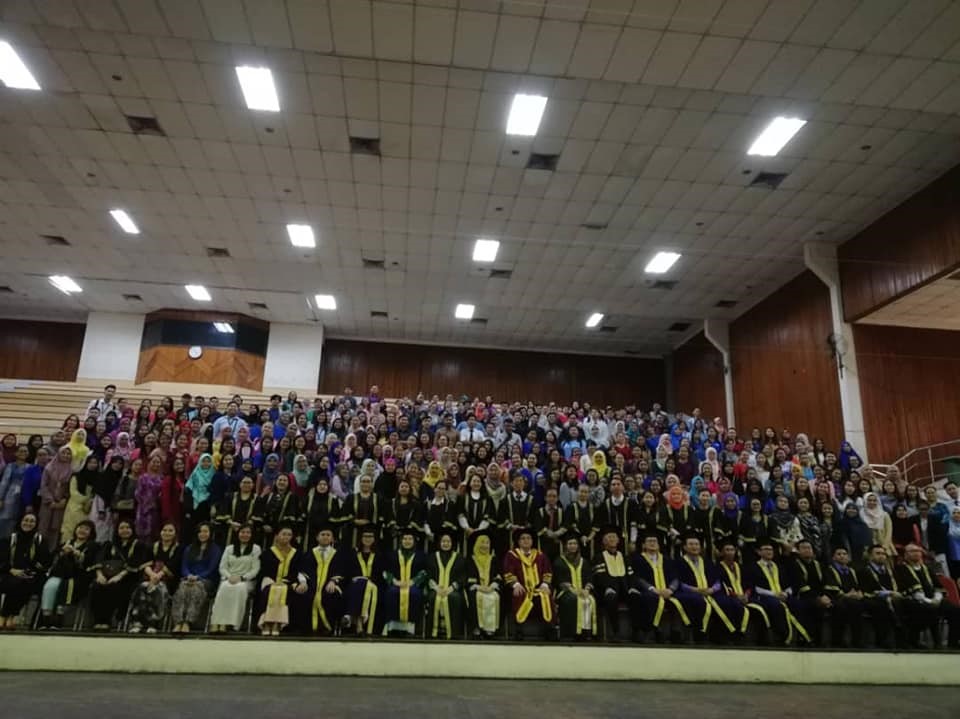 A total of 458 new students made their pledge of allegiance to the rules and regulations of the SIDMA College Sabah and UNITAR Sabah Regional Centre, Kota Kinabalu at the Kadazandusun Cultural Association Unity Hall (Hongkod Koisaan) Penampang on 17 July 2018.
The programme which was organised by the Student Affairs Department (STAD) and the Student Representative Council (SRC) was held for the 2018 new students to formally promise and pledge the oath to commit themselves fully to the ethical practices, be active and responsible students, and to abide to all the rules and regulations of the college and respective university.
The oath taking was led by Mr Andree Chin Yi Tshung and Ms Siti Fairuz Leo @ Hamzah before Dr Morni Hj Kambrie (Founder and Chairman SIDMA College Sabah) and Dr Hajah Ananglangka Binti Mad Kassim (Guest of Honour).
Also present at the ceremony were Puan Azlina Ngatimin (Director, Corporate Relations and Business Development), Madam Azizah Khalid Merican (CEO), Mr Lim Chin Tong (Registrar), Managers, Heads of Departments, lecturers and staff of SIDMA College Sabah and UNITAR Sabah Regional Centre.
Dr Hajah Ananglangka, an educationist by profession with a PhD in Psychology, a Master of Psychology Counselling from Universiti Malaysia Sabah and a Bachelor Degree in Education (Guidance and Counselling) from Universiti Putra Malaysia prior to her retirement from the Ministry of Education.
Among her distinguished endorsement in her career span are being awarded with Excellent Service Awards by the Ministry of Education in 1995, 2003 and 2013. She was conferred with "Darjah Bintang Kinabalu" by His Excellency "Yang Di-Pertua Negeri Sabah" in 2007. Apart from that, she has also been awarded as "Tokoh Maulidur Rasul" for women's category in 2013 and Sabah's "Anugerah Wanita Cemerlang" in 2016.
During her officiating address, she congratulated the new students on their successful admission into SIDMA College Sabah or UNITAR Sabah to further their studies; and she reminded them to be grateful that they are in this college today, compared to some of the unfortunate schoolmates who are still in the kampong, and have yet to further their studies and fulfil their dream goal. She advised the students to uphold the principle that they too can learn and achieve success in future through SIDMA College UNITAR Sabah, and that all students should value their opportunity to study; as well as to excel from the first semester. An average student can only get a weak pass in subjects registered, but it's only with consistent effort put in throughout their study that a student can achieve excellent result, and fulfil their ultimate goal, she added.
She also shared in length her Five Basic Philosophies of life to be adopted by students, and reminded them to avoid being involved in any social ills in order to successful in life. Her basic five principles are:
            I           Believe and be responsible to God
            II          Believe and be responsible to yourself
            III         Believe and be responsible to your parents
            IV        Believe and be responsible to your college
            V         Believe and be responsible to your country.
Earlier, Dr Morni during his welcoming speech welcomed, congratulated and thanked Dr Hajah Ananglangka for her continuous passion, efforts and supports towards youths of the country; and has been ever willing to be with SIDMA Sabah students particularly during magnificent events such as this, despite her busy schedule giving motivational talk to youths throughout Sabah. He too hoped that she can be an inspirational person to all the female students of the college, as Dr Ananglangka started off as an ordinary trained teacher from Gaya Teacher Training College (currently known as IPG Gaya Campus). While serving as a teacher, she managed her time well, continued her lifelong learning until she received her Doctorate in Psychology, without compromising her good service to her students.  Dr Morni felt humble but proud to have Dr Ananglangka as SIDMA's Guest of Honour to share her views, experience as well as to motivate the students to learn for their future; and subsequently to officially launch the 2018 New Students Oath Ceremony by striking the ceremonial gong twice.
Dr Morni, too congratulated the students for choosing SIDMA College and UNITAR Sabah as an institution to further their tertiary education. "We are very excited and proud to have you joining the college, and the staff of the college will do their very best to assist students through our "Open Door" policy, throughout their study at the college.
The Chairman also reassured the students that their welfare and future are in good hands, and encouraged them to do their parts by putting in full commitment, self-discipline and fully immersed themselves in their studies in order to be able to materialize their dreamt future.
He added that SIDMA College Sabah and UNITAR Sabah Regional Centre being in its 16th year of success has produced marketable and promising graduates who are currently holding respectable posts and careers in various fields, both in the public and private sectors throughout Sabah and Sarawak.  
During the ceremony, the following 26 students received their Academic Excellence Award certificate, as they accomplished excellence result (CGPA of 3.75 and above) for their studies:
Alny Chelsea Albert
Anita Lambagat
Chong Tsin Tsin
Clarissa Minsun
Donna Minsun.
Elvinah Binti Kelan
Elvionna Brnda Gurumbong
Fazirah Binti Rosleh
Friskila Lawai
Gurit Onat
Joebanaben Bension
Juliet Eva Binti Lamji
Kirisah Binti Gibun @ Barbara
Mollyniah Joannes
Noridah Binti Tompuling
Norisah Ulau
Normala Binti Kibong
Nurul Farhanah Idora Binti Mohd Alfendy
Rita Binti Gunsalam
Rosnita Binti Duasa
Siti Julaiha Binti Ahmad
Siti Nurul Liza Binti Mustakib
Sylvia Gimis
Sylvia Guping
Tan Lie Xin
Venissa Tiburtius 
Currently SIDMA College Sabah and UNITAR Sabah in its vibrant and dynamic environment, and being equipped with the latest technical and infrastructure, strives to give the best conducive atmosphere for the students by adopting and focusing on blended teaching and learning; a hybrid teaching and learning model that combines both the conventional face-to-face lectures with tutors and lecturers in the classrooms , with the internet-based support system which provide continuous interactions among students, tutors, and lecturers nationwide; as well as ensuring these students continuously being immersed in encouraging learning environments to enable them to understand, reflect and practices principles and theories learned from the classroom; and able to put it into their real world working experience during their interns (practicum); thus ensuring that SIDMA College Sabah and UNITAR Sabah are always producing marketable as well as relevant workforce much needed for the 21st Century.
 The following is the list of Academic Programmes offered at SIDMA College UNITAR Sabah for its 2018 Academic Calendar.
Foundation Programme
Foundation in Management.
Diploma Courses:
Diploma in Early Childhood Studies
Diploma in Occupational Safety and Health
Diploma in Management
Bachelor's Degree Courses:
Bachelor of Education (Hons)
Bachelor of Education (Early Childhood Education (Hons)
Bachelor of Business Administration (Hons)
Bachelor of Management (Hons)
Master's Courses:
Masters of Business Administration (MBA)
Masters of Education (Education Leadership and Management –ELM)
Masters of Education (TESL)
Masters of Education (Early Childhood Education).
For more information on any of the above courses offered at SIDMA College UNITAR Sabah, please browse SIDMA College Sabah Website, or at SIDMA College Facebook Account: "SIDMA College". Potential candidates can visit SIDMA College UNITAR Sabah Campus at Jalan Bundusan, 88300 Kota Kinabalu, or call the campus hotline number: 088-732000 or 088-732 020
Online registration is also available. Please  

 By Teo Eng Seng and Zain Azrai Bin Mohd Noor,
SIDMA College Sabah,
KOTA KINABALU.