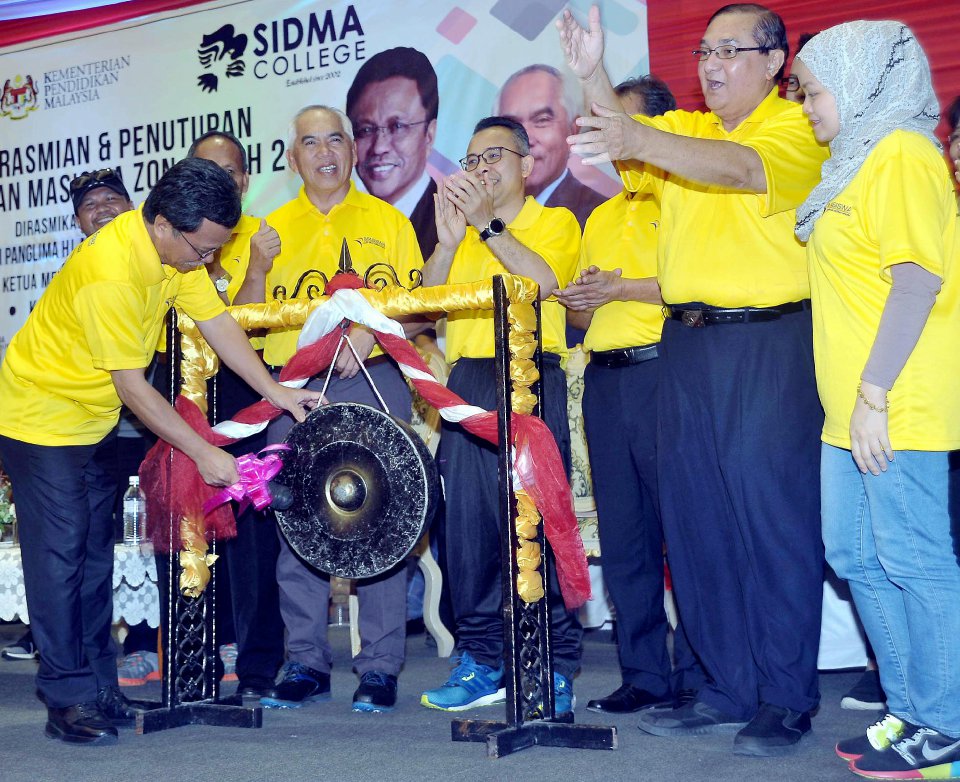 Y.A.B Datuk Seri Panglima Hj Mohd Shafie Bin Hj Apdal, Chief Minister of Sabah, when officiating the 2018 Sabah Private Universities and Colleges (MASISWA) Sports Carnival at Kota Kinabalu Sports Complex on 22 July 2018, congratulated the contingents for their full commitment and excellence performance in the 2018 MASISWA Sports Carnival and hope that they will continue to excel and be able to represent the country and the nation; much to the applauds from all the IPTS students.
The Chief Minister added that sports play a great role in our life as it keeps us healthy, wealthy; and increase our ability to always stay active and resilient. We can only have healthy mind when we have a healthy body – thus enabling us to achieve our dreams as well as to overcome obstacles. Great achievements can come our way when we maintain our physical and mental well-being.
Y.A.B Datuk Seri Panglima Hj Mohd Shafie urged students from the universities and colleges to seize opportunities from the conducive learning environments provided by their learning institutions to excel holistically, not only in sports but also in academic, social, spiritual, moral values, thinking and communication skills, and more in order to be useful citizens and future leaders of the country.
As Chief Minister of Sabah, he stressed that he and his cabinet is willing to listen from the students and the youths of the country, and build the future of Sabah for the students and youths. He thanked Dr Morni Hj Kambrie (2018 MASISWA Organiser and SIDMA Sabah Chairman) for inviting and giving him the platform to meet and talk to the students and youth from the IPTS of Sabah and he hope that he will be invited again for the 2019 MASISWA Sports Carnival.
Y.A.B Datuk Seri Panglima Hj Mohd Shafie and wife (Datin Seri Panglima Hajah Shuryani Shuaib), who was accompanied by Y.B Datuk Dr Yusof Bin Yacob (Sabah Education and Innovation Minister) and his wife; later took the opportunity to mingle and congratulated the IPTS athletes for their success; and together danced with the students to the tune of Sabah currently popular hit, "Original Sabahan" song.
Y.B Datuk Dr Yusof Bin Yacob, took the opportunities to advise students to avoid segregation among themselves based on race, religion, or economic status, but them to be more inclusive and united in their diversities, and work together in order to build a stronger and a more progressive country.
Earlier, Prof Dr Mohd Zamri Bin Yusoff, President of Sabah MASISWA Sports Council, thanked and congratulated Dr Morni Hj Kambrie and SIDMA College Sabah for their successful organisation of the event despite facing adverse conditions, particularly the financial constraints. He also appreciated the full commitment, support and collaborative efforts from all the IPTS to the organising committee.
He also announced that 2019 MASISWA Sports Carnival will be hosted by Asia Metropolitan College Kota Kinabalu and hope that all IPTS will continue their undivided support to the next year's host.
Dr Morni in his welcoming address, thanked and congratulated the Chief Minister of Sabah, Y.A.B Datuk Seri Panglima Hj Mohd Shafie Bin Apdal and Datin Seri Panglima Hajah Shuryani Shuaib, for taking their time off to grace the ceremony despite their very busy schedule for the day. He too conveyed his thanks and appreciation to all who have contributed both in money and kinds to the organising committee to ensure the smooth running of the sports carnival. He particularly thanked Y.B Datuk Dr Yusof and Sabah Education and Innovation Ministry who had contributed RM 10,000; the Sabah Youth and Sports Ministry and Sabah Sports Council who have given their support to ensure the host of the event can make use of all facilities at Kota Kinabalu Sports at a special rate. He too thanked all individuals who have sponsored and co-sponsored to the event such as KK Event House Sdn Bhd, Red Bull Malaysia, and more.
Dr Morni too thanked Prof Dr Mohd Zamri for his sharing of experiences and advice to the organising committee, as well as the full support and collaboration from all the IPTS. He too, congratulated all the athletes for their sportsmanship and sporting spirit. He particularly thanked all the sports marshals who were working in a very tight schedule and with limited resources.
Dr Morni also conveyed his appreciation to all staff of SIDMA College who have collaborated and assisted to ensure the smooth implementation of the event without compromising their core duties to the students.
SIDMA College Sabah which hosted the 10th MASISWA Sports Carnival for the first time, managed to set a record with the largest number of participants (both in terms of colleges and athletes). More than 1,500 athlete from 20 private institutions of higher learning in Sabah took part and participate in the grand event. The 20 IPTS that collaborated and participated in the event are SIDMA College UNITAR Sabah, University College Sabah Foundation (UCSF), Kolej Teknikal Yayasan Sabah, Eastern College, INTI College Sabah, Almacrest International College, Asia Metropolitan College KK, Institut Sinaran, Asian Tourism International College (ATIC), North Borneo University College (NBUC), AMC College, Jesselton College, Cosmopoint Sabah College, Management and Science University (MSU), Tunku Abdul Rahman University College (TARUC), Kiara College, Kinabalu Commercial College (KCC), MAHSA College, Geomatika College Keningau, and Sabah Institute of Art (SIA).
University College Sabah Foundation (UCSF) has emerged as the overall champions in the recent concluded Sabah Zone MASISWA Games 2018 held at Kota Kinabalu Sports Complex from 20 -21 July 2018.
During the 3-day carnival saw UCSF hauled a total of six (6) gold four (4) silver and two (2) bronze medals from the 12 games they contested. Their gold medals came from ten-pin bowling (individual and team), netball, badminton (men double), chess (women individual and team)
Inti College finished as the overall runners-up with four (4) gold and two (2) silver medals. Third place went to University Tunku Abdul Rahman College with three gold medals.
Please <CLICK HERE> to view list of colleges that participated during the competition and their achievement status.
Also present during the event were Sabah Sports Board General Manager, Datuk Penyuki Matta; as well as Chairman of Sabah Sports Board, Datuk Louis Rampas, Madam Azizah Khalid Merican (CEO SIDMA College Sabah), as well as the Chief Executive Officer and managers from IPTS that have participated in the events.
By Teo Eng Seng and Zain Azrai,
SIDMA College Sabah,
KOTA KINABALU.