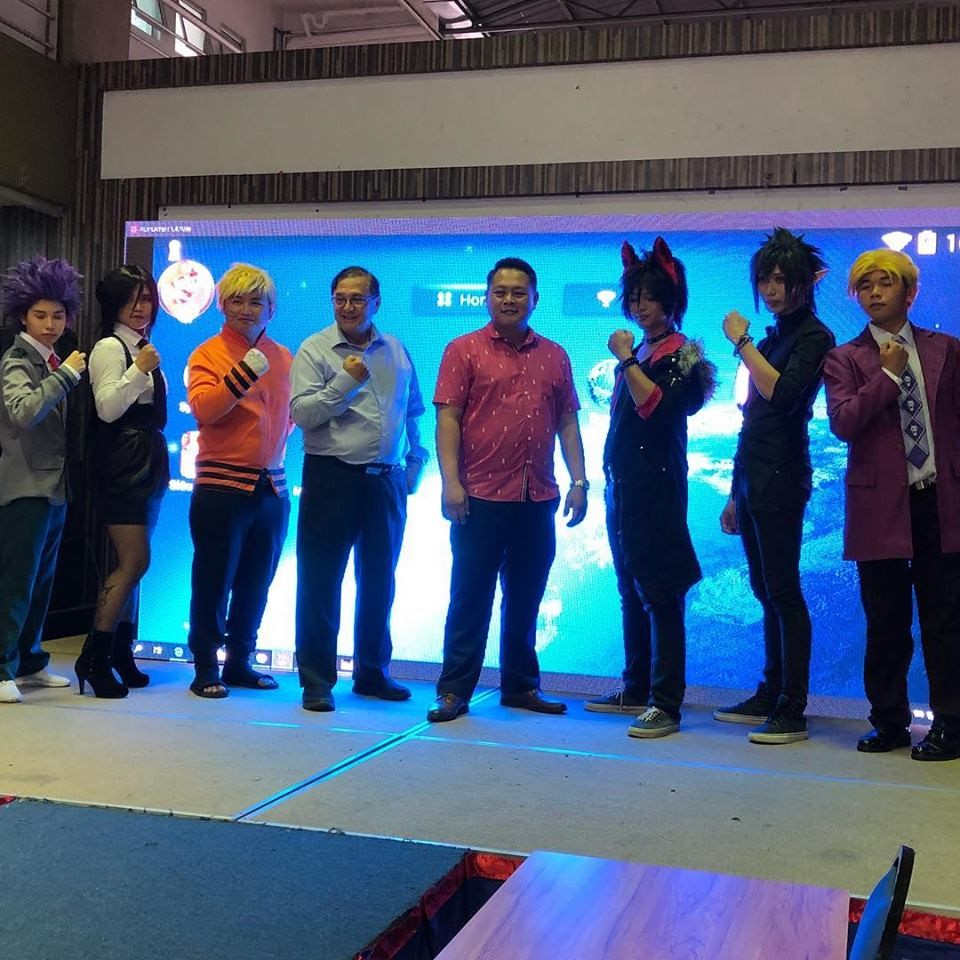 SIDMA College Sabah was a hive of activities as we launched SIDMA College first ever Digital Technologies Day #SIDMAgoesLive 2018. It's also probably the first ever Digital Media Day ever held in any of the institutions of higher learning in Sabah. The grand event was held on 6 October 2018 at SIDMA College Sabah from 9.00 am to 6.00 pm.
As early as 9.00 am, eager participants were seen queuing up for their turn to participate in activities of their choice; just moments after each of the respective booths and vendors were opened to customers. Some of the trending and inspiring activities prepared and set up for the adventurous participants were:
Mobile Legends Game
TEKKEN Game
FIFA2018 Game
Virtual Reality Demo
Gunpla Demo Tutorial and Exhibition
Cosplay gathering
Colouring Contest for kids.
Food Truck and as well as various booth offering local product ranging from food to clothing by local vendors.
Dr Morni Hj Kambrie (Founder and Chairman SIDMA College) when making his round for the event, where he started off at the Kids Colouring Contest, at around 9.30 am was amazed to note that more than 40 kids had registered for the competition. Later when he was at the Mobile Legend Duel, he realized that more than 150 contestants had already registered for the contest. The same scenario was also seen in all the other respective booths.
According to Madam Azlina Ngatimin (Director, Corporate Relations and Business Development) who is also the key mover of the initiative, the focus of SIDMA Media Day was to provide a platform to bring together creative staff, students, young talents of media users, as well as media experts to engage in dialogue of different areas and genres. The event covered the introductions of various inspiring and trending gaming activities in all genres; and also to provide hands-on experience as well as to share best practices to the beginners. On this aspects she was glad to note that most of the media technologies vendors who set up counters here were more of the social entrepreneurs, who were keen to assist and welcome beginner users to the media technologies rather than just to make profit by participating in the event. She too thanked the vendors and other parties who have sponsored and co-sponsored the event.
During the event, numerous lucky draws was given out throughout the day; while various prizes were awarded to participants of the various games and activities held. Mobile Legends Tournament Champion award of RM 1.000 and it was won by Borneo Dragon, 1st Runner-up went to XTP and they received RM 500. The 2nd Runner-up went to Equalizer Borneo who received RM 300.
Y.B Pritchard Arthur Gumbaris while officiating the event on behalf of Datuk Ignatius Darell Leiking who was unable to attend the event due to earlier official commitment was excited to note that SIDMA College Sabah, located in the District of Penampang, was the premier in the introduction of Digital Technologies in the education industry. He congratulated Dr Morni and all SIDMA College Staff for taking such bold and important initiative to ensure that the college graduates are equipped with the 21st Century skills, thus will be able to meet the requirement of their current and future industrial players.
Earlier, Dr Morni, congratulated Datuk Darell Leiking, International Trade and Industry Minister, who was conferred the title "Panglima Gemilang Darjah Kinabalu (PGDK) by TYT Yang Di-Pertua Negeri Sabah on 6 February on 6th October 2018. Dr Morni also conveyed his appreciation to Y.B Pritchard Arthur Gumbaris who represented Y.B Datuk Darell Leiking during the occasion.
Dr Morni praised and congratulated Madam Azlina and all the staff of Corporate Marketing and Business Development Department, as well as all SIDMA staff, for the initiative of bringing media technologies to the college through this #SIDMAgoesLIVE event. He realised that advanced technology is spreading across the industry of education the worldwide, at a super-sonic speed. SIDMA College Sabah, like any other schools, colleges and universities are introducing technology into all segments of their work – from online lesson assignment uploads to students chats and forums, as well planning towards digitalized administration.
Through today's initiative, he hoped that both SIDMA staff and students will be aware that there has been a massive investment by the management to provide "access"-information and communication technologies to staff and students. However, Digital media – the internet, mobile phones, computers games, interactive television – are now indispensable aspects of most children's young people's leisure-time experiences. For most children, computer is no longer primarily an education medium as it was 10-15 years ago. The uses of computers in the home are massively dominated by video games; and leisure uses of the internet are becoming increasing significant.
SIDMA lecturers thus need to be aware that media education could have a great deal to offer here. They should be aware that nowadays, students learn in virtual class classrooms, lecturers post tutorial activities, assignments, forums, on websites, lessons are packed with videos and live demos from online sources; students achievements and files are stored and maintained electronically; as well their profiles, grades, ratings and assessments for the students to view and up-grade themselves.
Thus he hopes that this is the beginning of the introduction of digital technology in Education in this college. With the use of digital technology in education, there will be significant changes to the teaching and learning process, new technologies involve, new content, new teaching media, new teaching media; and also corresponding changes in the process of learning as well hardware and technologies to be used. Nevertheless, SIDMA College will continue to keep up to its Motto "Champion of Change"
By Teo Eng Seng and Mr Zain Azrai Bin Mohd Noor,
SIDMA College Sabah,
88300 KOTA KINABALU.