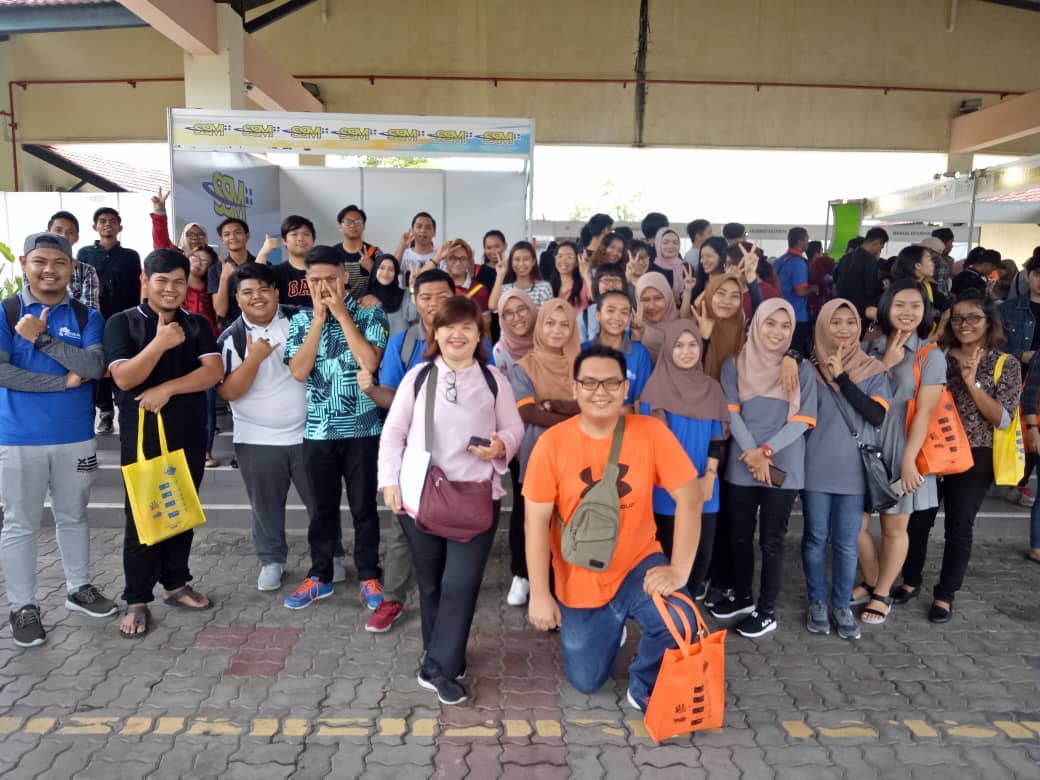 SIDMA College UNITAR Sabah believes that in this new era of globalization, educators are often challenged in equipping students with needed 21 st century skills. Not only do they need to be proficient in ICT, they also need to focus on critical skills such as collaborative, critical and creative thinking and communicative as well as instilling values to them, part of which they need to be interested in their lifelong learning to successfully participate in the global economy.
 Holding on to this, 31 students from SIDMA College UNITAR Sabah recently participated in a two-day Youngpreneurs Go (YPGO) carnival on 27 October 2018 - organized by Malaysian Companies Commission (SSM) at Universiti Malaysia Sabah (UMS). Accompanied by their lecturer, Madam Bibiana Buayie, these students whom are taking BAGB3023 Entrepreneurship and BARB1013 Principles of Marketing this semester were a part of over 1000 participants from local higher learning institutions attending the carnival.
The carnival is aimed at providing participants with seminars on entrepreneurship knowledge and starting a business, among others. Forty stalls were also set up for students to conduct their business apart from getting information on the available assistance provided by governmental agencies.
The event which was officiated by Sabah Chief Minister Datuk Seri Mohd Shafie Apdal, who stated  that the state government will continue to work with federal government agencies to create more young entrepreneurs in all parts of Sabah by providing training and granting needed loans . "There is a lot of encouragement that the government provides for young people to venture into business, including loans at various levels. However, there are conditions that they need to fulfill such as registering their respective companies". He added that Sabah government will welcome every effort to increase entrepreneurs in the state as these entrepreneurs are able to create jobs, thus boosting economy in the state.
Also present were Deputy Minister of Domestic Trade and Consumer Affairs, Y. Bhg. Chong Chieng Jen, UMS Vice-Chancellor, Prof Datuk Dr D Kamarudin D Mudin and SSM Chief Executive Officer Datuk Zahrah Abd Wahab Fenner.
SIDMA College UNITAR Sabah is very committed in producing relevant and high quality students who in the future, will be successful young entrepreneurs.  Apart from having students participating in various trade fair, carnivals and conventions – annual programmes such as Entrepreneurship Month are conducted almost every semester with the sole purpose of exposing them to real-world skills. This programme serves as a platform for students to build or create their very own products and sell them to the public. 
For more information on any of the courses offered at SIDMA College UNITAR Sabah, please browse SIDMA College Sabah Website, or at SIDMA College Facebook Account: "SIDMA College". Potential candidates can visit SIDMA College UNITAR Sabah Campus at Jalan Bundusan, 88300 Kota Kinabalu, or call the campus hotline number: 088-732000 or 088-732 020.
By Teo Eng Seng and Zain Azrai,
SIDMA College Sabah,
KOTA KINABALU.