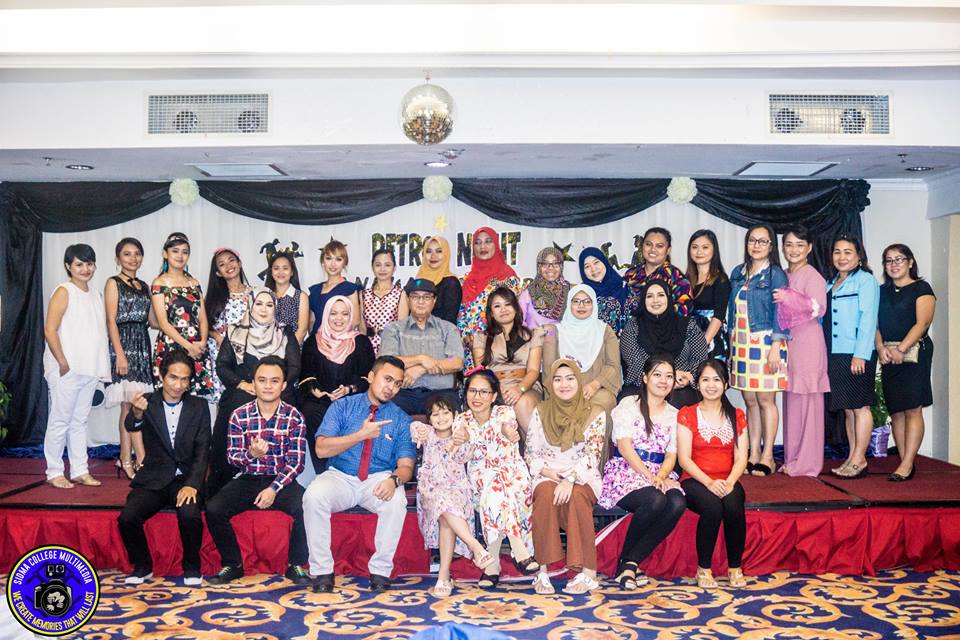 Former students of SIDMA College's Diploma Early Childhood Education from its first convocation held in 2014, gathered together with other students and staff and co-organised SIDMA College first ever SIDMA Alumni Annual Dinner themed "Retro Night" 2018 at Tang Dynasty Hotel Kota Kinabalu on 27 October 2018.
According to its Programme Director, Ms Ereka Ejim, the SIDMA College Alumni Dinner was held with the main objective of reuniting past and current students from SIDMA College Sabah with the intention of connecting the graduates and students from SIDMA College UNITAR Sabah Regional Centre as well as graduates from SIDMA College Sarawak and strengthening their bond together; as well as the bond between the graduates and SIDMA College Staff. The dinner also aims to build professional networks and connections that can lead to opportunities of making a contribution to the Alma Mater, facilitating job cooperation between alumni and assisting the Alma Mater to nurture young generation.  The dinner was delighted to be joined by Dr Morni Hj Kambrie (Founder and Chairman of SIDMA College).
The gathering also aims to celebrate and to congratulate in advance the 379 SIDMA College graduates who will be receiving their scrolls on 31 January 2018 at Magellan Hotel Resort and Spa, Kota Kinabalu.
Dr Morni Hj Kambrie in his officiating speech congratulated the initiative taken by Ereka Ijim and other graduates who have jointly initiated this event. He hoped more graduates will come forward and participated in such activities. He added that it's through such gathering that can provide a perfect opportunity for the past, present and future students to network with each other as well as with the college staff; to further enhance their professional development, thus become relevant workforce in the country.
Dr Morni also hope that this gathering will set the way forward for more of similar gathering involved a wider segment of graduates and students, which can be channelled to a more formal setting such as the formal endorsement of SIDMA College Alumni in the very near future.
During the event various fun based activities were held to provide entertainment as well as 'breaking the ice' after some of them already left the college for quite some time. Exchanging of gift and singing performances by both the staff and students have received tremendous applause from the participants. Other interesting activities of the night were "Retro Dance" performance as well as "Tarian Patung" performed by staff and students, mysterious chair, lucky draws and more.  During the event, Mr Hanafi Bin Didi and Ms. Mimi Amira Binti Jaimis were respectively crowned as Prom King and Queen of the night after deliberate judging by the judges.
The annual event was also attended by Madam Azlina Ngatimin (Director, Corporate Relations and Business Development), Madam Izah Muhilin (Manager, Human Resource), Ms Nur Atiqah Ngatimin, lecturers and staff of SIDMA College Sabah.  
And now, do you remember how you felt when you started college? Alone? Sweating under an enormous backpack? Unable to find your Basic ICT class? Now, you're a big, strong college graduate, and SIDMA College is proud of you. That pride goes both ways of course. So what's the best way to show that college pride? Join alumni of course! For more information about SIDMA College Sabah Alumni, please contact SIDMA College Sabah, Jalan Bundusan, 88300 Kota Kinabalu. Tel 088-732 000 or 088 732 020.
By Azwie Bin Ahamat, Teo Eng Seng and Zain Azrai,
SIDMA College Sabah,
88604 KOTA KINABALU.