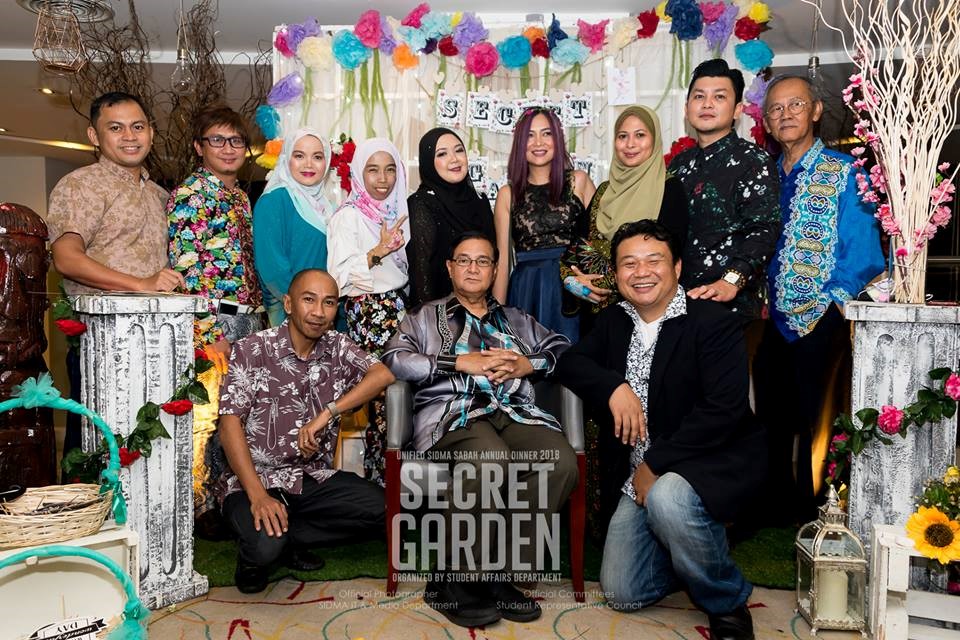 SIDMA College Sabah Annual Dinner 2018, an outstanding annual event and very much looked forward to be attended by all of the SIDMA College UNITAR Sabah community from both staff and students was held at Ming Garden Hotel and Residences, Kota Kinabalu on 23 November 2018.
Adopting the beautiful theme "Secret Garden", it provides opportunities for SIDMA staff and students to shed away their "corporate" skin and completely relax into the celebration mood. Everyone in their colourful attire excitedly talked about the treasure to be unfolded throughout the event.
Student Affairs Department (STAD) and Student Representative Council (SRC) with full cooperation and collaboration from all the departments of SIDMA College, organised this joyous evening to celebrate the success, to convey appreciation and gratitude as well as to support students from various faculties, clubs and societies, and individuals for their various commitment, performance, achievements, success as well as contributions to the college, local community and the nation at large.
Since the establishment of SIDMA College Sabah in Kota Kinabalu back in 2002; the college has never failed to hold this meaningful event annually; having celebrated thousands of successful students.
The 2018 Annual Dinner was more extraordinary and meaningful this year, as SIDMA College Sabah dance club, Prima Dansa, despite their humble intention of only participating the 7th Borneo Dance Festival 2018 at Universiti Putra Malaysia (UPM) Campus Bintulu recently but due to their commitment and efforts have emerged as one of the winners after defeating all the other participating teams from colleges and universities of Sabah and Sarawak.
Dr Morni Hj Kambrie (Founder and Chairman of SIDMA College) in his officiating address, congratulated STAD and SRC for successfully organising the dinner. According to him, the event has emerged as SIDMA's signature event which has attracted an average of more than 500 students annually, comprising of both the senior and junior. Most staff and students of the college are looking forward to attend this annual event, and take photos with respective lecturers, colleagues and college mates for another memorable evening of networking, entertainment and good food.
It's also an evening for the college to honour staff and students who have shown their full commitment and contributed whole-heartedly in their co-curricular activities such as in sports and games of their choice. He particularly praised Prima Dansa Club members and dancers for their spectacular performance during the 7th Borneo Festival 2018 at UPM Campus Bintulu.
He too congratulated SIDMA students and hoped that they have learnt and benefitted from SIDMA Progressive Corporate Culture practised in the college. He gave the example that the current SRC members is a combination of well integrated Malaysians – Malays (Bajau), Chinese, Indians, Kadazans as well as other ethnics of Sabah. He was indeed very proud and stressed that it's through such multicultural team, working in a very harmonious atmosphere that is capable of achieving big success such as organising the Annual Dinner, as well as during SIDMA's participation at the 7th Borneo Dance Festival 2018 in Bintulu.
Earlier, Project Director, Ms Rachel Chin, thanked Dr Morni and management of SIDMA College for empowering her team to manage the 2018 Annual Dinner. It is through such opportunities that she learned leadership responsibilities, commitment, listening, innovative and creative thinking skills. She also thanked all her team members for their commitments and cooperation to ensure the success of the evening dinner. 
During the event, the following clubs and societies were awarded as "Outstanding Club and Society 2018".
English Club
Football & Futsal Club
Gabungan Mahasiswa Mahasiswi Islam (GAMSIS)
Prima Dansa Dance Club
Unified Christian Fellowship
Counterpart Club
Concurrently, six finalists who were shortlisted earlier during the Semi Final "SIDMA Idol 2018" were given the opportunity to showcase their aptitudes and singing talent to win the title of "SIDMA Idol 2018" during the evening.
The contest ended with Nur Liyana Safinas Ramlee being awarded as "SIDMA Idol 2018". The first runner-up went to Norini Michael while Joel Jeffryson Jamestan is the second runner-up. The third and forth runner-up were taken by Nursyahirah binti Samsuddin and Nurul Wan Maizatul Izriani respectively
Various distinctive performances such as singing by Dr Morni Hj Kambrie, Magic show by Yvone Wong, SIDMA live band performances, the selection of prom king and queen of the night for student and staff, as well fabulous lucky draw with spectacular prizes, all of which have contributed to the relaxed and informal atmosphere where all the guests were able to socialise unreservedly. For student category, the prom king goes to Mohd Rusdi bin Mahadi and prom queen goes to Rosabelle Chee while for staff category, Mr Joe Gary won the prom king and Ms Rachell Maycy won the prom queen of the night.
It was really another night to remember, a big congratulations to Mr Terence B. Stephen and STAD staff, Mr Mohd Fikri and all his SRC Committee, as well as Ms Rachel Chin and all the organising committee members.
Well done everyone!
By Teo Eng Seng and Zain Azrai
SIDMA College Sabah,
88300 KOTA KINABALU.