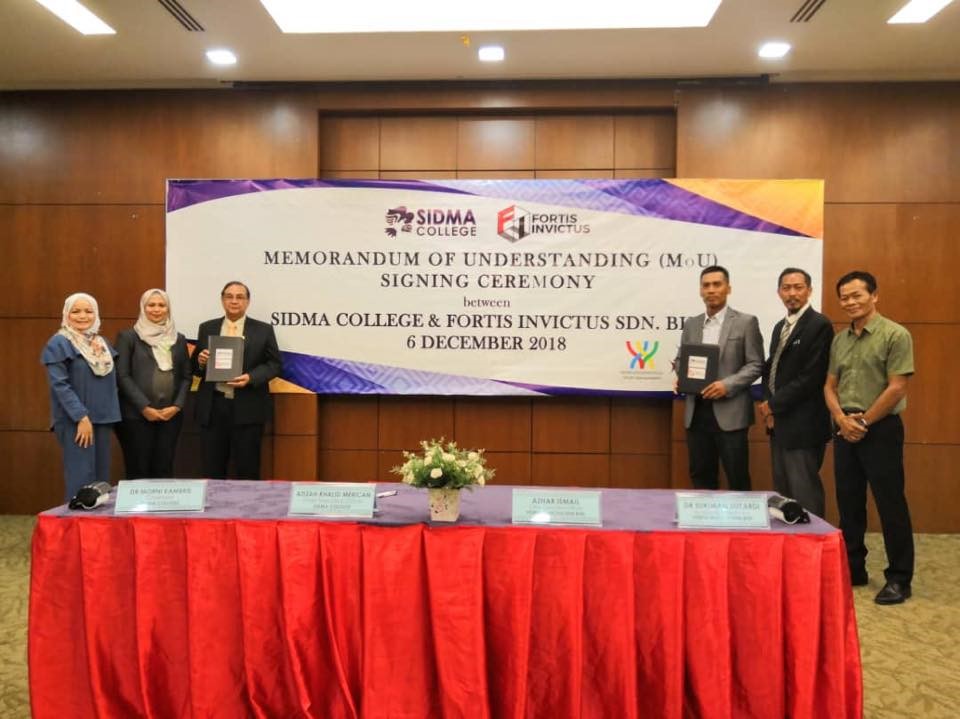 Passionate about sports? Have you ever dreamt of Sports Management as your future career; an occupation in facility management, sales, information technology, personnel management, event planning, athletic recruitment, finance and many more? In fact, across Malaysia, highly qualified individuals are needed to implement the daily operations and the business side of the sports' industry- including the general evaluation of sports programmes, improvement of organizational efficiency, overall profit generation, and many other challenging tasks.
The good news is SIDMA College on 6 December 2018, signed a Memorandum of Understanding (MOU) with Fortis Invictus Sdn Bhd; a renowned sports management agency in Malaysia, at Wisma Kinsabina, Kota Kinabalu thus initiating the way forward for athletes' future dream.
Madam Azizah Khalid Merican; CEO of SIDMA College; and Mr Azhar Ismail, CEO, Fortis Invictus Sdn Bhd signed the MOU during the highly anticipated ceremony. The ceremony was witnessed by Dr Morni Hj Kambrie (Founder and Chairman of SIDMA College) and Dr Sukiman Sukardi (Academic Coordinator, Fortis Invictus Sdn Bhd). Also present during the signing ceremony were Madam Azlina Ngatimin (Director), Mr. Aliudin Jumaat (Director, Sabah Sports Counsel), Managers and Heads of Departments of SIDMA College.
The signing of the MOU paved ways for SIDMA College to establish SIDMA Sports Academy; the first ever to be established in Sabah, and together with Fortis Invictus Sports Sdn Bhd, where both organizations will be establishing strong relationship with local athletes, families, sport clubs and associations, to build a team around the team and to win together.
Dr Morni Hj Kambrie, Chairman and Founder of SIDMA College Sabah and Sarawak, in his welcoming address congratulated and thanked Fortis Invictus Sdn Bhd for their efforts to sign the MoU and collaborate with SIDMA College to establish SIDMA Sports Academy.
He stressed that the new SIDMA Sports Academy, under the patronage of SIDMA Board of Management will work closely with Fortis Invictus Sports Group to help athletes to be in their best condition and will be able to showcase their full potentials. Such assistances will be professionally structured and established to assist athletes, sports clubs, as well as related associations or agencies; thus providing the needed intervention to guarantee on the value and potential of our local athletes. He added a special Operation Room, equipped with basic information about sports schools, athletes, sports facilities, and more will be set up to facilitate the whole operation of the programme; thus enabling the Academy to offer various exclusive services to local athletes; to undertake complete workouts on their physical, mental and nutritional attitude; followed by specialized doctors consultation on performance improvement as well as injuries prevention and management.
Dr Morni when met after the signing ceremony announced that the programme is expected to be offered to athletes and Sports Science students beginning March 2019. Beginning July 2019, SIDMA College is expected to offer Diploma in Sports Management particularly for athletes with the required minimum SPM qualification. SIDMA College Sarawak is expected to follow suit in 2020. The college is currently in the process of obtaining the necessary accreditation from the relevant authorities.
The main focus of the whole set is to ensure that local athletes who are very passionate about sports after completing their SPM examination will still have the opportunity or alternative pathway to enter their tertiary education while at the same time continue with what they really enjoy doing and ultimately pursue their intended field of studies such as coaching, trainers, event planners, personnel management and more.
As a start, SIDMA Sports Academy will work very closely with local and international sports associations, Sabah Sports Council, National Sports Council of Malaysia to provide the necessary intervention and conduct professional training. With the establishment of SIDMA Sports Academy, the future of our local athletes will be properly nurtured, which indirectly guaranteed in producing professional athletes and sportsman for the country with brighter future both academically and in sports.
For more information on SIDMA Sports Academy and Diploma in Sports Management, please call SIDMA Hotline 088- 732 000 or 088-732 020.
By Teo Eng Seng and Zain Azrai,
SIDMA College Sabah,
88300 KOTA KINABALU.