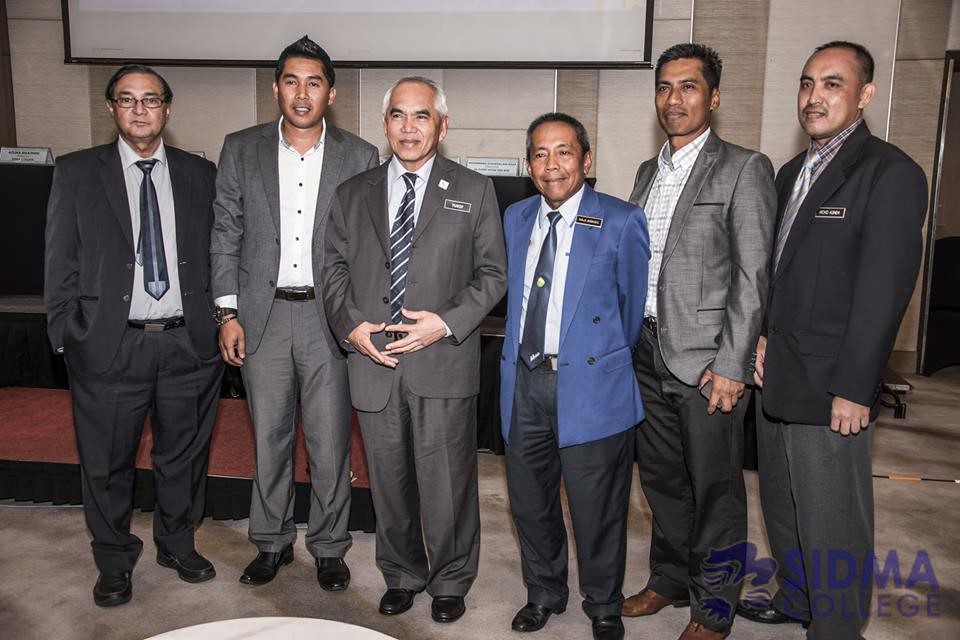 SIDMA College in collaboration with Fortis Invictus Sdn Bhd. officially launched the establishment of SIDMA Sports Academy on 22 January 2019 at Le Méridien Kota Kinabalu Hotel thus paving way for the Academy to conduct various study programmes to assist local athletes to further their tertiary education in various fields of sports management ranging from certificates level, diploma and more.
During the launching ceremony, SIDMA College also signed Memorandum of Understanding (MOU) with Ministry of Youth, Culture and Sports, Sabah; Fortis Invictus Sdn Bhd, and KK Event House Sabah to enable SIDMA Sports Academy Sabah to initiate various sporting and related activities of the academy.
Hon. Dr Yusof Yacob, Sabah Education and Innovation Minister who witnessed these memorable occasions, praised SIDMA College for being the first college in Sabah to take up such initiative to acknowledge local athletes and sports organisers who contributed so much to popularise the country, in terms of sports and games.
Dr Yusof also acknowledged that the courses to be offered soon by the Academy will be conducted in a very flexible manner, whereby athletes will be allowed to continue their training and attending any competitions, without affecting their studies. He was glad to know that the programme will commence soon in June 2019, and added that his ministry will provide the necessary financial assistance, such as scholarships to eligible candidates.
Dr Yusof is happy to know that the Academy has adopted "Sport as a Career" as its vision, and  knowing that the academy also pledged that the Academy will ensure that all athletes will not be left behind after one has sacrifice their youth as athlete of the country.
Dr Morni Hj Kambrie (Chairman and Founder of SIDMA College) in his welcoming address thanked Sabah Education and Innovation Minister who has been very supportive towards the Academy. He too conveys his sincere thanks to Fortis Invictus Sdn Bhd, a renowned spots management agency in Malaysia that has agreed to collaborate with SIDMA College to initiate SIDMA Sports Academy.
He too, thanked KK Event House Sdn Bhd, who has always support and assist the college in providing basic infrastructure and facilities in all SIDMA outdoors activities. Dr Morni also thanked various other agencies such Sabah Education Department for collaborating and cooperating with the college to implement various academic programmes and activities to complement and supplement Sabah education development.
Dr Morni stressed that the main focus of the Academy is to ensure that local athletes who has been very passionate about sports and has participated in various sports and games during their school days, will be able to continue their passion in sports while at the same time continues to further their studies and prepare them for the future. The Academy will have various programmes in academic studies such as Certificate / Diploma in Sports Management to enable even the senior citizens to study and thus benefit from it and upon completion of their studies will be able to be officially appointed as local coaches, trainers, game planners, organisers and more.
Also present during the ceremony were Madam Azlina Ngatimin (Director, Corporate Relations and Business Development), Hon Datuk Awang Damit Pg Anak (Permanent Secretary to Sabah Ministry of Youth, Culture and Sports), Mr. Zainal bin Madi (Senior Assistant Director – Sports), Mr. Mohd Asneh Mohd Noor (Director, Sabah Sports Board), Mr. Azhar Ismail (CEO Fortis Invictus Sdn Bhd), Mr. Mohd Yusof Mohd Kahar (COO Fortis Invictus Sdn Bhd), Mr. Mohd. Shahrizal Hj. Izhar and Mr. Awangku Pg Ismail Pg Md Yaakub (Director, KK Event House Sdn Bhd).
For more information about courses offered at SIDMA College or SIDMA Sports Academy, do browse SIDMA College Website, or visit us at SIDMA College, Jalan Bundusan, 88300 KOTA KINABALU. Interested parties can also call SIDMA College Hotline: 088-732 000or 088-732 020; or visit SIDMA Facebook page for enquiries and registration.

By Teo Eng Seng and Mr Zain Azrai
SIDMA College
88300 KOTA KINABALU.