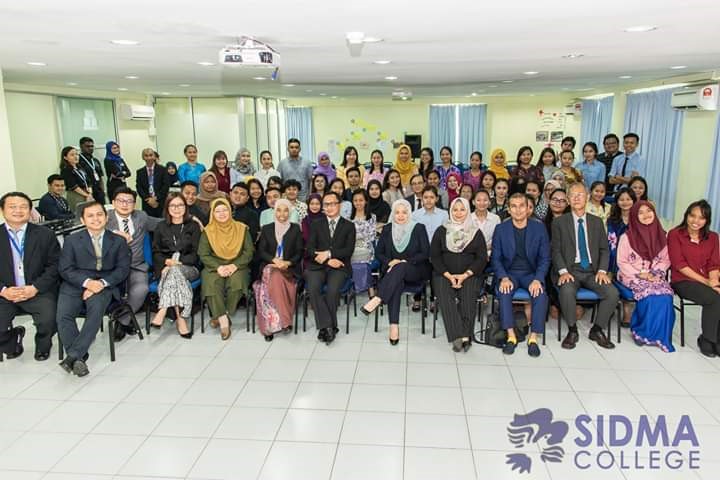 A total of 97 new students made their pledge of allegiance to the rules and regulations of the SIDMA College Sabah, UNITAR Sabah Regional Centre and DOSH, Kota Kinabalu on 15 March 2019.
Organised by the Students Affairs Department (STAD) and Students Representative Council (SRC), the programme was held for the 2019 new intake students to formally promise and pledge the oath to commit themselves fully to the ethical practices, be active and responsible students as well as abiding to all rules and regulations of college and respective university.
The oath-taking was led by Adjunct Professor Dr Morni Hj Kambrie (Founder and Chairman SIDMA College Sabah) and Assistant Professor Dr Zuhaili Akmal (Chief Student Experience Officer, UNIRAZAK).
Also present at the ceremony were Puan Azlina Ngatimin (Director, Corporate Relations and Business Development), Madam Azizah Khalid Merican (CEO), Mr Lim Chin Tong (Registrar), Managers, Heads of Departments, coordinators and staff of SIDMA College Sabah and UNITAR Sabah Regional Centre.
Dr Morni congratulated the students for choosing SIDMA College and UNITAR Sabah as the institution to further their tertiary education. He too provided reassurance to students that their welfare and future are in good hands, and at the same time encouraged them to do their parts by putting in full commitment, self-discipline and fully immersed themselves in their studies in order to be able to materialize their dreamt future.
He added that SIDMA College Sabah and UNITAR Sabah Regional Centre being in its 17th year of success has produced successful graduates who are currently holding respectable posts and careers in various fields, both in the public and private sectors throughout Sabah and Sarawak.
 Earlier, Dr Morni during his introductory speech welcomed and expressed his appreciation to Asst. Prof. Dr Zuhaili Akmal for his continuous passion, efforts and supports towards youths of the country; and has been ever willing to be with SIDMA Sabah students particularly during historical events such as this ceremony, despite his busy schedule in giving motivational talk to youths throughout Sabah.
   Asst. Prof. Dr Zuhaili Akmal then gave a short speech, welcoming and enlightening the students about what to expect in university and also motivate them do to what their heart tell them. He added, "The soul inside and the kindness that you had are the most important requirement".
For more information on any of the above courses offered at SIDMA College UNITAR Sabah, please browse SIDMA College Sabah Website, or at SIDMA College Facebook Account: "SIDMA College". Potential candidates can visit SIDMA College UNITAR Sabah Campus at Jalan Bundusan, 88300 Kota Kinabalu, or call the campus hotline number: 088-732000 or 088-732 020
By ,
Rachel Chin Pei Suan
Sports & Recreation
Student Representative Council SIDMA College Sabah