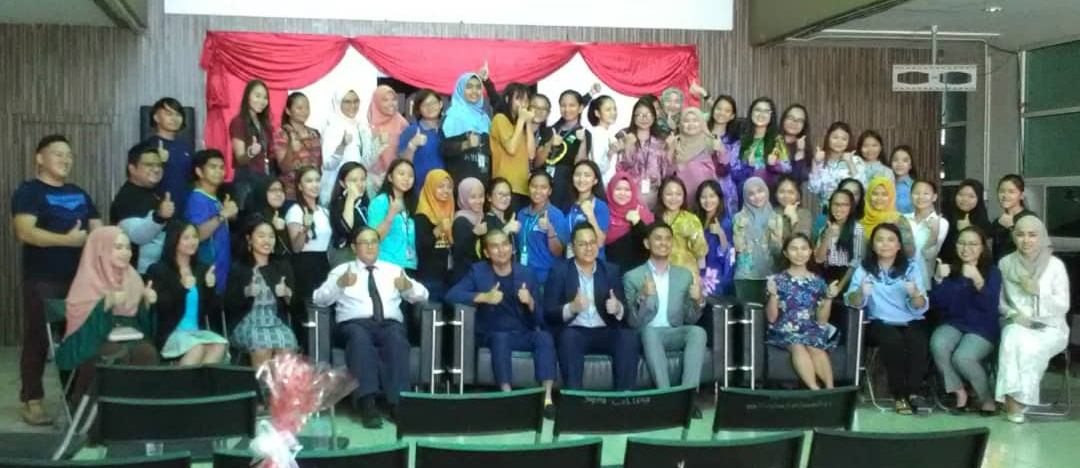 ENGLISH WEEK 2019
Unified English Club in collaboration with Unified Drama Club has organized English Week 2019 in SIDMA College UNITAR Sabah from 11th March until 15th March 2019. English Week is an annual event conducted by the Unified English Club which acts as a platform for students to enhance various skills of English language through an active engagement in the activities outside of the classroom.
Together with Unified Drama Club, the week was packed with numerous interesting activities such as Mic Talent, Spelling Bee, Scrabble, Charades, Treasure Hunt, and Movie Day. The event also aimed to cultivate students' interest in learning English through fun and engaging activities.
The week started with the much anticipated 'Mic Talent', where participants have the freedom to express themselves through acts such as singing, stand-up comedy or acting as long as English is used as the medium. The event ended with 'Hello & The Gang' as the winner - a 10 - member choir team who sang their hearts out in rendition of "I believe I can Fly" by R.Kelly ,defeating the 'Last Minute' team and our solo singer, Shirley Sebius Niun which was placed in the 3rd place.
Three activities were held (Spelling Bee, Scrabble and Charades) on the second day. Conducted at East 1, the Spelling Bee activity concluded with Nathania Adria Kandee Mosninoh who buzzed her way to victory, spelling 38 out of 42 words. Rafhael Tangkung emerged as the champion, followed by Cherisena Joflin in 2nd place and Dayang Nabilah Syuhada Rosli in 3rd place for scrabbles. Charades, one of the activities aside from 'Mic Talent' and 'Movie Day', was introduced to English Week by Unified Drama Club where participants needed to find ways to act out English words for their friends to guess. Newcomers duo, Christa Natalia Chong and Dessy Alvierra Hiew won the the 1st place beating six other participants.
The week continued with 'Treasure Hunt',which was held at the Atrium SIDMA College. Semadi Nadai team won the 1st prize, by being the first team to complete all the obstacles followed by Avenger team in 2nd place and R5 team in 3rd place .The next activity, 'Movie Day', was conducted after working hours at West 1 with the movie voted by students, "Fantastic Beasts: The Crimes of Grindelwald".
The closing ceremony was successfully held at the Atrium SIDMA College on 15th March 2019, with the guests, Adjunct Professor Dr. Morni Kambrie (Founder and Chairman of SIDMA College), Puan Azizah Khalid Merican (Chief Executive Officer, SIDMA College Sabah), guests from Universiti Tunku Abdul Razak (UNIRAZAK) Kuala Lumpur along with Unified English Club Advisor, Miss Yvonne Barnabas, Miss Constance Joy and Ms Rachell Maycy as well as Unified Drama Club Advisor, Miss Ivy Evannie and Miss Audrey Gee Edmon.
The event managed to attract participants from Faculty of Education and Humanities, Faculty of Business Technology and Accounting and Diploma in Early Childhood Education. Many of the students when met, expressed their pleasures in joining such developing programs. It is hoped that from the event, students will have the opportunities to acquire new knowledge and enhance their creative growth.
By,
Mohd Fikri Bin Mohd Shah
President of Student Representative Council (UNITAR)
SIDMA College Sabah,
Kota Kinabalu.