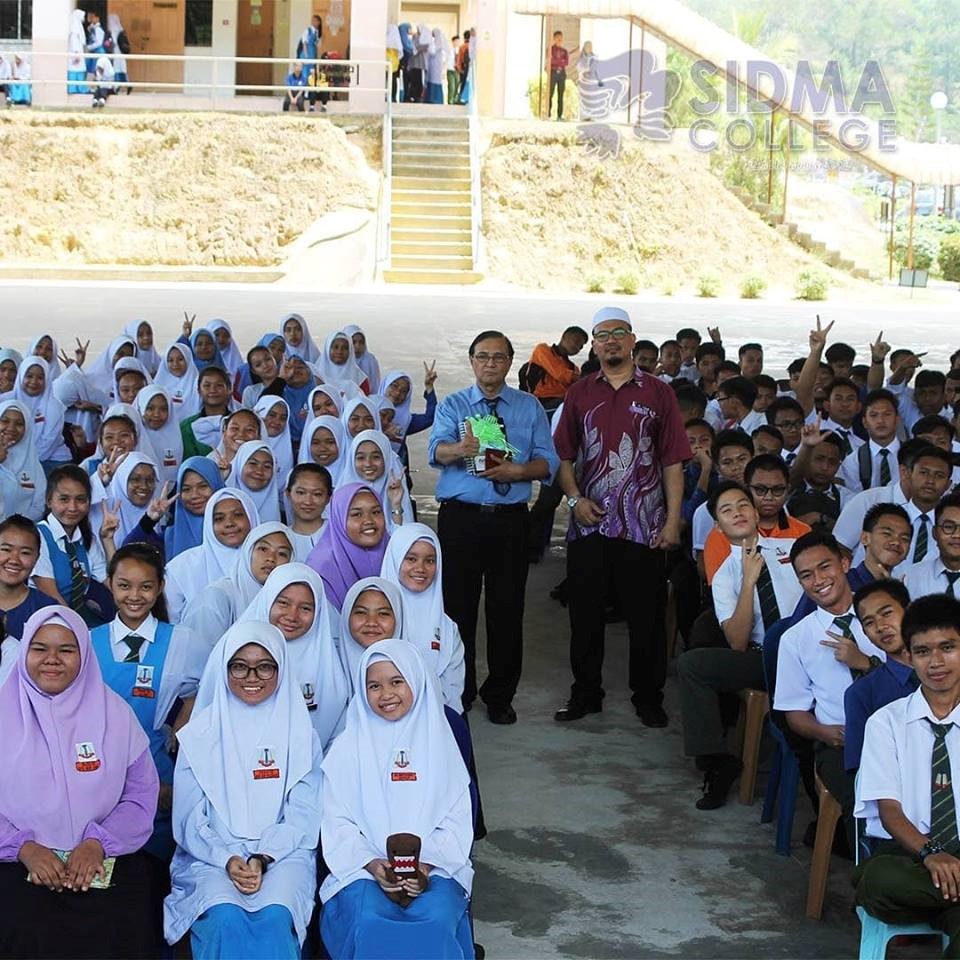 Adjunct Prof Dr Morni Hj Kambrie, Chairman and Founder of SIDMA College, a lecturer in UiTM prior to continuing his MBA in Scotland (1987). After completing his MBA and PhD in 1990, he joined Sarawak Economic Development Corporation (SEDC).
His interest in education grew since he was with UiTM in 1984, later a lecturer with Edith Cowan University, Australia, Bath MIM MBA and also while lecturing at University Malaysia Sarawak (UNIMAS) on contract basis.
Prior to setting up his own SIDMA College, he was engaged as a consultant to the Philippines Government (1994-1995) to do research work on the economic development of the Muslim Minority Areas of the Southern Philippines). The project had made him fully realized the importance of education for the development of young generation of the country such as Malaysia.
Since the establishment of SIDMA College Sabah in 2002, Dr Morni has been very concerned about the future of the young Malaysian generation, and offered to conduct motivational talks to secondary school students on issues relating to students' education and what's expected from them as students in secondary schools - as part of his corporate social responsibilities.
His motivational talks to students basically touched on students' responsibilities as well as pushing them to be on track, getting their homework done, and supporting teachers and schools to ensure their success.
He always reminded students that they can be born to the most supportive parents, be in the best schools in the world, and having the most dedicated teachers to teach them; but unfortunately, none of this will matter unless they are willing to fulfil their very own responsibilities as students of their school; such as paying full attention to their teachers during classes, listening and following the advice from parents, grandparents, and relatives as well as willing to follow through with extra hard work on their studies in order to achieve success.
Dr Morni also reminded them that no matter what they wanted to do with their life (teacher, lawyer, engineer, pilot, doctor, and more) they need good education for every single one of those careers. He also advised them to attend classes every day and never dropped out of school in order to earn a good job. They got to work, train, learn and prepare themselves for it. He advised them to develop their full potentials – talents, skills and intellectual in order to help them in solving the most difficult problem they might encounter in future.  Thus if they quit schooling, they are also withdrawing their future career or dreamt success.
Touching on the aspect of examinations, particularly, public examinations such as PT3, SPM and STPM; Dr Morni affirmed that examinations are the most powerful thing in any human's life, as it provide opportunities for students to test their own abilities, strength, weakness, self-discipline, self-management, and more. According to him, those who are scared to face it have in fact failed from the very beginning.
Thus he reminded students not to be scared of examinations, but instead to take it positively, faced the challenges, and come stronger and fitter to face the world. He told them to like and love examinations, take more examinations, in order to develop and equip themselves with more knowledge, better skills, moral values and self-competency, all of which are very much needed for their future career.
Dr Morni has always been portrayed as a unique motivational speaker, well-known for his entertaining, captivating, highly interactive and energizing when on stage delivering his talk. He has been sharing his views to hundreds of thousands of secondary schools students, motivating them on the importance of securing good education in order to secure and materialise their dreamt future. "Your hopes and dreams are the key to your understanding of who you are, what you want to be, and even how to reach your goal" he stressed.
During his motivational sessions, he loved to share his own personal experience from being an ordinary village boy, selling home-made cakes in order to complement his family earnings. However, by holding on to his precious dream of earning his Doctor of Philosophy (PhD), plus his strong personality of always aiming high, have brought him to as he is today. Thus he advised the students to find out which field of studies that they are interested, in order to determine a good career that could match them well. He advised students to make good use of financial assistance such scholarship and study-loan such as PTPTN to finance their tertiary education. Dr Morni reminded students that when he was doing his Masters and PhD in England, there were no such things as scholarship or PTPTN and as his father was a pensioner then, he got to take-up part-time job to pay his tuition fee.
Most secondary schools in Sabah have invited Dr Morni to conduct motivational talks to Form IV, V and VI students to enable them to understand the link between learning in school and the world of work, as well as to motivate them to improve their academic performance.
Recently, Dr Morni was cordially invited to present to motivational talk to 400 Form Five students at Dewan Pride, SMK Tebobon, Inanam. He has also being invited to conduct similar talks at SM St Patrick, Membakut; SMK Gunsanad, Keningau; SMK Keningau II, Keningau; SMK Taman Ria, Tuaran; and more.
SIDMA College believe that every student has a gift or talent inside them, and together with the authorities, focus on creating sustainable futures for them by providing passionate and experienced personality such as Dr Morni to contribute, share and support such young students through education and towards development their future career.
Schools and other education institutions of learning who are interested to invite Adjunct Prof Dr Morni Hj Kambrie to conduct such motivational talk to their students are welcome to forward their request to:

Director,
Corporate Relations and Business Development,
SIDMA College, Jalan Bundusan,
88300 KOTA KINABALU.
Tel: 088-732 000 or 088-732 020.
Fax: 088-732 732 015

By,
Teo Eng Seng and Zain Azrai,
SIDMA College Sabah,
88300 KOTA KINABALU.