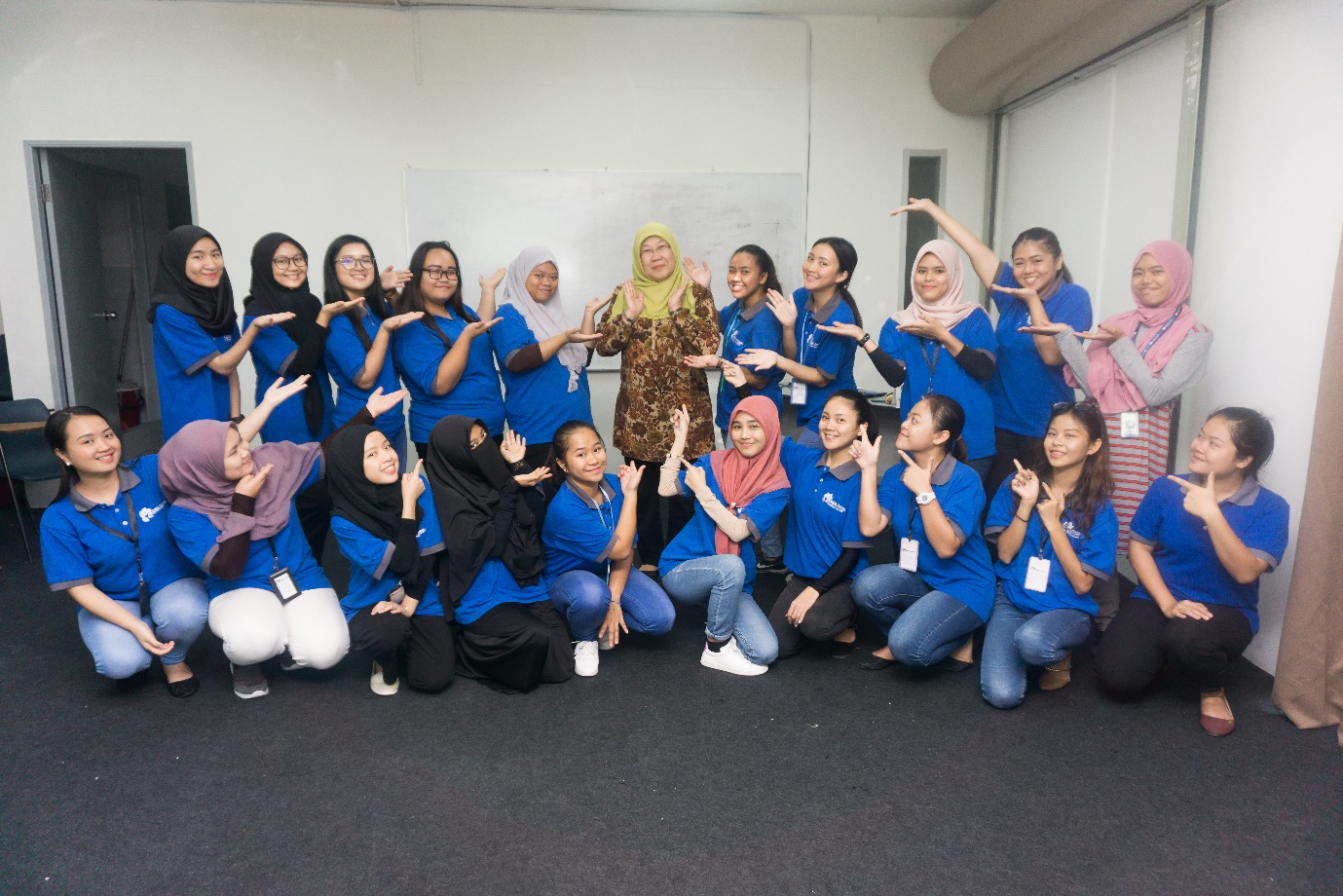 SIDMA College Sabah through the dynamic leadership of its leaders; Adjunct Prof Dr Morni Hj Kambrie (Founder and Chairman) and Madam Azizah Khalid Merican (CEO) have been very consistent and determined in their effort to produce graduates who are not only proficient in Bahasa Malaysia, but also graduates who are confident and comfortable while engaging themselves in conversation using English. This is due to the simple fact that English has been widely spoken and used in Malaysia for many years, so much so that it has automatically become the second language of the country.
Although the medium of instruction at public institutions of higher learning is the national language (Bahasa Malaysia), SIDMA College uses dual languages (Bahasa Malaysia and English) as its medium of instruction, owing to the importance of English in the new knowledge economy and the Industrial Revolution 4.0. Furthermore English has been spoken widely by many Malaysians in and outside of their homes.
English Enhancement Programme (EEP), a special English Proficiency programme developed by SIDMA College Sabah, aims to help SIDMA College students who lack confidence and proficiency in using English as the language of communication, to upgrade their English basic proficiency skills in order to achieve their personal potentials and professional goals.
SIDMA's EEP, a 28 contact hour's programme which was launched by Madam Azizah Khalid Merican on 14 February 2017; focus on providing intensive training in reading, writing, listening, and presentation skills. According to Madam Jenifah Abdullah, the key module writer and facilitator of the programme, EEP's main focus is on providing equity to these identified students by using different teaching and learning models and methods such as the use of English Language newspaper, visitation to various places of interest, in order to motivate and facilitate them in their pursuit of being excellent in their English Language usage. It provide opportunities for the students to explore the basic grammar concepts as well as their basic vocabulary, all of which are to be mastered and applied in their study as well as in the real-life situations, particularly in their future field of work.
On 9 April 2019, Madam Jenifah took the opportunity to organise an educational tour to Borneo Ant House Gallery located at Tuaran for the 25 students from January and February 2019 semester. Prior to the trip, they were told to "explore, inquire and discuss about what it is like to live and work in the mini Theme Park, and the lesson learn from it. The students were expected to describe the gallery, uniqueness of living in the gallery, the ants replicas displayed. They were expected to think and discussed with their friends, as well as with the personnel' of the gallery on the some of the moral values and uniqueness of living like ants, such as hardworking, collaborating, caring and more. Based on the lesson learnt from ants, the students were also expected to come up with a simple formula to achieve success in life such as:
In order to be a successful person, one must be active, persistent, persevere, diligent, energetic, hard-working, industrious and lively.
Upon their arrival, the students were welcomed by the park personnel who then introduced and show them around the different sections of the gallery. The students were later given the opportunity to explore and discussed with the gallery personnel and their group about the assignments.
The feedback that Madam Jenifah got from the personnel on duty at the gallery has been very encouraging. They said that SIDMA students tried their best to communicate with them in English. The students were asking thinking questions that required long answers and not just requiring a simple "yes" or "no" as answer.
Madam Jenifah stressed that the main focus of the field trip is basically to act as a tool to enhance classroom learning by making connection with the real world. It is for the students to apply their contextual learning in the classroom to reinforce their experiential learning outside the classroom.  
Madam Jenifah took the opportunity to thank Adjunct Prof Dr Morni, Madam Azizah Khalid Merican, Madam Azlina Ngatimin, and Madam Nancy Pishori as well all heads of departments, lecturers and staff for their support in assisting her to conduct the smooth and successfully trip. She too congratulated the students for their commitment to communicate in English throughout the journey and hope that they will keep practising on it.
SIDMA College Sabah provides opportunities for its students to understand their true potentials, and helped them to become the best person they can be. Below are the courses currently being offered, for one to consider for admission at SIDMA College Sabah:
Foundation in Management:

It is a preparatory programme for one year. Upon successful completion, students will gain an entry qualification to degree programmes in area of Education (including Early Childhood Education), Business Administration, Management, and more.

Diploma Courses:

Diploma in Early Childhood Education
Diploma in Occupational Safety and Health.

Bachelor Degree Courses:

Bachelor of Education (Hons)
Bachelor of Early Childhood Education (Hons)
Bachelor of Business Administration (Hons)
Bachelor of Management (Hons)
Financial assistance such as Education Loan from the National Higher Education Fund (Perbadanan Tabung Pendidikan Tinggi Nasional - PTPTN) is available upon request.
For more information about courses offered at SIDMA College Sabah, please browse SIDMA Website, or like SIDMA Facebook Account – SIDMA College. .One can also visit SIDMA College Campus located at Jalan Bundusan, 88300 Kota Kinabalu. You may also visit https://sbah.sidma.edu.my/sidmalearning/landingpage_form to register.
For more information, please call SIDMA Hotline: 088-732 000 or 088-732 020.
By Teo Eng Seng and Zain Azrai,
SIDMA College Sabah,
88300 KOTA KINABALU.