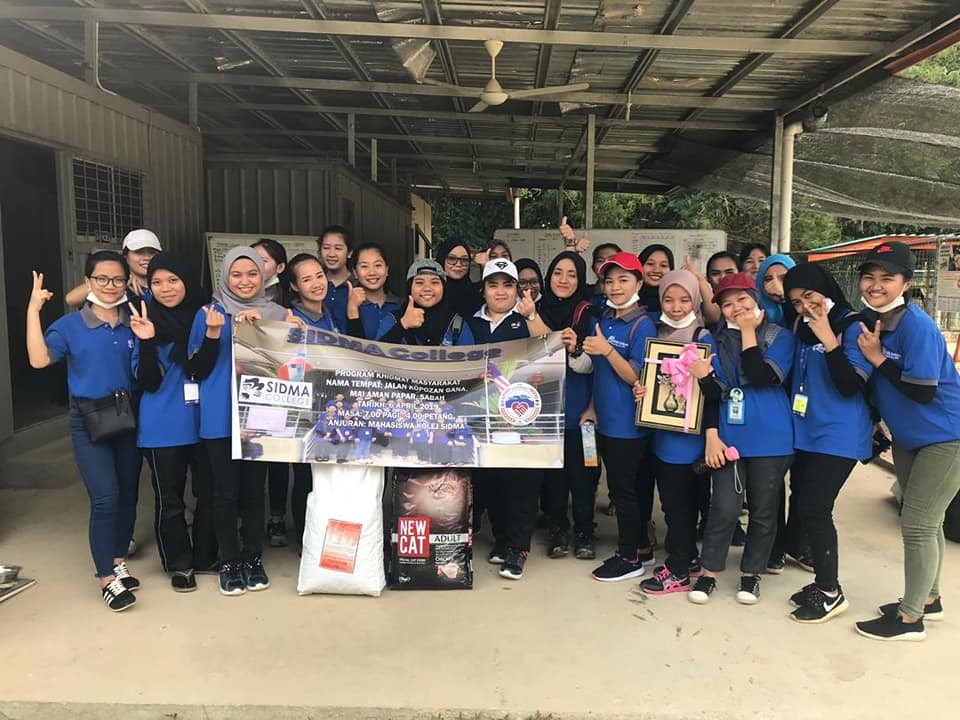 Community Service Learning is a teaching method which provides opportunities for students to learn valuable academic, social, personal skills and values while fulfilling the needs of the local community. At SIDMA College Sabah, Community Service (Khidmat Masyarakat) is offered as a one-time visit to a very deprived and needy community; and is integrated with the academic curriculum. This Service Learning involves students either analysing or cleaning up a polluted river, beach, as part of their science curriculum; or cleaning up flooded houses, building or compound, repairing houses, and provides the necessary support to the community, as part of the social studies content.
A mixture of students' outcomes can result from the combination of such service-related academic instruction, and students need to reflect on the services conducted, learning and improvement, and the larger related social (and political) issues. All of which can lead to students' personal development (increased self-esteem, internal locus of control, etc); social development (group collaboration & corporation, related work skills); values development (civic responsibilities); academic development (basic academic skills, subject matter knowledge); and of course career development (career exploration and job related skills).
Apart from the above benefits, students who are engaged in community services improved their problem solving skills, improved their ability to work within a team, as well as to enable them to plan more effectively. Additionally, students get to network and cultivate connections between various organizations, schools and other institutions, as well as community grouping; which can prove to be very useful later in their life.
For the February 2019 Semester, SIDMA College managed to schedule four groups of 30 students in each group, to undergo such activities. Mr Azwie Ahamat led team "Zero to Hero" to conduct community service at Kampung Muhibbah, Menggatal, Kota Kinabalu on 29 March 2019. Here the students were given the opportunity to perform a "gotong-royong" to clean-up the surrounding or compound of a remote, isolated and unmanaged village house. They too managed to made donation in the form of basic necessities to assist the weak and elderly family of the house.
On 30 March, Mr Azwie led team "The Guardians" of 30 students to Kampung Baru Jumpa, Tenom. This team was lucky as the Tenom Parliamentary Representatives (YB Noorita binti Sual and YB Jamawi Jaafar) made their personal donations in cash for the occasion. With the money collected, the team manage to do some major repair work on to the old and shabby structure of a wooden village house as well as do the cleaning up the unmanaged compound. 
On 5 April 2019, Ms. Maxlyana Fyona Marom, led team "We're 4" of 30 students to do cleaning-up of Encik Nazrul Bin Kamsiong's  shabby and leaking house at Kg Letinggi, Kota Belud. Apart from the cleaning activities, the team also contributed zinc sheets and pieces of plywood, and assist the family to do some repair work on the roof and walling of their house. The team also managed to solicit some financial assistance for the purpose.
Interestingly, Team "We're 4 U" efforts went viral in Facebook and received immediate response from the state government, who took up the case and decided to build a new house for the very deprived Nazrul family.
The final team "Persatuan Anak Bawah Bayu" (PABB) visited the Society for the Prevention of Cruelty to Animals, Kota Kinabalu (SPCA) on 6 April 2019. Apart from cleaning-up the compound; they also cleaned up its dogs' runs as well as cattery. The team of ladies also managed to dig the earth around the building to improve the drainage system of its compound. Each team member also contributed cash for SPCA's activities. Later, through SPCA Kota Kinabalu web page, they thanked SIDMA College Sabah and the PABB team for their initiatives and effort shown.
During a reflection session held on 15 April 2019, all the team members felt thankful for the opportunities given to witness and personally experienced some of distress and difficulties gone through by some of our local community. They felt very unfair to let them continue living in such deprived situations, and hope that more can and should be done, both by the government and the members of the community to assist such deprived families.
Based on what they witnessed and experienced, the students felt very thankful to their parents for the efforts taken to raise them and provided them with good education, and they knew that they shouldn't demand for more. They too felt very thankful  "BERSYUKUR" for what they possessed, and will continue to advocate for the deprived people.
In line with all the activities, Adjunct Prof Dr Morni (Chairman and Founder), Madam Azlina Ngatimin (Director, Corporate Relations and Business) and Madam Azizah Khalid Merican (CEO) were very impressed by the initiatives taken by these SIDMA College Diploma Early Childhood Education students; and thanked them for their efforts. They hoped that these students will continue to advocate and strive to improve the deprive conditions of the rural community even after they have completed their study.
They too conveyed their appreciations to Mr Azwie, Ms Fyona as well as to all who have collaborated to ensure the success of these community services, which is also served as part of SIDMA Corporate Social Responsibilities.
By,
Teo Eng Seng and Zain Azrai,
SIDMA College Sabah,
88300 KOTA KINABALU.