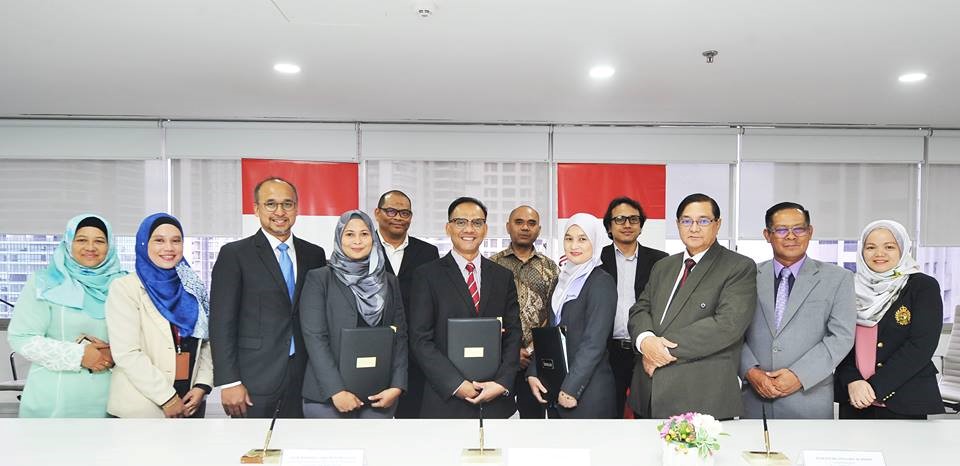 SIDMA College Sabah and Sarawak revitalize bilateral collaboration with UNIRAZAK (University Tun Abdul Razak) through the signing of a new Memorandum of Understanding (MoU) recently .This new collaborative initiative between UNIRAZAK and SIDMA College Sabah and Sarawak have paved new openings for the SIDMA to venture and placed special emphasis on niche programmes such as Education, Early Childhood Education, Information Technologies and many more.
Prof Dr Zulkifflee Mohamed, Deputy Vice Chancellor (UNIRAZAK) during his welcoming address, stressed that UNIRAZAK is the first private University in Malaysia which was established on 18 December 1997, and has since been awarded the prestigious Multimedia Super Corridor (MSC) status – which by itself is a testimony to UNIRAZAK commitment to blend technology and innovations in its methods of teaching and learning; which is very relevant in the current 21st Century skills development.
He added that UNIRAZAK will continue to aim high to implement only quality academic programmes, approved by Malaysian Higher Education Ministry (MOHE); to meet the current 21st Century skills requirement of the industries; as well as to continuously meet the high standards required by Malaysia Qualification Agency (MQA). In addition, all of its programmes offered were developed through close consultation, and thus were very in-line with business and industrial partners, he added.
Dr Zulkifflee also pledged that UNIRAZAK will continue to spearhead its cooperation and collaborative networking  with leading global institutions which are renowned in their respective fields; and to continue to aspire all UNIRAZAK students (including those in its regional campus) to be a potential and successful graduates and great thinkers who will become the upcoming proficient leaders.
Adjunct Prof Dr Morni Hj Kambrie (Founder and Chairman SIDMA College for Sabah and Sarawak) during the MoU signing ceremony stressed that the focus for the renewed collaboration with UNIRAZAK is to provide SIDMA College students with a centre of reference for students to look-up and to explore the humanities, social sciences, arts as well as other related technical and practical skills needed; thus through UNIRAZAK, relevant opportunities will be available for them to develop and fathom knowledge, through constructing, deconstructing and reconstructing it into new and meaningful expressions, applications, skills and data into formation of new knowledge, hypothesis and their real life applications.
According to Dr Morni, UNIRAZAK apart from being well known for its human resources –possessing renowned professors, experienced lecturers and teaching staff; it also possessed relevant E-Library with a massive collection of five (5) online databases consisted of journals, magazines, proceedings, dissertations, and electrical dictionary, as well as more than 50,000 e-books on different subjects, state-of-the-art computer terminals, cosy student lounge and well equipped library.
Furthermore UNIRAZAK have over 30 students clubs and societies, including Badminton Club, Toastmasters' Club, Debate Club, International Students Club, Muslim Students Club, India Students Society, as well as numerous sports and recreation activities. UNIRAZAK also provides financial aid through its' UNIRAZAK Scholarship and Tun Rahah Scholarships to eligible students. All these UNIRAZAK facilities and resources will complement and supplement SIDMA College existing facilities and resources, thus will in one way or another benefitting SIDMA College student both in Sabah and Sarawak.
According to Dr Morni, SIDMA College is currently focusing on fulfilling its niche demand to meet the new 21st century skills in fields related to Education, Early Childhood Education, Information Technology, Management and more, to continuously live up to its vision: "To be a leading private education institution, producing knowledgeable, skilful and competitive individuals." This vision coincidently is parallel with UNIRAZAK's Vision, which is "To become the leading institution in providing Quality Education and Human Capital's in niche areas among emerging economies".
Thus, through such collaboration with UNIRAZAK, SIDMA College Sabah and Sarawak pledge to achieve UNIRAZAK mission of becoming the Centre of Excellence in fostering Managerial Leadership and Entrepreneurship in the Development of Human Capital relevant to the 21st Century Industry needs through Qualities Research, Teaching and Learning, as well as Professional Services.
The signing of the MOU and the exchanging of the documents were also attended by Tuan Haji Marzuki Umi (Director, SIDMA College), Puan Azlina Ngatimin (Director, Corporate Marketing and Business Development), Puan Azizah Khalid Merican (CEO, SIDMA Sabah), Puan Hajah Sofia (CEO, SIDMA Sarawak), and Encik Amil Hamzah (CEO, UNIRAZAK).
By,
Teo Eng Seng and Zain Azrai,
SIDMA College Sabah,
88300 KOTA KINABALU.