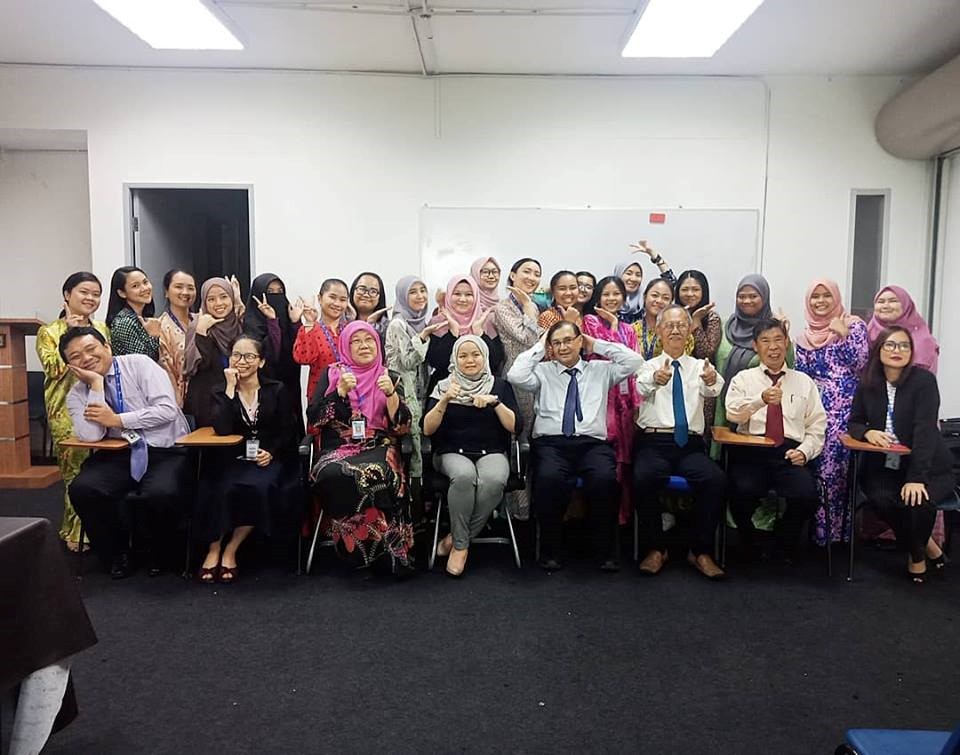 A new batch of 25 English Enhancement Programme (EEP) students from the January/February 2019 new students recently completed their 28 hours immersion into the programme. During the programme, the students were provided with intensive training in reading, writing, listening as well as presentation skills.
This special English programme, which was launched on 14 February 2017 by Madam Azizah Khalid Merican (CEO), is another example of SIDMA's Corporate Social Responsibilities (CSR) to complement and supplement students' mastery in English Language Proficiency level in order for them to achieve their personal and professional goals, by providing the necessary guidance and scaffolding.
Madam Jenifah Abdullah, the key module writer and facilitator of the programme, immersed this batch of students to enhance their existing English proficiency using unique teaching and learning models, methods, and techniques such as the use of newspaper in English, cartoons and more to motivate these students to excel in their English Language usage.
For this January/February 2019 students, they were taken by SIDMA College bus on an educational tour to Borneo Ant Gallery, a mini educational park, located at Tuaran. During the tour, the students were divided into groups and each group is required to select a section of the ant house and to make a study through their observation, questioning the personnel on duty, or through discussion with their members. Among the different sections in house are: the ant replicas section, the traditional & culture section, the sword section, the fishing and paddy farming section, the canopy walk, the souvenir shop, the modern tree house and more.
Ms. Deedee Cassandra Dallius, student representative from the group in her welcoming address thanked Prof Dr Morni, Madam Azizah Khalid Merican (CEO) and Mr Louis Jais (Academic Manager) for giving her and her colleagues the opportunities to participate in the programme without any fee charged. They really treasured the opportunities given for them to improve their English proficiency level. She too thanked Madam Jenifah for her willingness to improve her English mastery, despite the fact that she has to start from basic. She too thanked and congratulated her colleagues for their team spirit, sharing attitude and willingness to work together, face challenges and took the opportunity to learn. She added that on behalf of her team "we realised that there is improvement in their oral presentation and communication skills and we have been more alert and creative in our writing", she said. She thanked Madam Jenifah for her sincere effort to provide them with the necessary scaffolding during the 12 weeks programme.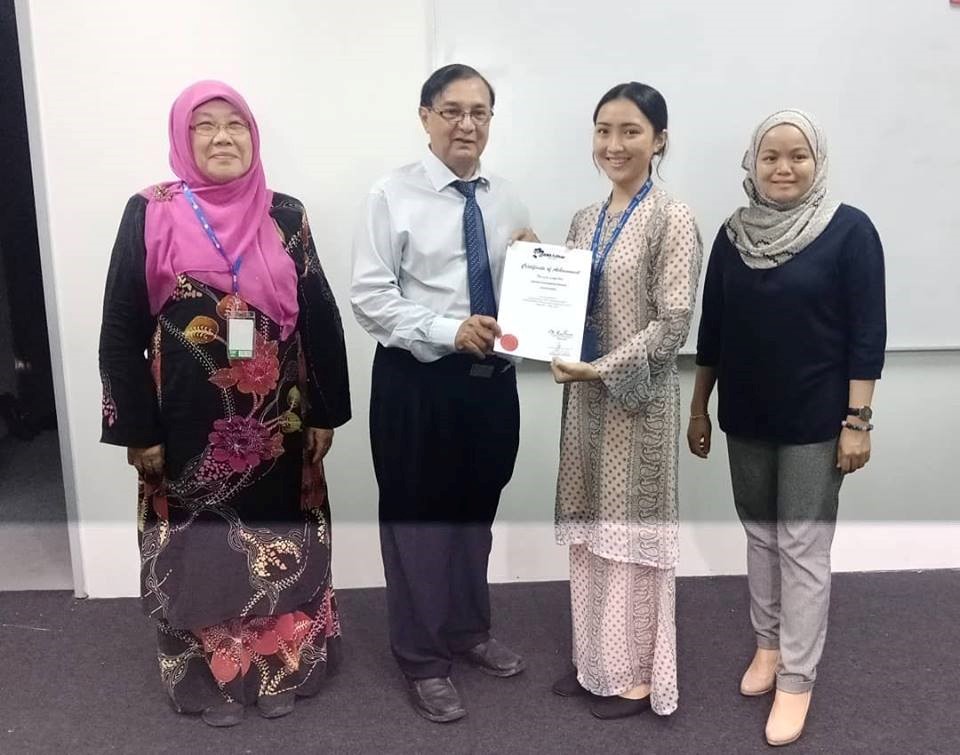 During the Certificate Presentation Ceremony on 30 April 2019 at SIDMA College MUET Study Centre, students from each of the groups took their turns to present their report of the findings during the tour to Tuaran with the aid of manila cards, newspapers, magazine and pictures.
Prof Dr Morni Hj Kambrie, Chairman and Founder of the College, who was given the honour to present the Certificate of Attendance to these students, congratulated them for the effort to use and speak reasonable good English throughout their five to ten minutes presentation. Their voices were clear, and can be easily understood by all present. Dr Morni agreed that these students, that hardly speak a word of English have transformed after 12 weeks of EEP with Madam Jenifah whereby they now speak reasonably good English. Dr Morni shared his success stories of how he learned and speaks English, especially when he was in England, as he was from a village who seldom speak English. He too advised these students to continue using the language whenever they have the opportunities.
Dr Morni also added that SIDMA College, since its establishment back in 2002 in Kota Kinabalu, has produced graduates with good command of English. Its infrastructure, technology and other resources can support the aspirations and goals of students who want to create a successful and brighter tomorrow. Teaching strategies applied are students-centred and engaging towards bringing out the best from each and every student.
SIDMA College Sabah June 2019 Intake of new students is now open. All Form V and VI school leavers are welcomed to enroll at SIDMA College located at Jalan Bundusan, 88300 Kota Kinabalu. Financial assistance such as Education Loan from the National Higher Education Fund (Perbadanan Tabung Pendidikan Tinggi Nasional – PTPTN) is available. Potential students can also visit SIDMA Website @  https://sbah.sidma.edu.my/sidmalearning/landingpage_form to register. For more information about studying at SIDMA College Sabah, please call SIDMA Hotline: 088-732 000 or 088-732 020.
By,
Teo Eng Seng and Zain Azrai,
SIDMA College Sabah,
88300 KOTA KINABALU.