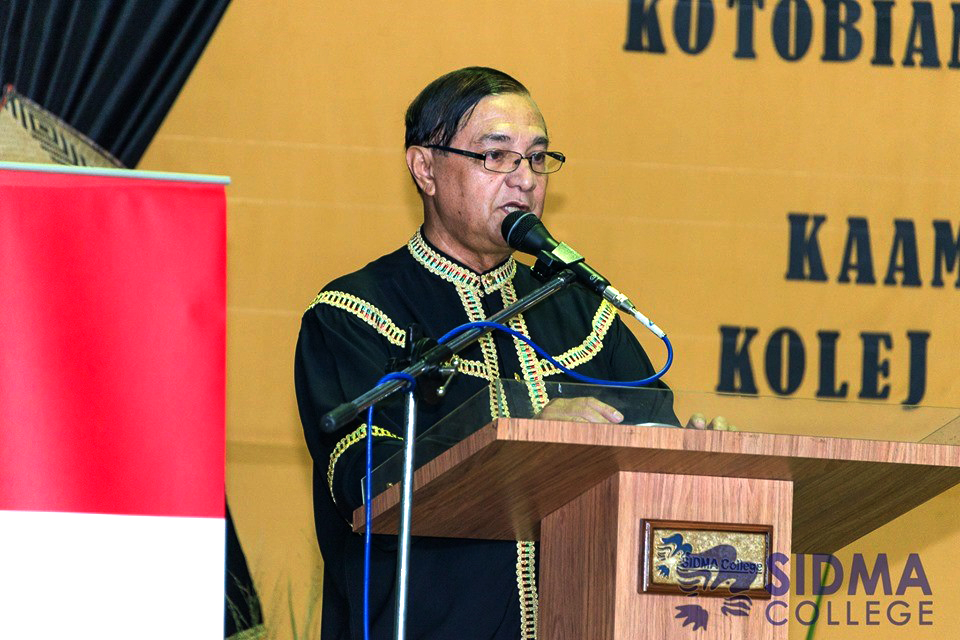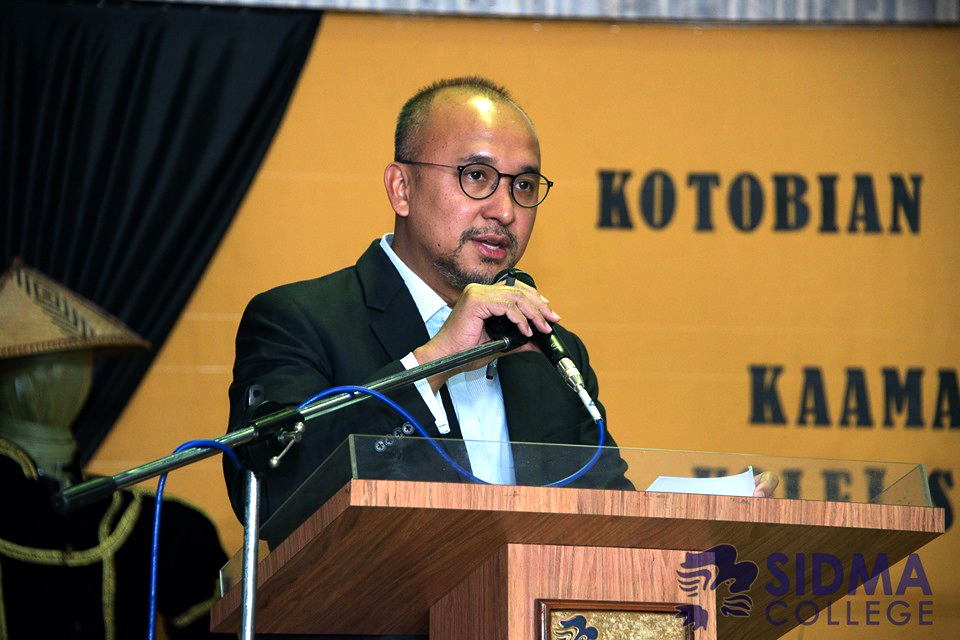 SIDMA College Sabah held a special Welcome Back cum Kaamatan (Harvest Festival) Celebration on 3 May 2019 at SIDMA College Main Atrium to greet and honour the returning of Universiti Tun Abdul Razak (UNIRAZAK) to revive, strengthen and form new partnership together, hand in hand, complementing and supplementing one another to fulfil the aspiration of the young generation of Sabah.
Prof Dr Morni Hj Kambrie, SIDMA College Founder and Chairman in his welcoming address acknowledged that SIDMA College Sabah, since its establishment in Kota Kinabalu in 2002, has been appointed as Sabah Regional Centre for Universiti Tun Abdul Razak (UNIRAZAK).
In brief, Universiti Tun Abdul Razak (UNIRAZAK) was established on 18 December 1997 and is one of the first private universities in Malaysia. Prior to using the acronym UNIRAZAK, it started with the acronym; UNITAR with a strong IT highlighted in red to signify the booming of the ICT era way back in 1997. After UNITAR's ownership moved from KUB to Yayasan PINTAR (the Tun Abdul Razak family foundation), the identity of UNITAR was then changed to UNIRAZAK in 2007. In addition to the original Kelana Jaya campus (named the Pintar Campus); the Razak Campus was set up to focus on becoming a boutique business school. In 2011, the two campuses were split, with the Razak campus maintaining the identity of UNIRAZAK, while the Kelana Jaya campus was renamed University of Management and Technology (UMTECH) (later rebranded as UNITAR International University). The Razak Campus still maintained its UNIRAZAK identity and even uses the same logo and corporate colour.
Dr Morni on behalf of SIDMA College Board of Management, conveyed his sincere appreciation, felt humble and honoured to welcome UNIRAZAK top management team, among them being Hon. Professor Datin Paduka Dr Samsinar Md Sidin (Vice Chancellor), Mr Amil Izham Hamzah (CEO) and Hon. Associate Prof. Dr Zuhaili Akmal Bin Ismail (Chief Students Experience Officer) to this simple function organised by SIDMA College Sabah. The presence of UNIRAZAK was to symbolically handover the MoA (Memorandum of Agreement), signed earlier between the two parties, to SIDMA College Sabah and Sarawak, and officially marked the beginning of the new strategic ties between SIDMA College Sabah and Sarawak with UNIRAZAK to bring about a new beginning, to be the best, and give the best to students and communities in Sabah and Sarawak.
According to Dr Morni, SIDMA College and UNIRAZAK  shared the same values and aspirations, and through this new strategic partnership it will enable SIDMA College to grow better, stronger and improve the college long-standing reputation throughout Sabah and Sarawak, to offer industry-ready and recognized academic programmes, and producing high quality graduates; with the current niche areas being Bachelor of English, Bachelor of Early Childhood Education, Bachelor of Business Administration with related specialisations much needed by the industry.
Mr Amil Izham Hamzah, Chief Executive Officer of UNIRAZAK, acknowledged that UNIRAZAK has been eyeing for a credible tertiary institution in Sabah and Sarawak to be UNIRAZAK sole representative in East Malaysia (Sabah and Sarawak) since the beginning of 2000. While at Sabah, Mr Amil spotted SIDMA College Sabah, as a college that rapidly matured over the years as one of the largest colleges running Bachelor, Diploma and Foundation programmes with Dr Morni as its helm. He felt that SIDMA College is the definite and wisest choice to represent UNIRAZAK's in East Malaysia; as well as to further strengthen UNIRAZAK's position outside of West Malaysia.
According to Mr Amil, this MoA signed is not merely providing opportunities for students to pursue their studies at UNIRAZAK Regional Centre's in Sabah and Sarawak, but the scope also expand to collaboratively provide support for student affairs and activities, academic and student exchange between the two institutions, as well as producing branding, marketing and communication initiatives.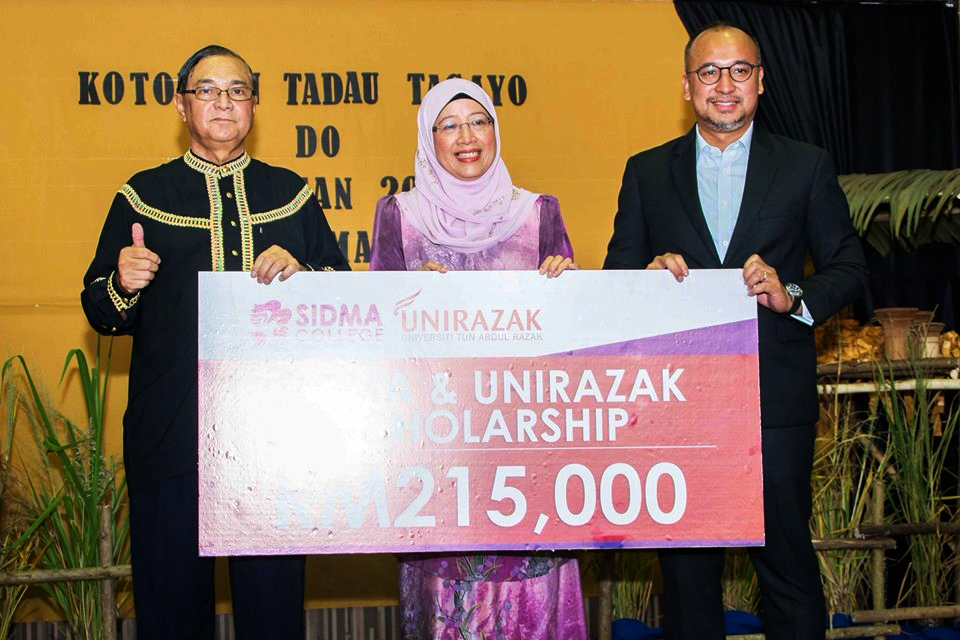 He added that as part of the initiation of the MoA, UNIRAZAK and SIDMA jointly will be providing full scholarships (UNIRAZAK-SIDMA Scholarship) amounting to a total of RM 215,000 to five deserving SIDMA College students to pursue their study at UNIRAZAK. The students that will be selected to receive this sponsorship will become pioneering scholars of this initiative. "This is our way to begin honouring our commitment and effort towards this collaboration that we have witnessed from SIDMA College students", he added. A mock cheque of RM 215,000 was jointly handed jointly by Dr Morni and Mr Amil to Hon Prof. Datin Paduka Dr Samsinar Md Sidin, Vice Chancellor of UNIRAZAK.
Mr Amil added that UNIRAZAK also takes into account that the month of May is very significant time for the people of Sabah as it's the month of the Harvest Festival or more popularly known as the Kaamatan Celebration. It is celebrated by a large portion of the local ethnic categorised as the Dusun, Murut, Paitan and the Sama Bajau indigenous groups of Sabahan annually.
Knowing the importance of cultural values and traditions to the people of Sabah, UNIRAZAK took this golden opportunity to collaborate with SIDMA College and jointly sponsored the Sabah state level 2019 Unduk Ngadau competition which is expected to be held at the end of May 2019. "As a show of support to the long-time tradition with SIDMA College, we will be funding the top three winners worth RM120, 000 of scholarships", said Mr Amil.  A mock cheque of RM120, 000 of scholarships was presented jointly by Dr Morni and Mr Amil to Hon. Datuk Juil Nuatim, Patron, and Council of Unduk Ngadau Kaamatan Sabah 2019.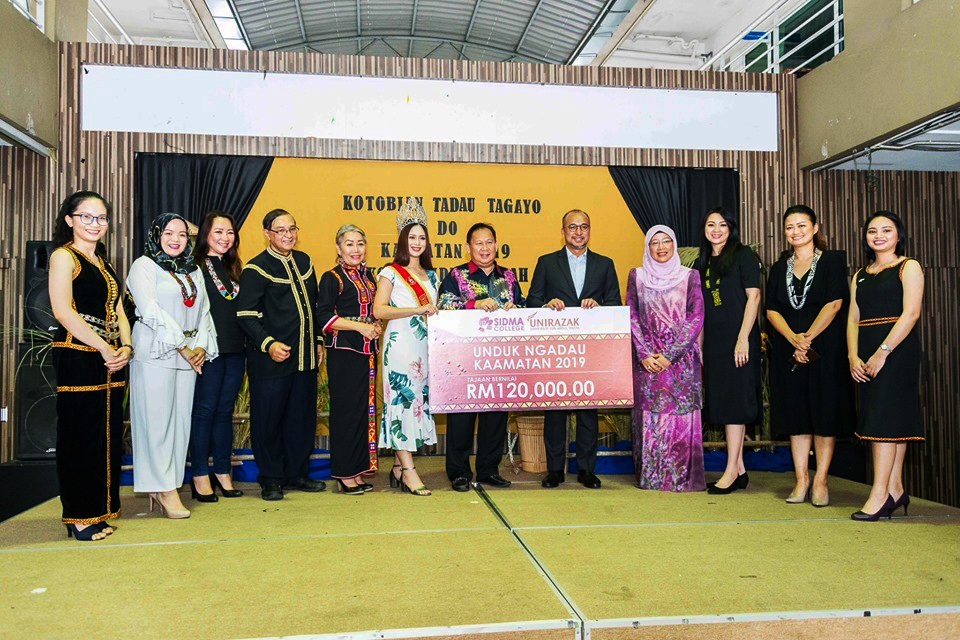 Hon Datuk Juil, in his thank you address, conveyed his appreciation to both UNIRAZAK and SIDMA College for the meaningful sponsorship. He added that every year, the Council of Unduk Ngadau Kaamatan Sabah faced various issues related to sponsorship, but for this year it is resolved.
He was proud to note that Unduk Ngadau Competition has always keenly contested among the beauties of Sabah to be the fairest of them all. But now SIDMA College and UNIRAZAK have completely changed that perception to among other things such as to compete for opportunities to obtain sponsorship to further the education through a renowned university in Malaysia. This will create new light in future Unduk Ngadau competitions, whereby candidates need to possess basic education background in order to benefit from such scholarships.
SIDMA College Kaamatan Festival 2019 continued with various activities and competitions such as Sugandoi Singing Competition, Unduk Ngadau Competition, Lucky Draws, and more. The festival concluded with lunch provided courtesy of Mus Kitchen sponsorship.
The winners of SIDMA 2019 Sugandoi Singing Competition are as follows:
Christopher George
Erlvina Altie Henry
Mohd Norman Bin Osman
The winners of SIDMA 2019 Unduk Ngadau Competition are as follows:
Suzie Jainil
Farinah Binti Kohadie
Constance Joy J. Moin
Madam Azlina was given the honour to crown Unduk Ngadau SIDMA College 2019 whereas Dr Morni was given the honour to present prizes to the Sugandoi Singing competition, lucky draws, and more. Dr Morni and Madam Azlina took the opportunity to thank the organizing committee for a great event.
Present during the event were Dr Morni Hj Kambrie, Madam Azlina Ngatimin (Director, Corporate Marketing and Business Development), Hon. Datuk Juil Nuatim, Mr Amil Izham Hamzah (CEO of UNIRAZAK), Hon. Professor Datin Paduka Dr Samsinar Bin Ismail, Associate Prof Dr Zuhaili Akmal Bin Ismail (Chief Students Experience Officer), Hon. Raja Amirul Raja Nasron (Head of Branding and Communication), Nik Muhammad Faris Nik Abdul Rahim (Executive, Branding & Communications), Miss Hosiani Jaimis @ Keewon (Unduk Ngadau 2018), Mr David Tiongin (BOG), Managers, Head of Departments, lecturers, staff and students of SIDMA College.
SIDMA College Sabah June 2019 intake of new students is now open for you to register. All Form V and VI schooler are welcomed to enrol at the college which is located at Jalan Bundusan, 88300 KOTA KINABALU. Potential students can also visit SIDMA Website @  https://sbah.sidma.edu.my/sidmalearning/landingpage_form to register. For more information about studying at SIDMA College Sabah, please call SIDMA Hotline: 088-32 000 or 088-732 020.
By,
Teo Eng Seng and Zain Azrai,
SIDMA College Sabah,
88300 KOTA KINABALU.