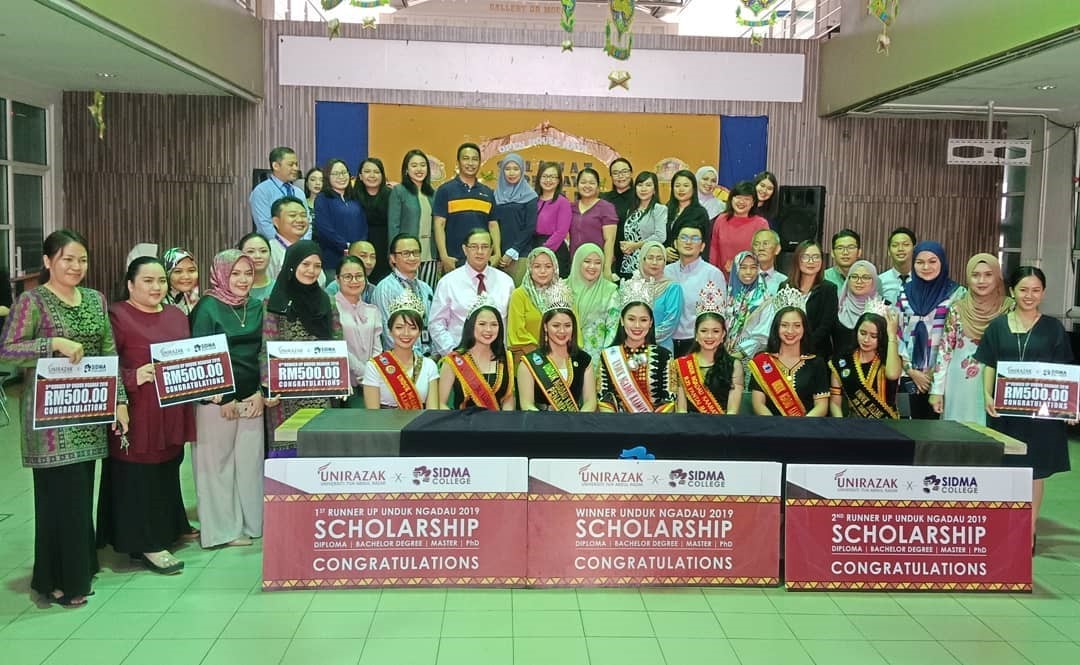 Today, 20 June 2019, all top seven Harvest Queen (Unduk Ngadau) Sabah 2019 paid courtesy call to SIDMA College to sincerely convey their heartfelt thanks to SIDMA College Sabah and UNIRAZAK (University Tun Abdul Razak) for sponsoring them scholarship to further their studies. These top seven winners are Miss Francisca Ester Nain (Unduk Ngadau Sabah 2019 as well as Unduk Ngadau Karambunai); Miss Annette Rabecca Januin (Unduk Ngadau Pantai Manis, Papar); Miss Leticia Casianus Bansin (Unduk Ngadau Penampang); Miss Skye Judith Harding (Unduk Ngadau Tamparuli); Miss Conne Juenin (Unduk Ngadau Kundasang); Miss Nurul Yanadido (Unduk Ngadau Tandek) and Miss Vinny Alvionitta Sasising (Unduk Ngadau Klang Valley).
Prof Dr Morni Hj Kambrie, Chairman and Founder of SIDMA College, was really impressed and felt honoured to warmly welcome all the top seven Harvest Queen winners to the college. Along with Dr Morni were Madam Azlina Ngatimin (Director, Corporate Relations and Business Development), managers, coordinators just to name a few; along with all the lecturers, staff and students of the college. All of them were very honoured and impressed by these 2019 Unduk Ngadau visit to the college. They too took the opportunities to congratulate all of them for winning the 2019 Unduk Ngadau Competition at various level of the competition.
Upon their arrival, a photo taking session was arranged for all staffs and students to have their photos taken with all these Unduk Ngadau.winners.
Dr Morni in a short media session congratulated SIDMA College and UNIRAZAK for incorporating the element of knowledge / education into the Sabah 2019 Unduk Ngadau Competition by sponsoring various scholarships for the top three winners to further their studies.
Earlier when asked to comment on the competition, Miss Jo-Anna Sue Henley Rampas, the 2019 Unduk Ngadau Organiser stressed that "Unduk Ngadau is a cultural pageant; thus contestants must not only be judged by their beautiful, but they must also be very knowledgeable about their own mother tongue, culture and ethnicity. The contestants also need to do research and prepare documentations about their respective district and ethnic group; as well as current issues relating to women empowerment and efforts, and many more". Thus the award of scholarship by SIDMA College and UNIRAZAK to the three winners of the Unduk Ngadau 2019 to further their studies is very relevant for the occasion.
Dr Morni added that SIDMA College Sabah and UNIRAZAK, both being institutions of higher learning; will continue to facilitate these Unduk Ngadau winners (upon their registration with the college), together with all its existing students in ways possible to ensure that all of them will complete their studies successfully and without any difficulties. As these Unduk Ngadau are also the ambassador of Sabah, Dr Morni also offer to assist them in their mastery of the Kadazandusun Language, improve their communication skills, public speaking skills, conversational skills, as well as their academic studies. Dr Morni also hope that these Unduk Ngadau will further their studies upon completion of their degree, and be among the very few Unduk Ngadau to receive a PhD.
Unduk Ngadau 2019 Miss Francisca Ester Nain, who hailed from Karambunai, was among the very few finalists who speak very fluently in her mother tongue (Dusun Tindal language). She plans to be a teacher, particularly to teach the Kadazandusun language to the young generation.
She was indeed glad to know that UNIRAZAK offers Bachelor of Education (Hons) with option to major in KadazanDusun language, and she added that probably her fellow Harvest Queen winners and other fellow participants might also consider taking up the course. By getting this Bachelor's degree, it will enable them to fulfil their dream of becoming a teacher - teaching the Kadazandusun language. This will enable them not only to teach the language, but also continue to preserve, develop and promote the KadazanDusun language, thus to ensure that the language will continue to stay relevant in this dynamic modern era .
Francisca too hope that more KadazanDusun school leavers with SPM / STPM / Diploma / Matriculation will consider taking up Bachelor of Education (Hons) at UNIRAZAK SIDMA College Sabah. She also planned to record and documented Sabah's local culture in various languages, and shares it throughout the world.
Miss Francisca along with all the other winners of the 2019 Unduk Ngadau, sincerely thanked SIDMA College and UNIRAZAK for providing her and the other winners the much needed sponsorship for them to further their education as well as getting financial incentives. They too thanked all the other sponsors who have contributed prizes such cash, air tickets, and more to enliven the event.
Unduk Ngadau pageant has become an annual auspicious event as well as the most important highlights of the Kaamatan festival; which commemorate the legend of Huminodun, a maiden, who was sacrificed by her father, Kinoingan to save the people from famine so as to bring about a bountiful harvest.
SIDMA College will continue to collaborate with UNIRAZAK, and together develop and create the necessary platform that will facilitate all of our students to develop skills and knowledge that they can apply to connect with the community that they are in, to analyse it and thus be able to understand related issues, as well as to transform their respective community to greater heights. The college will act as a place for lecturers and students to get together, connect with those around them, and together assist and positively transform them in all ways possible.
It is noteworthy to mention that since 2004, the following overall Champion for State level's Unduk Ngadau had walked through the gate of SIDMA College Sabah:
Miss Fharelynne Ivonne Henry - Unduk Ngadau 2004
Miss Jo-Anna Sue Henley Rampas – Unduk Ngadau 2007
Miss Ryannie Neils Yong – Unduk Ngadau 2015
Miss Kerinah Mah – Unduk Ngadau 2017
By,
Teo Eng Seng and Zain Azrai,
SIDMA College Sabah,
88300 KOTA KINABALU.