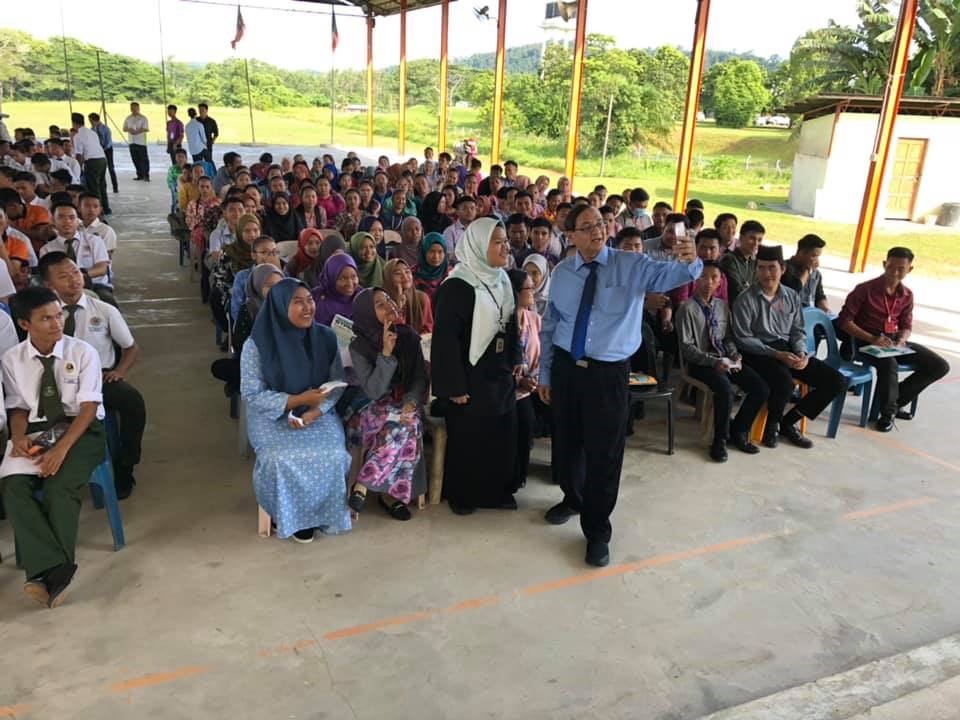 SIDMA College Sabah has expanded its SIDMA Corporate Social Responsibility (CSR) activities to complement and supplement the quality of education in Sabah by co-organizing the motivational programmes in rural schools in Sabah.
Prof Dr Morni Hj Kambrie, Chairman and Founder of SIDMA College Sabah and Sarawak; said SIDMA College would continue to reach out to the schooling children of the rural community so the awareness on the importance of education for young children can be increased.
Through such CSR activities, Prof Dr Morni hope that the college could indirectly support the various on-going motivational programmes conducted by the Education Ministry as well as from Sabah Education Department to provide a wider scope of opportunities for the rural secondary students to understand the real purpose and meaning of schooling and education through direct communication and interaction on related views, matters and issues; such as on the importance of developing positive knowledge, skills, attitudes and values to enable them to dream of better career and brighter future ahead; as well as to empower them to be relevant and useful citizens of the country.
Recently at a secondary school in northern part of Sabah, SMK Pitas, Kudat; Prof Dr Morni inspired the students on the importance of them to develop positive learning attitude and discipline by saying "…Schools / students can have the best teachers, the most supportive parents, and are placed in the best schools; but if they, the students; themselves do not have good discipline, are not focused on their studies, as well as lacked the direction to move forward; they will not be able to unleash their best potential and achieve the highest goal that they want to achieve.."
Prof Dr Morni stressed that being from rural setting (kampongs), deprived background and economic status; it should not hinder anyone from achieving / performing well in school. He presented himself as the possible example that the students could learn from, because he came from a poor family and that when he was in primary school, his family do not have their own house, and have to rely on his father's friend house to reside.
He reminded them that no matter what they wanted to do for their life in future – whether to be a teacher, lawyer, engineer, pilot, police, doctor, etc; they need good education for every single one of those careers. He also advised them to attend classes every day and never drop out of school in order to have a bright future. He stressed that they got to work hard, train, learn from Primary One until university in order to develop their full potentials – talents, skills and intellectual power so they will be able to solve the most difficult problem that they might encounter in future. Thus if they quit schooling for whatever the reason is, they are also withdrawing themselves from their dreamt future career.
Prof Dr Morni who has always been portrayed as a unique motivational speaker, very well-known for his entertaining, captivating, highly interactive and energizing when on stage delivering his talk said that, "Your hopes and dreams are the key to your understanding of who you are, what you want to be, and even on how to reach your goal" he stressed.
Prof Dr Morni shared his own personal experience from being an ordinary village boy selling cakes, which his mother made every morning, from house to house in his village. However, due to his strong personality of always aiming high, plus his precious dream of earning his Doctor of Philosophy (PhD), has brought him to where he is today.
During his trip to SMK Pitas, Prof Dr Morni was very warmly received by Principal of SMK Pitas, Mr Awang Seman, Ex Principal, Tuan Hj Abdul Hamid, senior staff and teachers and most importantly the Form Five and Six students. Interested school/ institution wishing to be inspired by Prof Dr Morni can reach him through his hand phone: 013-810 6201.
SIDMA College Sabah intake for new students is still open. All Form Five and Six school leavers are welcomed to enroll at SIDMA College located at Jalan Bundusan, 88300 Kota Kinabalu. Financial assistance such as Education Loan from the National Higher Education Fund (Perbadanan Tabung Pendidikan Tinggi Nasional – PTPTN) is also available. Potential students can also visit SIDMA Website @ https://apply.sidma.edu.my to register. For more information about studying at SIDMA College Sabah, please call SIDMA Hotline: 088-732 000 or 088-732 020.
By,
Teo Eng Seng and Zain Azrai,
SIDMA College Sabah,
88300 KOTA KINABALU.