SIDMA College Student Representative Council (SRC) Team Building Program – was successfully held on March 17 – 19, 2023, at Kiulu Farm Stay in Kg. Mantob, Kiulu. It was arranged by the Student Affairs Department (STAD) under supervision of Mr. Terence Boyd Stephen.
These three-day course was designed to help the participants develop a deeper understanding of the key roles and responsibilities within the team, align their personal objectives with team's and practice professional decision-making techniques to solve problems relating to the team's concerns. This program was vital to develop their ability to lead, collaborate and communicate among the new member. Additionally, STAD believed that the program would provide newly appointed SRC members with support and guidance to help them work as an effective team throughout their terms.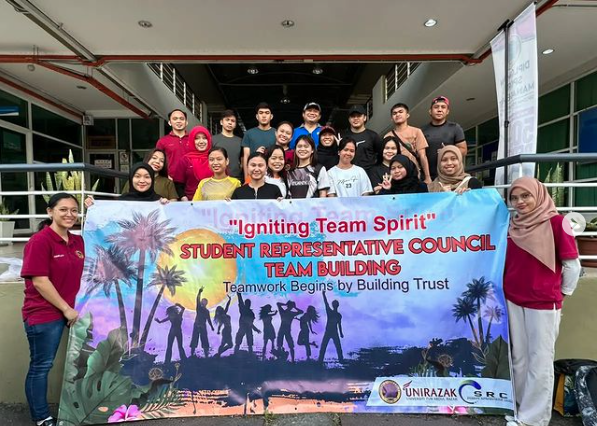 There were 14 newly appointed members of SRC for the term 2022/2023. The program was led by seven facilitators including, Mr. Azri (Project Secretary), Ms. Haanii Lorea (DSM lecturer Ms. Siti Mardhiah, Ms. Esmerlda, Ms. Vanessa, Ms. Eli Asmida, and Ms. Nurul Asyikin (former SRC members).
Throughout the program, the participants were divided into three groups: Alpha, Beta and Charlie. The activities on the first day involved Ice Breaking, Human Knots, Deco D'Brand, Skyscraper Tower, and Night Adventure. The purpose is to help them get to know one another and nurture their chemistry and bond. The second day consisted of activities that can bring them to unite in a larger scale including Amazing Race, Kampung Warrior, Culture Night, Mafia City and Heart-to-heart Sessions. Apart from improving relationship and cohesion among members, such activities also encouraged them to demonstrate high performance and interdependence in team spirit. They had expressed that they are truly appreciate the opportunity of this program as they able to communicate their hearts, grow closer and be more understanding of one another.
The three-day program concluded with a handover ceremony from now former SRC president Ms. Siti Mardhiah Binti Ahmad Masni to Mr. Mohd Syazwan bin Bahran, the newly appointed SRC president. The ceremony was witnessed by our honourable SIDMA College Chairman, Prof. Dr. Morni Kambrie, Student Affairs Department Manager, Mr. Terence Boyd Stephen, and fellow facilitators.
SIDMA College community wishes to congratulate Mr. Terence Boyd Stephen and all respectful individuals for a successful program. All the best to the newly appointed SRC members for term 2023/2024 and a heartiest congratulations.