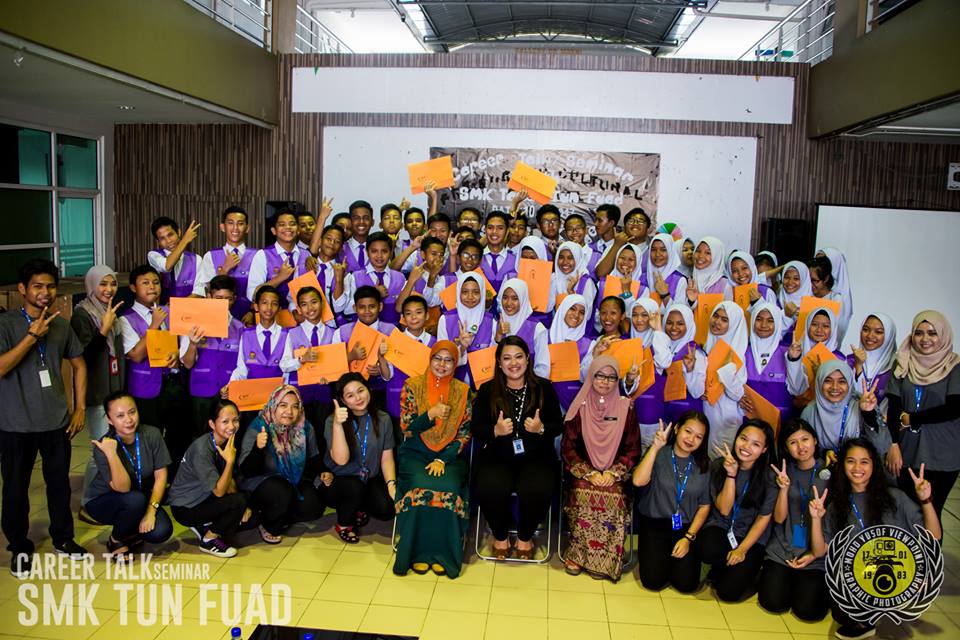 SIDMA College UNITAR Sabah Kota Kinabalu February 2017 semester students taking Event Management (MPU3502), together with other students, organised an Event Management Week from 7-12 April 2017 at SIDMA Atrium, SIDMA College, Kota Kinabalu.
The main purpose of the function was to act as a training ground to prepare the students to become successful events managers and also to enable them to work together to accomplish their shared vision. Through such activity, the students were exposed to various skills and knowledge in areas such problem solving, promoting and marketing their product or event, the processes involved in project or event planning, understanding of customers behaviour, and many more; which indirectly provide exposures for them to reflect upon in order to become an efficient event manager.
They too will be able to get a taste of the need to be effective supervisors or coordinators – who are capable of overseeing, coordinating, collaborating and leading the organisation of events as diverse product or activities launched, fundraising, meetings held, and more as well as being a team player helping each other whenever possible.
One of their successful event held was the students' achievement in soliciting sponsorship from CIMB Bundusan, Penampang and from Queen Elizabeth II Hospital, Kota Kinabalu as well as collaborating with Madam Lorna Abie and Mr Azuary Abd Aziz from the Ministry of Health to arrange a team of Queen Elizabeth II Hospital's Blood Bank personnel to conduct a Blood Donation Campaign at SIDMA College Atrium on 12th April 2017.
The team involved have managed to put up meaningful stickers and poster promoting the event around the campus, which carried the slogan "The blood you donate gives someone another chance at life. One day that someone may be a close relative, a friend, a loved one or even you." A total of 72 students and staff from the college managed to seize the opportunity to donate their blood during the campaign which was held from 9.00 am to 5.00 pm. The event managed to collect a total of 9 pints of blood on that day.
Meanwhile, on the same week, Dr Morni Hj Kambrie (Chairman, SIDMA College UNITAR Sabah) and his team of staffs who conducted various motivational and career talks in schools were also invited by the organiser to give motivational and career talk to 53 students of SMK Taman Tun Fuad Penampang, who were specially invited in conjunction with the occasion. The students were given the opportunity to attend the motivational and career talk by Dr Morni and Mr Arif Zakaria, as well as to participate in games conducted such as "Lucky Chair" and Poison Box".
The organising team also took the opportunity to entertain SIDMA's Didi Childcare toddlers and to celebrate children who were born in the month of April. During the event, they also conducted a "Colouring Contest" for the kids.
Other events organised throughout the Event Management Week were the Eating and Drinking Competition such "Eating Samyang Ramen and Drinking Coca-Cola Competition"; Food Promotion Competition, promoting Javanese Food, Kadazan Food, Chinese Food, Indian Food, Malay Food and many more.
SIDMA College Dance Club, the well-known "Prima Dansa" was specially invited to put up special performances to attract and entertain the participants and guests of the function. Apart from that, various games and performances were also put up to make the event merrier.
Dr Morni and Madam Azizah Khalid Merican (CEO) who were amazed by the students' ingenuity in creating their colourful events, accompanied by their good interpersonal communicative skills demonstrated through the promotion and marketing initiatives. Their enthusiasms was reflected through their proactive engagement, efficient teamwork, and their ability to collaborate with diverse respective parties, including lecturers and staff from various departments, united as one to achieve the goal.
Madam Rettie Alviana Michael (lecturer from the Faculty of Culinary & Tourism) on behalf of the organising team conveyed sincere thank you and appreciation to Queen Elizabeth II Hospital, Blood Bank doctors and nurses, Madam Lorna Abie and Mr Azuary Abd Aziz, Principal, teachers and students from SMK Taman Tun Fuad, Penampang, Dr Morni, Madam Azizah, lecturers and staff, as well as the SIDMA Student Representative Council and students for their cooperation and collaboration to ensure the successful implementation of the week-long event.
By
Teo Eng Seng and Zain Azrai Bin Mohd Noor,
SIDMA College UNITAR Sabah,
Kota Kinabalu, Sabah.