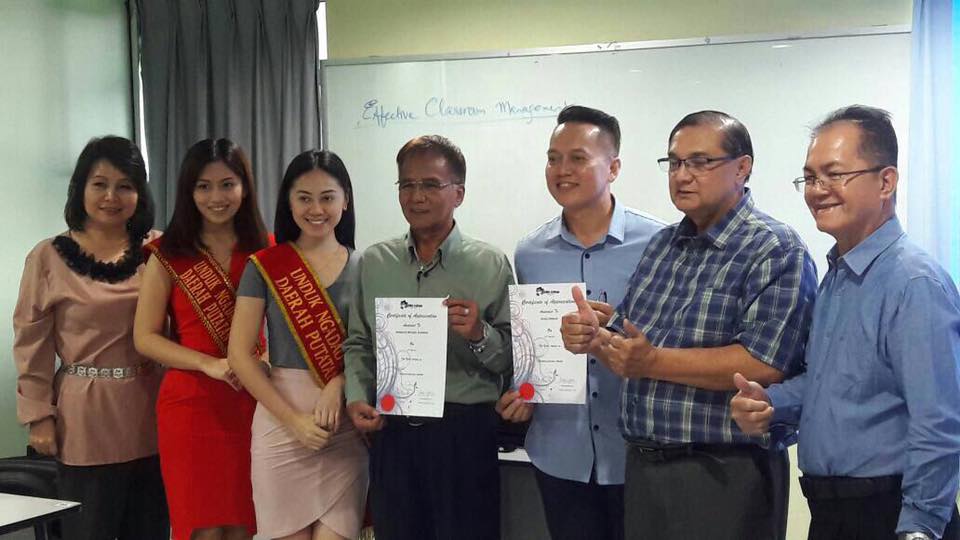 First cohort of 30 very enthusiastic participants completed the first ever Kadazan Language Public Speaking Intensive Course organised by SIDMA College Kadazandusun Language Club and conducted at SIDMA College Kota Kinabalu. Launched on April 8, 2017, the eager participants finally completed the programme, which was also known as the "16 Hours Kadazan Language Challenge of Public Speaking and Conversational Course", and everyone earned the "Certificate of Kadazan Language Proficiency" from Dr Morni Hj Kambrie, Founder and Chairman of SIDMA College Sabah and Sarawak. Mr David Tiongin Lumbok, Chairman, SIDMA Kadazandusun Language Club presented the certificate to the participants on 29 April 2017 on behalf of Dr Morni, who was away for another official function which he has committed earlier.
Dr Morni who paid a special visit during the programme on 22 April conveyed his congratulatory remarks to the participants for having the courage to acknowledge their weaknesses, and came forward to improve their Kadazan language public speaking skills programme was conducted by Ms. Juliana Jimis (Chairlady, Kadazan Society Sabah, Putatan Branch) and assisted by DJ Denis Primus, He also conveyed special thanks to the two instructors who volunteered to conduct the training during the weekends, despite the fact that weekends are their leisure time. Ms. Julian in return, presented a copy of the Kadazan Dictionary to Dr Morni.
Dr. Morni thanked Ms. Juliana for mooting the idea of "16 Hours Kadazan Language Challenge of Public Speaking and Conversational Course", as well as her initiative to cooperate and collaborate with SIDMA Kadazandusun Language Club to implement the programme. In return Ms. Juliana presented a copy of the Kadazan Dictionary to Dr. Morni for his strong support and concern for the vitality of the language in Sabah as well as his willingness to support the program by providing comfortable and conductive classroom with state of the art equipment backed by strong technical team and delicious delicacies as refreshment for the speaker and participants throughout the span of the 4 weeks programme held every Saturday.
Mr Morales Michael Subinon (Writer of Kadazan Mythology) participation and sharing of experiences during the programme was very much appreciated by Dr Morni. He too appreciated the participation and support from Ms Amber Sion (Unduk Ngadau Putatan 2016) and Ms Sherrylyn R Pailus (Unduk Ngadau Putatan 2015) for the willingness to attend the course.
Dr Morni also congratulated the Kadazandusun Language Club for the numerous initiatives conducted to ensure the relevancy and continuity of the Kadazandusun language among modern teenagers who tend to code switching during their conversation and even during formal public functions and public speaking. He hoped that more participants will come forward and seize this golden opportunity to improve their mastery of the Kadazan language, a language commonly spoken by majority of Sabahan natives.
Since the establishment of SIDMA College Sabah in 2002, Dr Morni harbours his desire to intervene and to have the language with stronger footing, as like any other native languages in Sabah considering that Kadazandusun language has been seemingly declining from its originality despite the fact that the language has been offered as an elective language in public schools beginning 2000.
Interestingly, based on the reports from the Sabah government, there are at least 30 indigenous groups speaking more than 50 different languages and over 80 dialects (Sabah State Government, n.d.), which could also be categorised into Dusunic, Murutic, Paitanic and Sama Bajau (Lasimbang, 2004); however, Kadazandusun speakers formed the largest single language community in Sabah (Lasimbang & Kinajil, 2000 p. 415).
Mr David who was given the honour to present the Kadazan Language Proficiency certificate to the successful participants, also took the opportunities to announce that the second cohort of the Kadazan Language Public Speaking Intensive Course will begin on June 2017. Interested candidates can contact the following officers for inquiries and registration.
Mr BonaventureBin Wences

- Tel: 088-732 186 or Fax: 088-733 186

Mr Dellson J Joingin

- Tel: 088-732 000 or 088-732 020 or Fax: 088-732 015.

Ms Sylla Severinus

– Tel : 088-732 000 or 088-732 020 of Fax: 088-732015.
By Teo Eng Seng and Mr Zain Azrai Bin Mohd Noor,
SIDMA College
KOTA KINABALU.
Content edited with the 4html.net free online editor. Read more: Text to HTML Converter