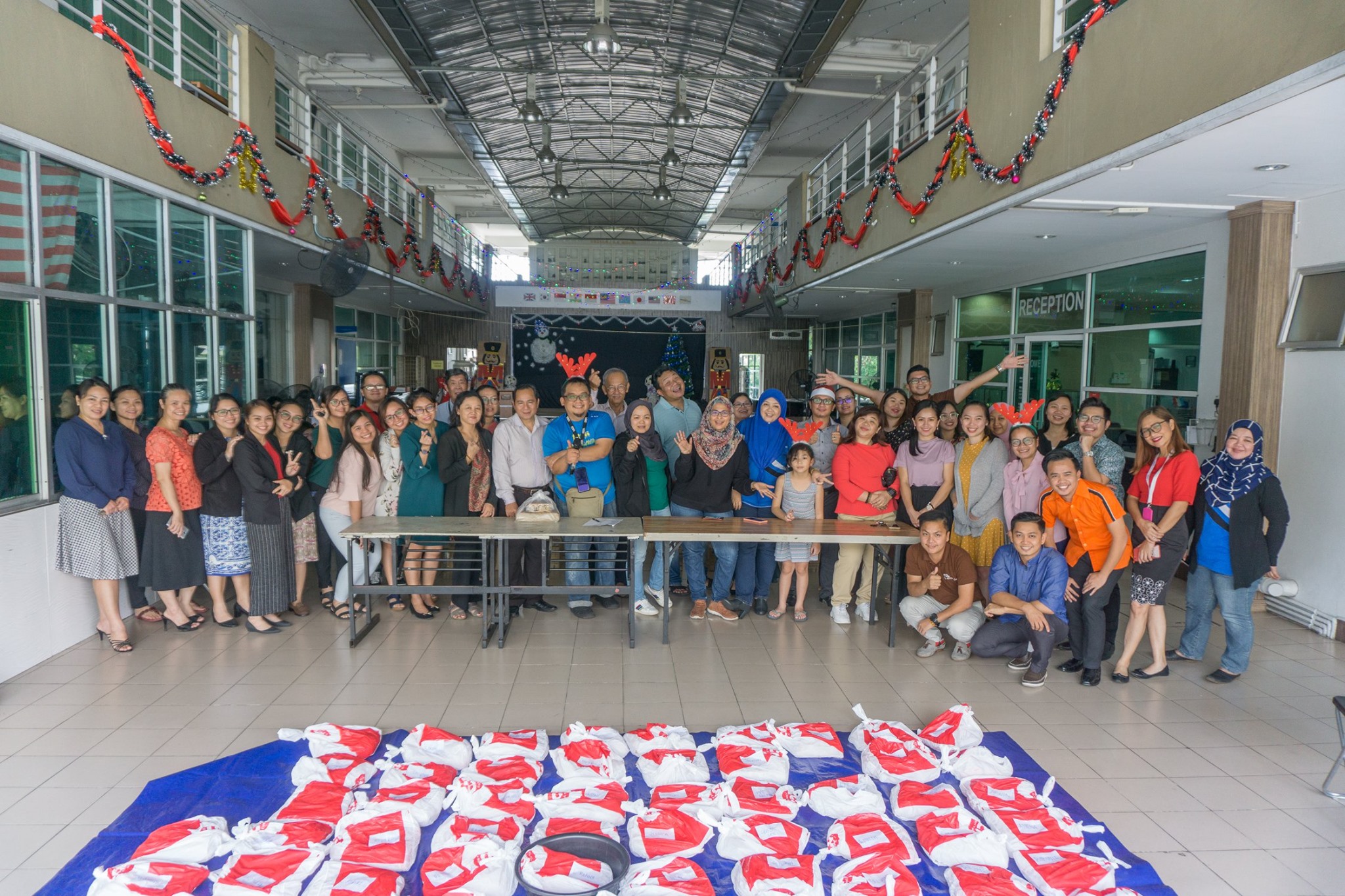 We are only one week away from Christmas Eve, and festivities have already started with full swing at the SIDMA College. SIDMA College's Caroling Team has been performing daily, from house to house (upon request). On 13 December 2019 the group was performing at Padang Merdeka, Kota Kinabalu; and on 19 December 2019, the group is scheduled to perform at ITCC Shopping Mall, Penampang beginning 7.00 pm.
In conjunction with this auspicious occasion, Prof Dr Morni Hj Kambrie (Chairman and Founder of SIDMA College), Puan Azizah Khalid Merican (CEO) in collaboration with SIDMA Staff Welfare Association (PKKKSS) distributed Christmas goodies to SIDMA College staff celebrating the event on 24 and 25 December 2019.
Tasty Christmas Goodies consisted of food products that one would find at dinner table such as nice poultry, freshly baked cakes, non-carbonated drinks and more were presented to SIDMA staff by Madam Azizah Khalid Merican on behalf of Prof Dr Morni who is on official function. Madam Azizah thanked all the staffs for their wonderful commitment towards the college and she wishes that year 2020 will provide everyone with more lovely moments and wonderful memories that you want to look back upon every now and then. "Merry Christmas and Happy New Year 2020", she added.
According to Prof Dr Morni, it has been customary for SIDMA College to distribute goodies to staffs celebrating core Malaysian national festivals such as Hari Raya Aidilfitri, Hari Raya Aidiladha, Harvest Festival, Christmas and Chinese New Year as part of the company's Corporate Social Responsibilities to share and to celebrate together with the staff as one big family. Dr Morni also expressed his appreciation and recognition to all of his staff for their wonderful commitments, great services and contributions by all the them throughout the year.
Mr. Zain Azrai, (Chairman of PKKKSS) on behalf of all PKKKSS and all SIDMA College staff thanked Prof Dr Morni and family as well as SIDMA College Top Management for their generosity, the caring and sharing attitudes for the staff well-being and happiness; particularly during auspicious occasion such as this Christmas celebration.
Prof Dr Morni, Madam Azizah Khalid Merican, Managers, Head of Departments and Mr. Zain Azrai as well as their families also shared their warm Christmas greetings to all lecturers, staff, students, parents, relatives, and friends. Have a blessed, joyful and Merry Christmas and Happy and Prosperous New Year 2020 everyone.

By Teo Eng Seng and Zain Azrai,
SIDMA College Sabah,
88300 KOTA KINABALU