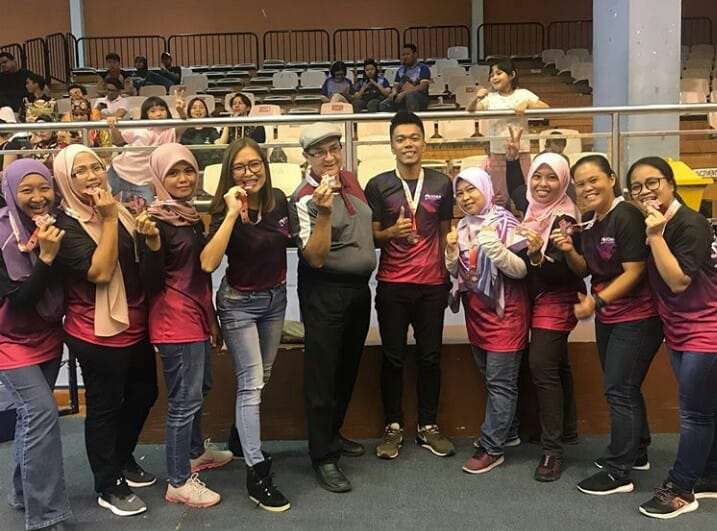 The Malaysian Private Institutes of Higher Learning (IPTS) Sports Council (MASISWA) 2019 Networking Games, an annual sporting event to enable all IPTS of the country to collaborate and strengthen the spirit of sportsmanship among the staff of all the Malaysian Private Institutions of Higher Learnings was for the first time being held in Sabah.
This being a first ever 2019 Networking Games held in Sabah was jointly organised by SIDMA College, University College Sabah Foundation (UCSF), Jesselton College, Asia Metropolitan College Kota Kinabalu, Institut Sinaran, and MSU College Kota Kinabalu.
The tournament which began on 31 October till 03 November 2019 was held at a number of venues such as Kota Kinabalu Sports Complex; Tun Adnan Sports Complex, Sabah Foundation; Polytechnic Kota Kinabalu and CPS Bowling Centre Point Kota Kinabalu.
It was estimated that more than a thousand IPTS staff from a total of 34 IPTS throughout the country participated in the tournament to compete in the 9 sports events including Volleyball (M & W), Net Ball (W), Badminton (M, W and Veteran), Futsal (M), Sepak Takraw (M), Ping-Pong (M & W), Petanque (M, W and Mix) and Bowling (M, W and Team)
The tournament was participated by the following colleges: SIDMA College Sabah; University College Sabah Foundation (UCSF); Asia Metropolitan College Kota Kinabalu, Institute Sinaran, Kolej Teknikal Yayasan Sabah (KTYS); MAHSA College, Almacrest International College; Kolej Kiara; Tunku Abdul Rahman College (TARUC); Management and Science University Kota Kinabalu; Asian Tourism College; MIB College Sabah; North Borneo University College (NBUC); Eastern College; Cosmopoint College; University College of Technology Sarawak (UCTS); Tunku Abdul Rahman College; Kolej Universiti Yayasan Pahang (UCYP); International Medical University (IMU); Kolej TESDEC; TATI University College; WIDAD University College (WIDAD Eagles); Universiti Teknologi PETRONAS (UTP), Kolej Universiti Islam Antarabangsa Selangor (KUIS); Universiti Tenaga Nasional (UNITEN); Institut Teknologi Petroleum PETRONAS (INSTEP); HELP University; INTEC Education College (UNTEC); Multimedia University (MMU); Universiti Islam Antarabangsa Sultan Abdul Halim Mu'adzam Shah (UniSHAMS); PSDC College; KUIPSAS; and PICOMS International University College (PICOMS).
SIDMA athletes, led by Madam Azizah Khalid Merican (CEO) only participated in Badminton (Men), Petanque (Men, Double, Mix), Sepak Takraw, Volleyball (Men & Women), Bowling (Men, Women and Team), and Netball. They managed to win one Gold medal (Sepak Takraw) and one Bronze medal (Volleyball, women).
The tournament concluded with PETRONAS University of Technology (UTP) being named as the overall winner of the event. Sabah Technical College, Yayasan Sabah (KTYS) was the runner-up of the event, and PETRONAS Institute of Petroleum Technology (INSTEP) secured the third place.
The closing ceremony of the three days event was officiated by Hon. Datuk Dr Yusof Bin Yacob, Sabah Minister of Education and Innovation at Kota Kinabalu Sports Complex Multipurpose hall on 3rd November 2019. He congratulated staff of IPTS Sabah for their cooperation and collaboration among themselves to organise such a successful event. He hoped that the gathering of all the IPTS throughout Malaysia in Sabah will generate further cooperation and collaboration among themselves to benefit Malaysia's future young generation.
He praised this event as something to be proud of as a result of good teamwork and efficient and effective management. It is one of the great programs where the main objective of organizing the program is to integrate relationships between university staff and colleges across the various races while also fostering a thoughtful, friendly spirit of sports among university and college staff throughout Malaysia. He said this shows that university and college staff are not only great at managing university and college management matters but are also great at sports.
Dr Yusof also stressed that it is of the utmost importance to create a sporting spirit among highly competitive, committed and disciplined university and college staff as it provides an opportunity for each member to get to know each other more closely and thus facilitate the sharing of information. Dr Yusof Yacob extended his heartiest congratulations to the team or participants of the successful sporting events at this time. With this success, it is hoped that this will enhance the sporting spirit and among the university staff and private colleges throughout Malaysia.
SIDMA College and Universiti Tun Abdul Razak (UNIRAZAK) Sabah under the leadership of Prof Dr Morni Hj Kambrie (Chairman and Founder), and Madam Azizah Khalid Merican (CEO) prides itself in being the first private institution of higher (IPTS) in Sabah, offering various accredited courses ranging from Foundation Studies, Diploma Programs, Bachelor Degrees, and Masters Programs with very affordable rate to meet the needs of diverse students.
For the ongoing November 2019 Intake, the following courses are offered:
Master of Business Administration
Bachelor of Education (Hons)
Bachelor of Early Childhood Education (Hons)
Bachelor of Management (Hons)
Diploma in Early Childhood Education.
Diploma in Occupational Safety and Health.
Application can be done online through the following link @ http://bit.ly/UNIRAZAKSABAH or Whatsapp @ https://urdaftar1.wasap.my.
Interested parties are welcome to call SIDMA Hotlines: 088-732 000 or 088-732 020. Potential students are welcome to visit the campus located at Jalan Bundusan, 88300 Kota Kinabalu for more information and registration.
By Christopher George, Teo Eng Seng and Zain Azrai,
SIDMA College Sabah,
KOTA KINABALU.