SIDMA College 11th Sports Carnival 2017, an annual sports carnival, organised by Students Affairs Department (STAD) and the Student Representative Council (SRC) was held recently on 27 and 28 October 2017 at Penampang Sports Complex. It was a 2 days of gathering for the staff and students from different faculties to participate in their sporting activities, honouring and awarding the talented athletics while enjoying the spirit and championship of sports as well as building rapport and communication skills, fostering goodwill among students and staff across all faculties, enhancing leadership quality as well as a good way to meet new people and make new friends for the students.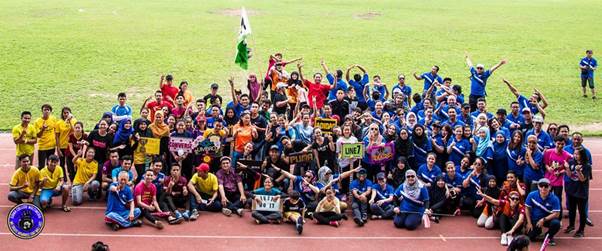 A total of eight teams (namely Polo, Adidas, Umbro, Reebok, Converse, Nike, Line-7, and Puma) from the close to 2,000 staffs and students participated in the various sports and games offered such as Football (Male), Netball (Female), Sepak Takraw (Male), Street Soccer (Female), Volleyball (Male & Female), Badminton (Male & Female) as well as complete range of Track and Field events.
The carnival ended with Team Converse emerged as the overall champion, winning a total of 13 Gold, 7 Silver and 6 Bronze medals with a total aggregate of 26 points. The first runner up was Team Adidas capturing a total of 10 Gold, 9 Silver and 6 Bronze medals with a total aggregate of 25 points, while Reebok (team for staff) took the second runner up, capturing total of 6 Gold, 6 Silver 5 Bronze, with a total aggregate of 17 points.
The event also witnessed athlete Reckson Kuatcheh, a three gold medallist from team Polo, and Sunilarne Juadi, also a three Gold Medallist, from team Converse, being respectively declared as the Best Sport Man and Woman of the year 2017.
To inaugurate the event, athlete Amos Borine, (Best Sportsman for 2015 and 2016) was given the honour to lit up a flame (fire) of sportsmanship and to raise the flag of SIDMA College during the opening of the event. This was followed by the vow of the Athletes' Oath which also lead by Amos Borine, followed by all the team leaders and all the athletes.
Among the highlights of the closing ceremony held on 28 October 2017 was the grand marching past by the contingents from the participating teams that took the opportunity to demonstrate their marching skills, teamwork, and respect to the guests of honour of the day, namely Dr Morni Hj Kambrie (Chairman and Founder of SIDMA College). Also present during the event were Madam Azlina Ngatimin (Director, Corporate Relations and Business), Mr. Terence B. Stephen (Acting Head of STAD), Heads of Departments and staff of the college.
Dr Morni during his officiating address, congratulated the Project Director Willson Mailam for the successful organisation of the carnival. He too congratulated STAD and SRC for their effective planning, collaboration and teamwork to ensure the successful implementation of the program.
Dr Morni also praised all the athletes, staff and students for preserving and practicing the good spirit of good sportsmanship and collaboration among all parties. He advised the students to continue and upgrade their sporting activities, as there is scientific evidence on the positive effects of sports and physical activities as part of healthy lifestyle.
He too advised all students to take up sports and games as an important means of recreational activities, particularly during the evening, as a mean to rejuvenate themselves so that they can continue their studies better later during the evening of the day. He also encouraged the athletes and students to put to good use all the existing sports facilities of the college, particularly the Gymnasium. He also advised all sports and games clubs to planned the training schedules and forward it to STAD for attention. SIDMA College will continue to sponsor excellent athletes to participate in any state or national tournament or competition.
Dr Morni also praised and congratulated SIDMA athletes for emerging victoriously for the fifth time during the July 2017 Sabah Zone of the Private Higher Learning Institutions Sports Council (MASISWA 2017). He also announced the SIDMA College has been appointed to play host to MASISWA 2018, and he invited STAD to look and take all the necessary initiatives and preparation. He also advise adventurous students to sign up to be volunteers during the event. They can volunteer their name to STAD for early registration and preparation.
Another highlight of the closing ceremony was the 30 Metre race for SIDMA Didi Childcare Centre toddlers from the age of 3-5 years old category where Alim Hidayah was awarded a Gold medal, Aary Aizen a Silver medal, and Muhammad Nadzril Adhwan @ Ariel received a Bronze medal.
For the 40 Metre race which was participated by children from 6-7 years old, Gold medal went to Naufal Amsyar, Nur Qahirah Humairah received the Silver medal, whereas Mohammad Adam Hayyqal received the Bronze medal. As for the 8-12 years old, Gold medal went to Nur Atirah Marsya, Silver medal won by Alif Danyal and Bronze medal won by Ilhan Aydin Self.
Any SIDMA events is incomplete without lucky draws. Lucky draws for staff and students categories with attractive winning prizes were held during this programme. Among some of the grand prizes were folding bicycles where 1 unit were prepared for each of the staff and student category respectively.
SIDMA Dance Club, Prima Dansa was given the honour to showcase their special and dynamic dance performance to entertain the exhausted athletes and audience during the closing of the event. While the dance was in progress, some of the athlete and audience came forward to join in the fun.
The 11th SIDMA Sports Carnival ended with much cheers, photo-taking and dancing participated by Carnival officials, staff, students, athletes and volunteers. They were at their best exhibiting their spirit of competitions, sportsmanship and enthusiasm and some very exciting moments which will be cherished by all in days to come.
"Majulah Sukan Untuk Negara"
By Teo Eng Seng and Zain Azrai Bin Mohd Noor,
SIDMA College, KOTA KINABALU