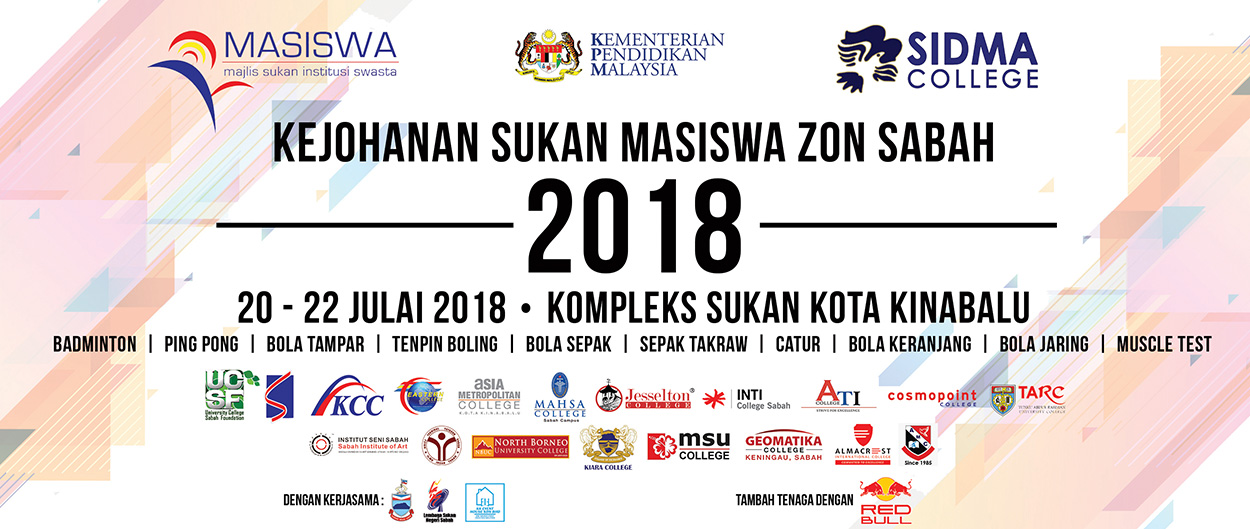 SIDMA College Sabah will host this year's SUKAN MASISWA which will take place from 20th to 22nd July at the Kota Kinabalu Sports Complex. Around 1,600 students, contingents and marshals from 22 private colleges and universities (IPTS) all over Sabah are expected to participate in the tournament, which is expected to be officiated by Y.A.B. Datuk Seri Panglima Shafie Apdal, Sabah Chief Minister.
The main aim of the carnival is to strengthen the bond among the communities of all the IPTS in Sabah; to inspire fitness into their daily lives; as well as to encourage students to become wholesomely better in different aspects – by participating in any sport events in and off campus.
SIDMA College Sabah will play host for the first time in the organisation of the 2018 MASISWA Sports Carnival; with the full cooperation and collaboration from all the participating universities and colleges.
The following are the list of IPTS that will participate in the event. Beside SIDMA College UNITAR Sabah, other IPTS are: University College Sabah Foundation (UCSF), Kolej Teknikal Yayasan Sabah (KTYS), Eastern College, INTI College, Almacrest International College (AIC), Asia Metropolitan College, Institut Sinaran, Asean Tourism International College (ATIC), AMC College, North Borneo University College (NBUC), Jesselton College, Cosmopoint Sabah College, Management and Science University College (MSUC), Tunku Abdul Rahman University College (TARUC), KIARA College, Kinabalu Commercial College (KCC), MAHSA College, Geomatika College Keningau (GCK) and Sabah Institute of Art (SIA).
Dr Morni Hj Kambrie (Founder and Chairman of SIDMA College), when chairing the recent monthly meeting with representatives of the above colleges held on 6 July 2018 at SIDMA College , announced that its sport secretariat had received participation from the colleges for the following games, namely: (i) Volleyball (Men & Ladies); (ii) Netball (Ladies); (iii) Badminton; (iv)Tenpin Bowling, (v) Football,  (vi) Basketball   (vii) Bowling; (viii) Ping-Pong; (iv) Chess; (x) Sepak Takraw; and (x) Muscle Test.
Please <CLICK HERE> for tentative programme of the carnival.
Dr Morni thanked in advance to the following government organisations and parties for their support and contributions for successful implementation of the event.
Ministry of Education Malaysia
IPTS Sports Council Malaysia (MASISWA)
Datuk Dr. Yusof Yakob, Minister of Education and Innovation Sabah
Datuk Haji Awang Damit, Permanent Secretary of Sabah Ministry of Youth and Sports
Meanwhile, Dr Morni took the opportunity to invite all sports lovers from the general public to come and witness the carnival which will commence at 2.30 pm on 20 July 2018, at Kota Kinabalu Sports Complex. The closing ceremony will take place on Sunday 22nd July at 10 am.
MAJULAH SUKAN UNTUK NEGARA.
By Melissa Marcus Molijol, Teo Eng Seng and Zain Azrai Bin Mohd Noor,
SIDMA College Sabah,
KOTA KINABALU.