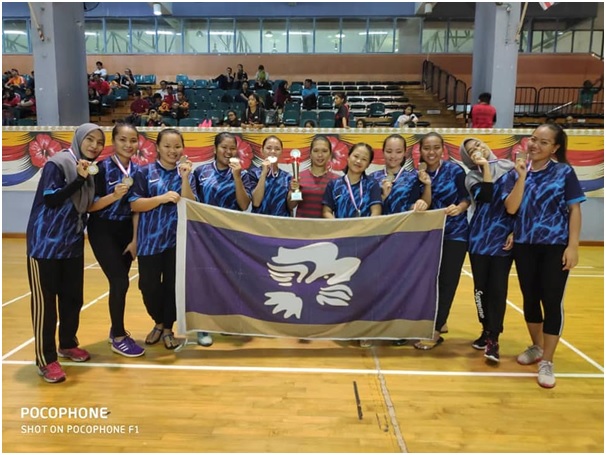 SIDMA College Sabah captured four gold and one bronze during the recent Sukan MASISWA Sabah Zone 2019. During the event, SIDMA College Sabah won Gold in Women's futsal, Women's volleyball, netball and Men's badminton singles (Andree Chin Yi Thsung) while the bronze was from Amiley Mark Lee and Maxelvin Berimbun in the Men's badminton doubles. However, University College Sabah Foundation managed to capture four gold, one silver and one bronze; thus managed to capture the overall championship title of the tournament followed closely with a different of only single silver with SIDMA College Sabah.
The event held from 20-22 September 2019 at Kota Kinabalu Sports Complex and Tun Adnan Sports Complex (Sabah Foundation) participated by an estimated 1,000 athletes representing the 19 competing private institutions of higher learning in Sabah. The 19 colleges that participated the event are SIDMA Sabah, University College Sabah Foundation, North Borneo University College, Tunku Abdul Rahman University College, Kolej Teknikal Yayasan Sabah, Kiara College, Asian Tourism International College, Institut Sinaran, Geomatika College Keningau, Inti College Sabah, Asia Metropolitan College Kota Kinabalu, Almacrest International College, MSU College Sabah, Cosmopoint College Kota Kinabalu, Eastern College Sabah, Kinabalu Commercial College, Kolej I-Systems Kota Kinabalu, Mahsa College, and AMC College.
During the event, the organiser; Asia Metropolitan College Kota Kinabalu introduced two new sports category namely E-Sport and Aero-dance in addition to the seven other sports such as badminton, volleyball, tenpin bowling, futsal, sepak takraw, chess and netball.
The tournament was brought to a close by the Sabah Minister of Youth and Sports, Mr Phoong Jin Zhe. His speech during the closing ceremony was delivered by his political secretary, Mr Henry Shim. According to Mr Phoong, the Sabah Zone MASISWA Sports Carnival have provided the opportunities for all athletes from the different institutions of higher learnings in Sabah to continue in their sporting talent and careers, enabling them to excel and thus able to represent and compete  at national and international level in one' respective sports discipline.
He added that sports play an important role in our life as it keeps us healthy, and increase our ability to always stay active and resilient; thus enabling us to overcome obstacles and to achieve our dreamt future.
Prof Dr Morni Hj Kambrie (SIDMA Chairman and Founder); and Madam Azizah Khalid Merican, (CEO) when met expressed their satisfaction with the athletes performances despite the fact that college doesn't have a sport field for them to do the necessary daily training. They too congratulated the Students Affairs Department (STAD), Students Representative Council (MPM), coaches and lecturers in continuing taking the necessary initiatives to ensure that the students continue to enjoy their sporting routines so that they will excel both in studies and sports, and the college will continue to sponsor potential students to participate or compete in any national or international competition.

Congratulations to all athletes!!
By,
Teo Eng Seng and Zain Azrai, 
SIDMA College Sabah, 
88300 KOTA KINABALU.